Patio Theater revival
A historic Northwest Side movie palace is set to reopen.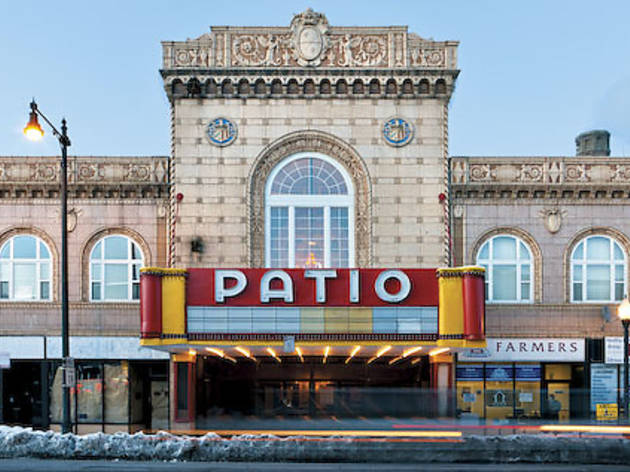 1/6
Photograph: William Zbaren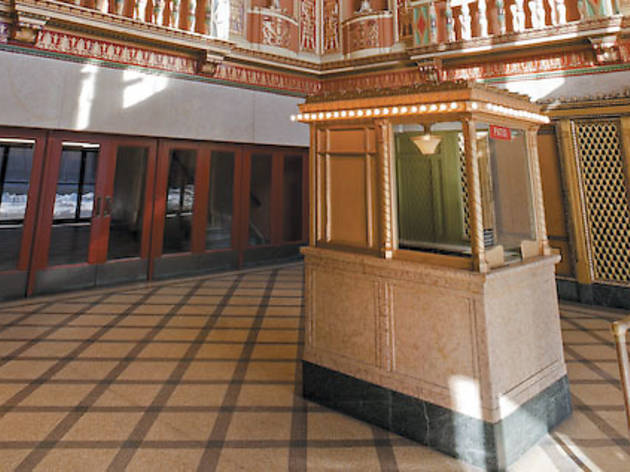 2/6
Photograph: William Zbaren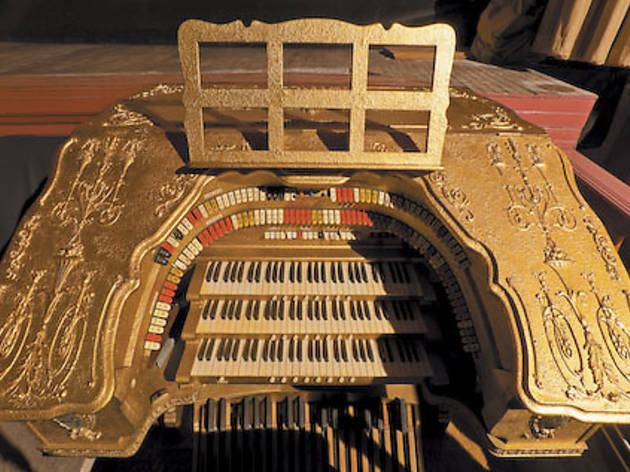 3/6
Photograph: William Zbaren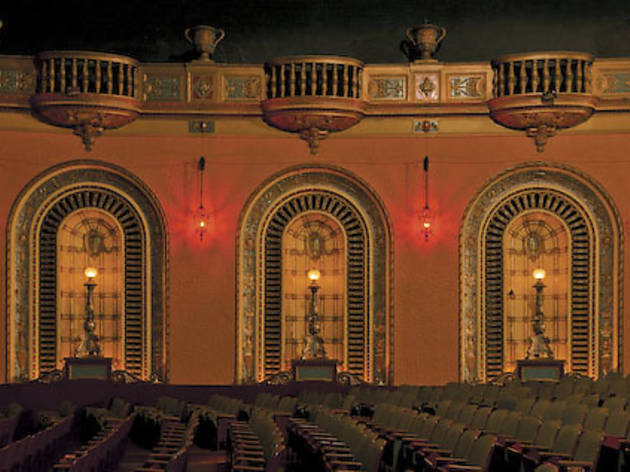 4/6
Photograph: William Zbaren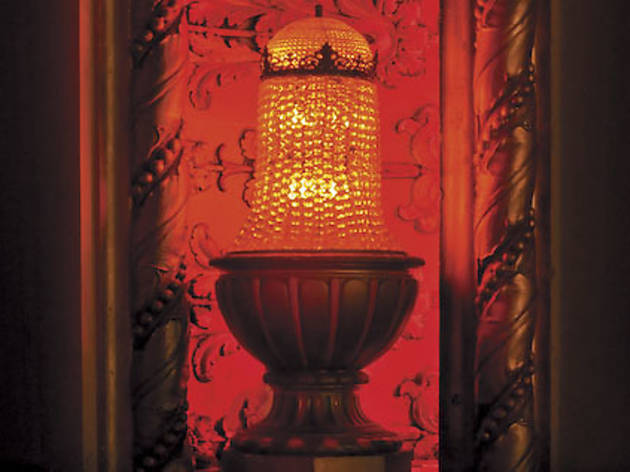 5/6
Photograph: William Zbaren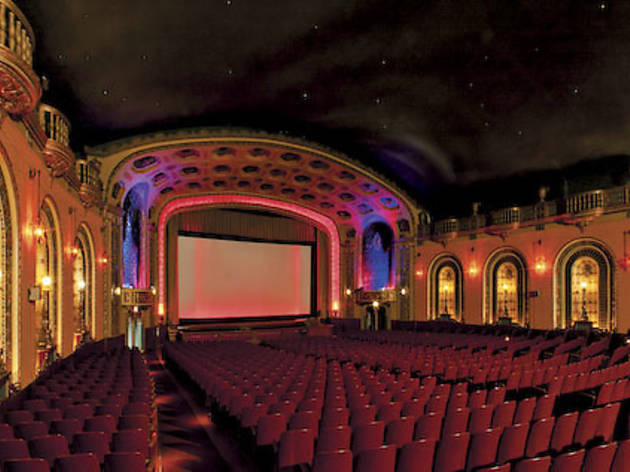 6/6
Photograph: William Zbaren
It's 36 degrees in the Patio Theater's projection booth, if the thermometer on the back wall can be trusted. Demetri Kouvalis is showing me an adjoining fireproof room, whose narrow stairway provides a quick escape in the event the film bursts into flames. For a moment, the warmth of flammable celluloid, obsolete after 1952, seems strangely appealing. But a fire would, alas, burn down the booth, its old-fashioned projectors and its impressive poster collection (The Snake Pit, The Blue Dahlia, The Pawnbroker, Barton Fink)—to say nothing of the glorious auditorium outside.
I'd been warned it would take a while for the theater to heat up. "This place is very expensive to run, utility-wise," explains Kouvalis, the 22-year-old son of the theater's owner. "I imagine that's one of the reasons you don't see very many of these places anymore."
These places are single-screen movie theaters like the Patio (6008 W Irving Park Rd), a 1927 cinema seating nearly 1,500 that Kouvalis and his father, Alexander, plan to reopen in March. The exact date depends on when the venue clears the inspections required for the city's Public Place of Amusement license, the lack of which, along with a busted air conditioner, led to the theater's sudden closing in August 2001.
When it opened, the Portage Park locals called it the PAY-sho. City of Chicago cultural historian Tim Samuelson guesses that pronunciation began to change in the 1950s—"when everybody would have their modern ranch house and a P-A-T-I-O." Either way, it's part of a near-dead breed. All but a handful of the roughly 1,000 neighborhood theaters and palaces that existed in Chicago have been demolished. The Logan, Davis and 400 theaters were all carved up into four-screen multiplexes. Reported estimates to restore the Uptown begin at $40 million. Even the few operating Jazz Age theaters lack the Patio's grandeur. The 1920 Portage, which the Patio rivals in size, is far less ornate. And as great as it is, the Music Box, which opened in 1929, seats 600 fewer people.
Is the Patio one of Chicago's last movie palaces? "I shouldn't get into this because the people who study theaters have very definite criteria for the term [movie palaces]," Samuelson says. "It's a palace in my book…. You can't go in it and not say, 'Wow.'"
Designed in a "neo-Pompeiian" style by Rudolph Wolff, the Patio boasts a Barton organ that cost $60,000 at the time, an unusual stadium-seating mezzanine and a stars-and-clouds ceiling, or "atmospheric." According to Richard Sklenar, executive director of the Elmhurst-based Theatre Historical Society of America, what's especially distinctive is that it's not a full atmospheric—the proscenium is done in a classically inspired style. But despite these accoutrements and a spectacular lobby chandelier, the cinema was, for its time, nothing extraordinary. As Sklenar puts it, "It's a typical Chicago neighborhood theater that's a survivor—that's the main thing."
Now it's about to be reborn. For the last decade, Alexander Kouvalis had been putting his daughter and Demetri through school. There were expenses associated with buying out the partner owners in 2004. But last May, Demetri, who'd just received a business degree, seized on the idea of reopening the theater, and he and his father, along with a local handyman, embarked on a three-man, $12,000 restoration (along with what Demetri estimates was "$50,000 in sweat equity"). They reupholstered 250 of the theater's 1,494 seats and cleansed and sanitized most of the others. They repainted the entire theater and installed new carpeting. They even found a company willing to replace the troublesome air conditioner for $30,000 this spring.
The elder Kouvalis had reopened the Patio once before, in October 1987. A physicist turned real-estate investor, he took out a mortgage on the building after convincing the bank he'd convert the theater into a self-storage facility. It showed second-run movies until 2001. Even when admissions were $2 and $3, Demetri says, the theater always turned a profit. "The least amount of people we ever had in one year was around 50,000," he says. "The most we ever had was around 88,000. I don't think it would change that much, especially this coming summer. There will be at least ten blockbusters coming out."
That the new Patio will show second-run releases may come as a disappointment to those who'd hoped it might capitalize on its ambience and take on revival programming like that of the Bank of America Cinema, which closed in December, a mile and a half away. (That series moved to Portage.) With its 45-by-35-foot screen, there's no question the Patio would be the nicest place to see classic movies in Chicago. Demetri is considering showing older films one or two Sundays a month, as well as bringing in occasional comedy and stage acts. But he says that kind of programming isn't as profitable as mainstream films. With "Hollywood movies," he says, "there's a definite number we can know."
At the time of my January 15 tour, Demetri had only begun talks with the major studios, but he was optimistic he would be able to get away with a $5 admission price and show movies two to four weeks after they open. (He said some seem cool with the idea, as long as the titles were no longer showing at the nearby, full-price AMC Loews Norridge.)
The Far Northwest Side location is another challenge. The Kouvalis's building also houses a pharmacy, a travel bureau, a Checks Cashed and 17 apartments; while it sits catty-corner from a pancake house, the Patio doesn't have many nearby restaurants or bars—or much nightlife—to help boost business. Parking is an issue, too, although the younger Kouvalis is talking with St. Pascal's Church down the street about a partnership with its lot. "It's not close enough to downtown, there's no train passing by, the expressway is not too close, but it's not too far either," he says, talking about the possibility of attracting noncommunity residents for special events. "The location is a bit difficult."
When the Patio opened on January 29, 1927, with a forgotten silent called The Blonde Saint, the now quasi-suburban, very Polish neighborhood was farmland. Alexander Kouvalis, who immigrated to the U.S. from Greece as a teenager in 1952, waxes nostalgic about the Chicago theaters of his youth, most of which have gone the way of the streetcar. "The Uptown Theatre is the biggest theater in Chicago. No one can afford to open it—not even the city," he says. "We have the opera, and we cannot even support the opera unless we have the donations."
He sighs. "People are not that culture-minded."
Although its Facebook fans have lobbied for it, the Patio doesn't have landmark status, and Demetri laughs when I ask if there are any historical tidbits I should know. "Frank Sinatra hasn't been here. We had Oprah," he says. "She rented the place out for a 15-second TV spot."
But the clientele are the ones he expects to return. "A generation, almost ten years, has passed," he explains. "People would come here when they were ten years old, now they're 22, and they want to see this place open again. …I've met people who were here for their first date. Now they're married to the person they were here with. They want to see this place reopened. All these different types of people want to remember the memories that they have."