100 best things we ate: Fried
We never said we ate healthy this year.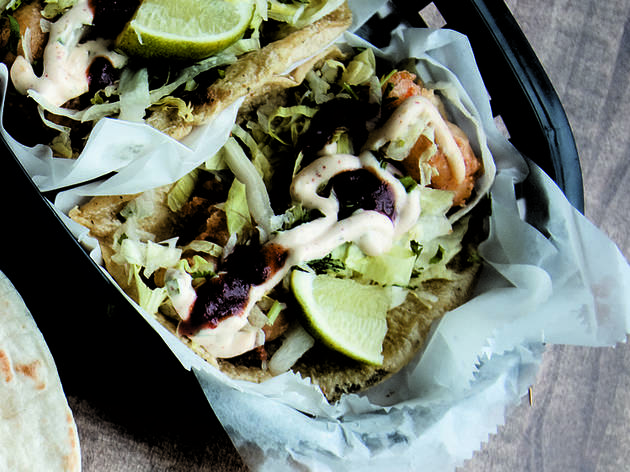 1/9
Photograph: Martha Williams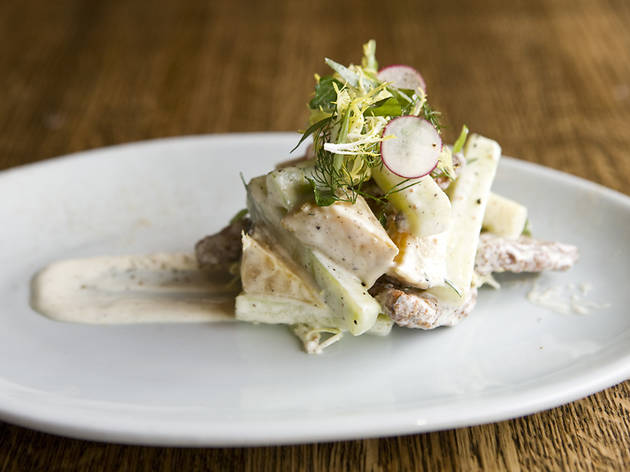 2/9
Photograph: Erica Gannett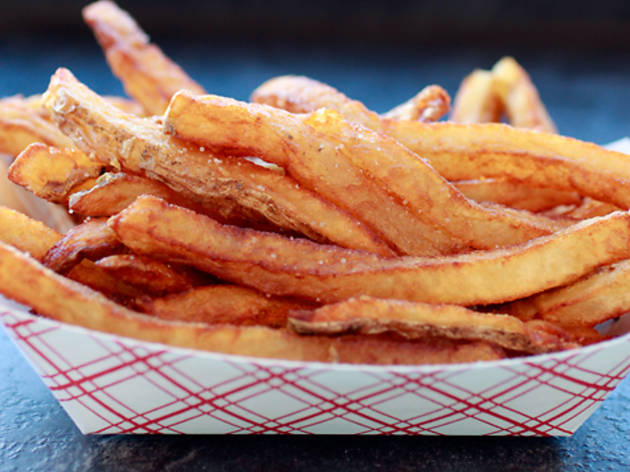 3/9
Photograph: Taylor Lacey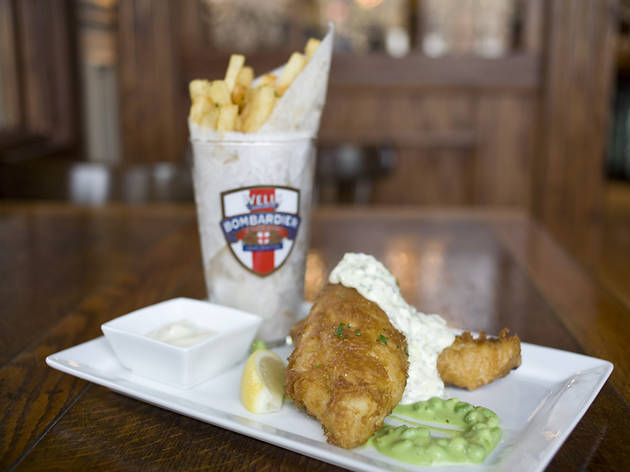 4/9
Photograph: Martha Williams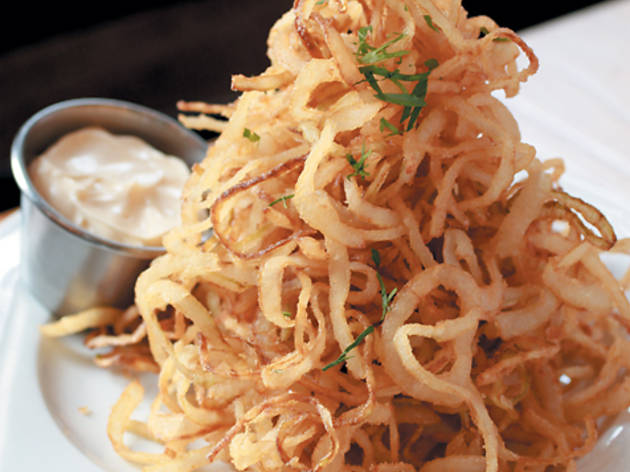 5/9
Photograph: Taylor Lacey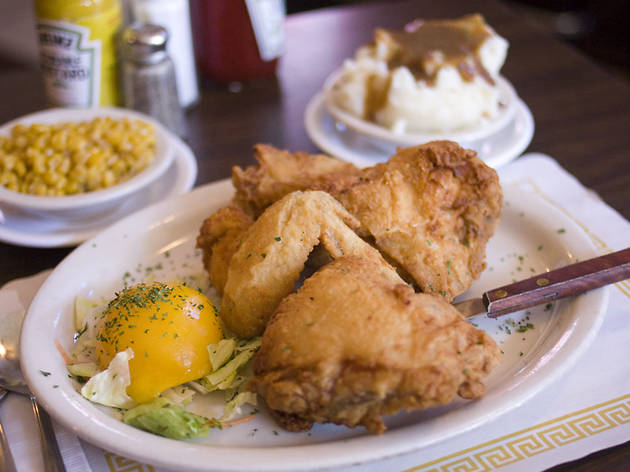 6/9
Photograph: Nina Pagano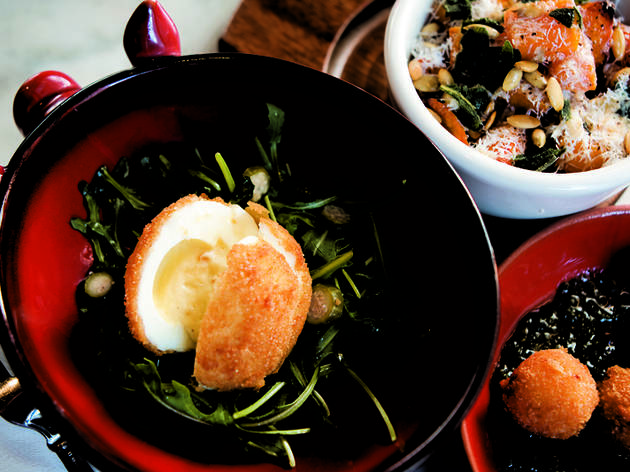 7/9
Photograph: Martha Williams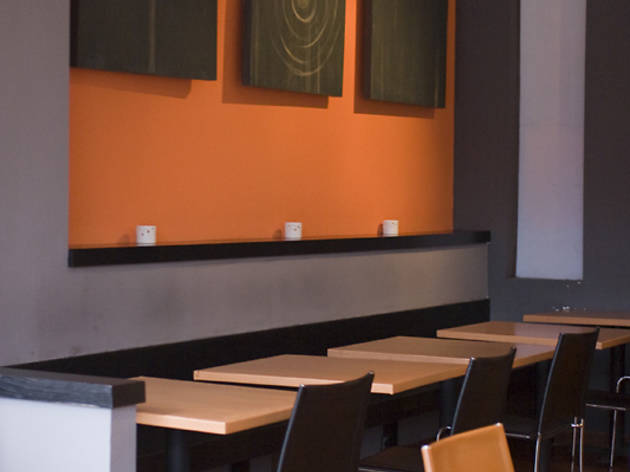 8/9
Photograph: Kate Dessa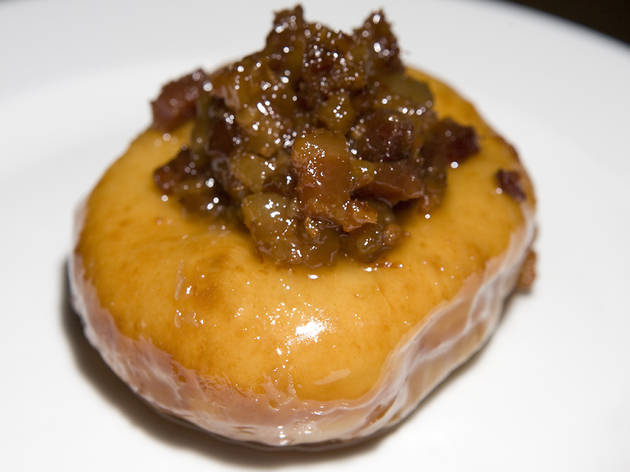 9/9
Photograph: Martha Williams
SHRIMP TACO AT LA LAGARTIJA TAQUERIA
Laura Cid-Perea and Luis Perea's expertly fried shrimp taco is not just one of the 100 best things we ate this year. It's also the best shrimp taco we've had in this city, ever.
CRISPY EGGPLANT AT RUXBIN
Hate eggplant? We dare you to order this dish anyway. Once you experience the lightly fried panko crust, it's impossible not to fall for the sweet, tender aubergine captured inside it.
FRIES AT REDHOT RANCH
Cut fresh, fried twice, crisp on the outside and so pillowy on the inside you'll want to sleep on them. Bonus: They're served until 4am.
FISH AND CHIPS AT OWEN & ENGINE
This British spot managed to stand out from the gastropub crowd with its cozy confines and top-notch execution, evidenced best in the seemingly simple fish and chips. Thin, crispy fries stand tall on their own, but the massive haddock fillets, delicately coated in greaseless crunch, are what's luring us here for a midnight snack.
ONION RINGS AT HOPLEAF
Okay, maybe these aren't as sophisticated as the famous mussels. But (especially a few beers in), there is just no way to resist this mound of generously battered and perfectly fried onion strings.
FRIED CHICKEN AT SCHALLER'S PUMP
You may be in for a wait for this chicken, but reward comes in the form of a half bird in crunchy coating that gives way to juicy, tender meat. Add on an order of the signature hash browns and a side of pan gravy for dipping and you'll start looking for property in the area.
DEEP-FRIED DEVILED EGG AT THE PURPLE PIG
Combine the runny yolk of an over-easy egg with the rich flavor of a deviled egg. Now deep fry it and serve it over a salad of caper berries. If that sounds like something you'd like to eat every night, you're not alone—which is why this dish almost always sells out.
FRIED NAEM-STYLE PORK RIBS AT TAC QUICK THAI
Regulars live and die by TAC's specials menu, supplementing their standard order with a couple picks from the tiny chalkboard. Truth be told, options don't rotate too often, but when these hacked-up, salty-sour rib hunks appear in all their crispy-edged glory, we pray for the day when this dish becomes a permanent fixture.
BUTTERSCOTCH-BACON DOUGHNUT AT NIGHTWOOD
Would it be too much to suggest you not only start your brunch with this sweet-and-salty doughnut, but also end it with a second one?
Southern
|
Brunch
|
Drinks
|
Burgers, pizza and hot dogs
|
Small bites
|
Soups and sandwiches
|
Fried
|
Bread
|
Desserts
|
Chefs
|
Quotables
|
The 101st best thing we ate: slow-cooked farm egg at June
|
Dish wish list (PDF)