7 of the best meatballs at Chicago restaurants
Meatballs are everywhere this year, and we picked seven of our favorites, from meatball ramen to meatball pizza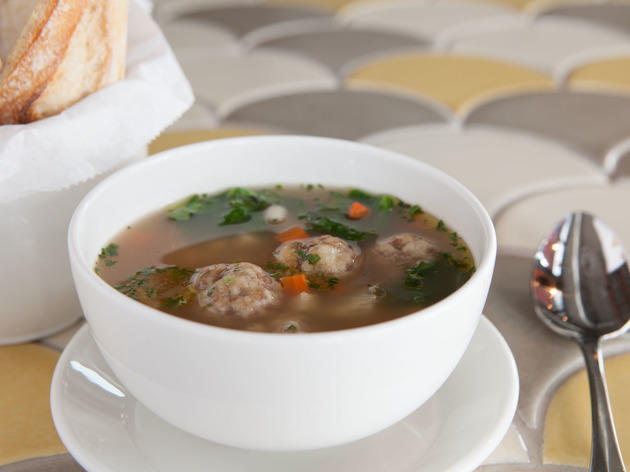 1/7
Photograph: Martha Williams
Kale and Meatball Soup ($8) at A10The hearty meatball and kale soup at the recently opened Italian-meets-French spot A10 (1462 E 53rd St) is just one more reason it's worth the trip to Hyde Park. The tiny velvety meatballs made with pork, chicken, egg and breadcrumbs are dense and custard-like and bob alongside kale leaves in a light, flavorful broth. A substantial helping of carrots, parsnips and ditalini pasta round out the soup, which is perfect for warming up in this year's brutal Chicago cold.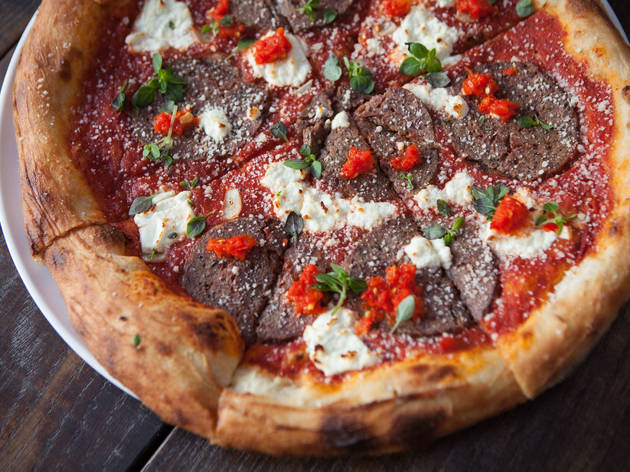 2/7
Photograph: Martha Williams
Meatball Pizza ($19) at BalenaResist the lure of the insanely expensive and luxurious white truffle pizza ($99) at Lincoln Park's modern Italian temple Balena (1633 N Halsted St) and opt instead for the reasonably priced meatball version. Here the meatballs have a rich flavor reminiscent of pâté, due to the uncommon choice of flavorful ground hanger steak as their base. Mixed with pork, bread and egg, the large dense spheres are thinly sliced and crowded over a tomato sauce spiked with pickled chilies. A sprinkle of basil microgreens and dollops of mild chèvre help to cut the sweet heat. Order any of the menu's delightful amaro cocktails to add a perfect balance of bitter.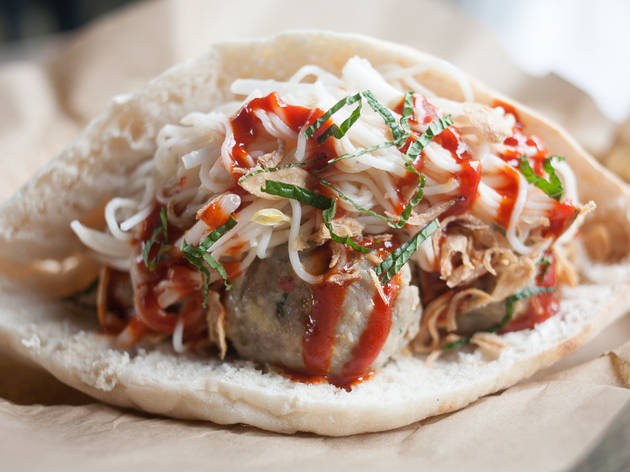 3/7
Photograph: Martha Williams
Meatball Sub ($9) at Belly Shack The giant meatball sub at Logan Square's Belly Shack (1912 N. Western) is a delightful play on its traditional Italian counterpart. Pork meatballs heavy with ginger and green onion are topped with a knotted mess of somen noodles and stuffed into a chewy pita. There's a pleasant burn of spice from a swipe of Korean chili paste, which is cooled with a sprinkle of chopped mint. You can attempt eating the beast of a sandwich with your hands, but we recommend the knife-and-fork plan of attack.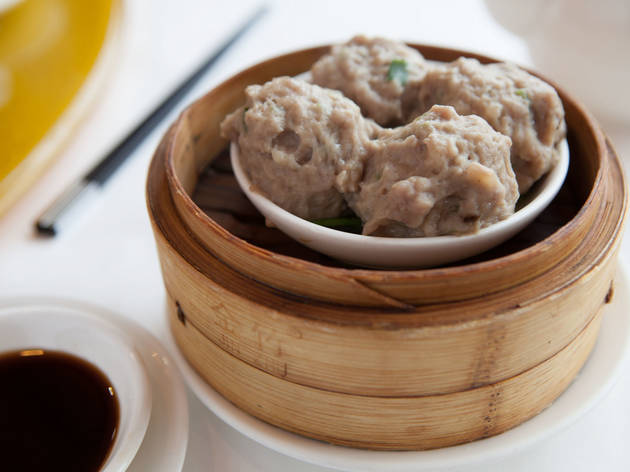 4/7
Photograph: Martha Williams
Beef Meatball ($4) at Cai Under the sparkling glint of a dozen egg-shaped chandeliers and a kaleidoscope of light reflected by fish tanks filled with spiny lobsters the size of pineapples, Cai (2100 S Archer Ave) serves some of Chinatown's best dim sum. With an assortment of favorites such as soup dumplings and buns with roast duck, make sure you don't miss the Ngao Yuk, steamed beef meatballs. Cai mixes them up with ground beef, scallions, ginger and a surprising crunch from the addition of chopped water chestnuts. Dunk them for a quick soak in the accompanying sweet and sour soy dipping sauce before devouring them.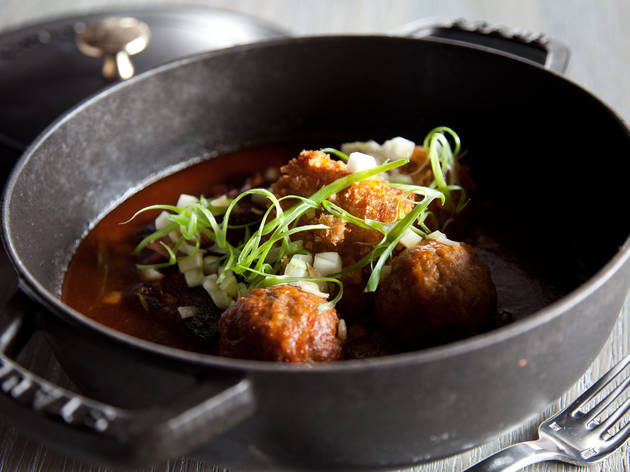 5/7
Photograph: Martha Williams
Neapolitan Style Ragu ($18) at Nico OsteriaChef Paul Kahan's latest offering is the recently opened Nico Osteria (1015 N Rush St), with seafood focused Italian fine-dining in the Gold Coast. Here, you can expect a meatball to be something special. Nico offers up a slow-cooked deconstructed version of the traditional dish sartú di riso (basically a molded Italian rice piñata filled with meat and other treats). Served with pork belly and a crispy ball of fried rice, the meatball itself is made out of ground pork and swordfish mixed with egg and breadcrumbs. The meaty swordfish is pleasantly suited with the pork and stands up well to the lavish, slow-cooked sauce.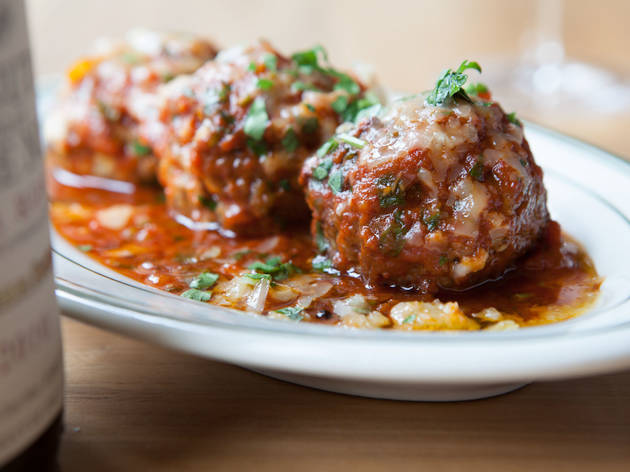 6/7
Photograph: Martha Williams
Saturday Meatballs ($12) at Vera At West Loop darling Vera (1023 W Lake St), chef Mark Mendez offers arguably the city's best meatball as a special on the menu every Saturday night. Made with a rotating combination of ground beef, pork and veal mixed with onion and breadcrumbs, each order comes with three plump meatballs. Served in tomato sauce and garnished with curls of shaved manchego cheese, they're superbly tender and perfectly seasoned. Make sure to ask wine director Elizabeth Mendez and her knowledgeable bar staff to suggest the perfect sherry for pairing.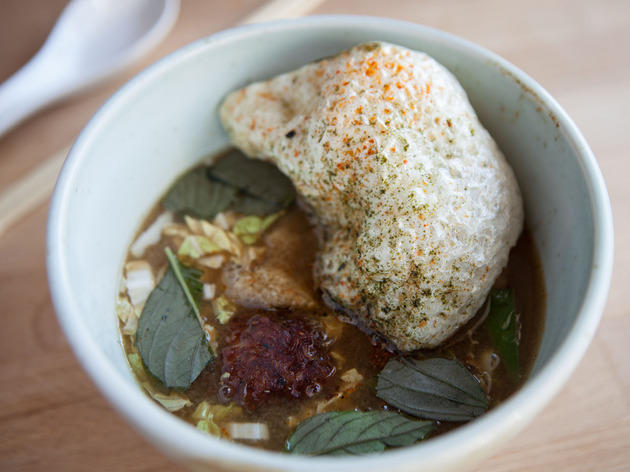 7/7
Photograph: Martha Williams
Lion's Head Noodles ($20) at Yusho Chicago's best-kept brunch secret may be Sunday Noodles at Logan Square's Yusho(2853 N Kedzie Ave)—$20 earns you your choice of noodles, a draft cocktail and their latest soft serve. For meatballs, opt for the lion's head, chef Matthias Merges's take on a traditional Chinese dish of meatballs stewed in cabbage. The juicy meatballs are composed of pork, rice noodles and ginger, and seared to a crisp before being added to a heaping mane of tangled rice noodles and Napa cabbage. The bowl is topped with a dark amber broth and finished with a snappy bit of pork rind, which you'll want to eat before it melts.
Could 2014 be the year of the meatball? The simple comfort food staple is making a comeback, and not just stuffed into deli sub sandwiches and plopped on top of pasta. With variations existing across cultures, hip interpretations have been surfacing everywhere. They took on a Mexican twist as daily specials at Big Star and Masa Azul and Siena Tavern's celebrity meatball even has its own Twitter account. Here are some of our favorite standbys along with a few new meatball dishes you shouldn't miss.