Communal entrées at Chicago restaurants
Julia Kramer and David Tamarkin ordered big at three restaurants offering shared entrées. (They finished only one of them.)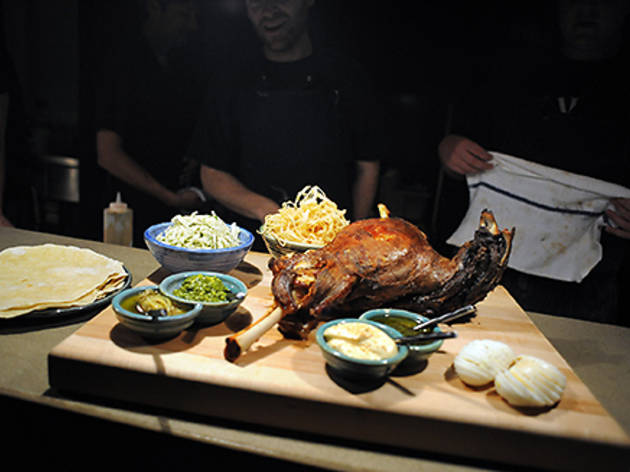 1/15
Photograph: Marina Makropoulos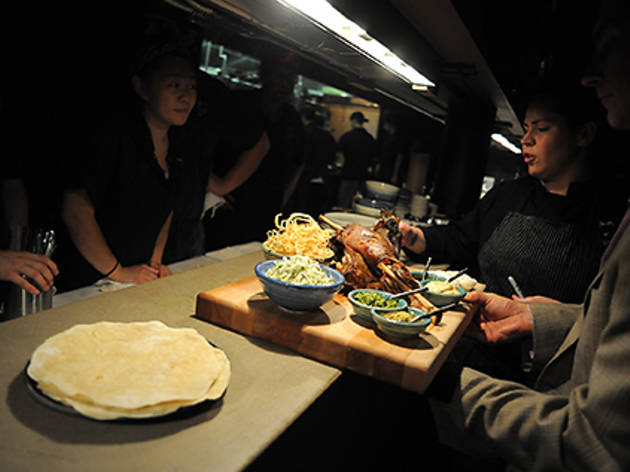 2/15
Photograph: Marina Makropoulos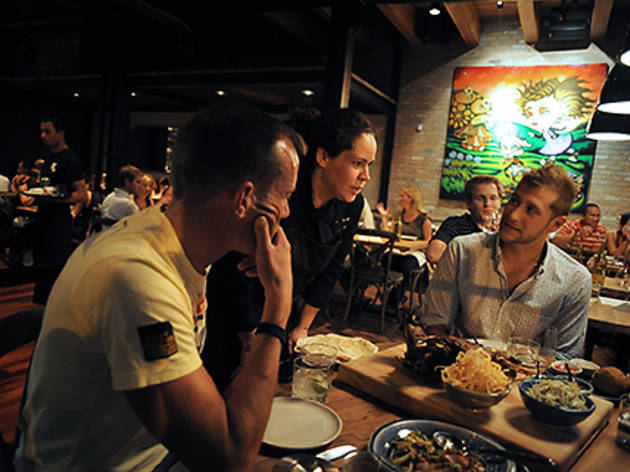 3/15
Photograph: Marina Makropoulos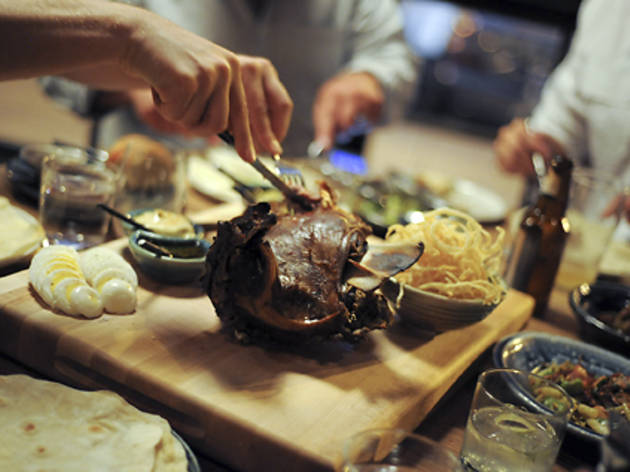 4/15
Photograph: Marina Makropoulos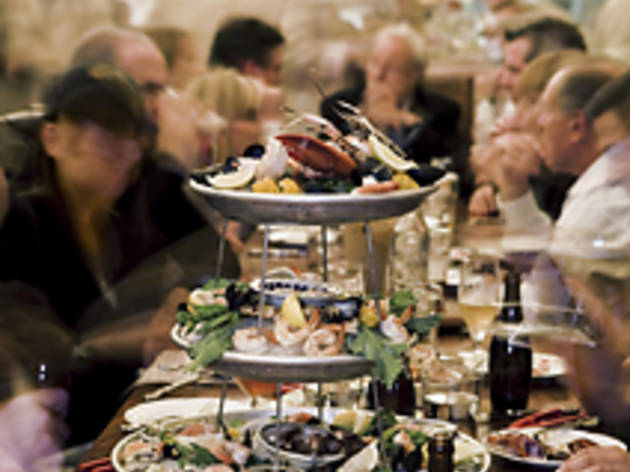 5/15
Photograph: Erica Gannett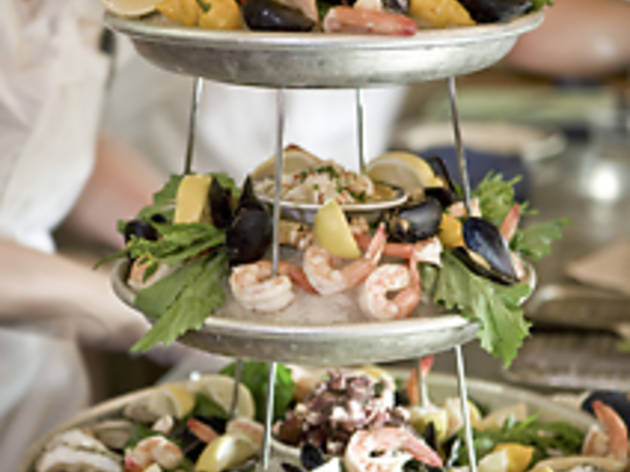 6/15
Photograph: Erica Gannett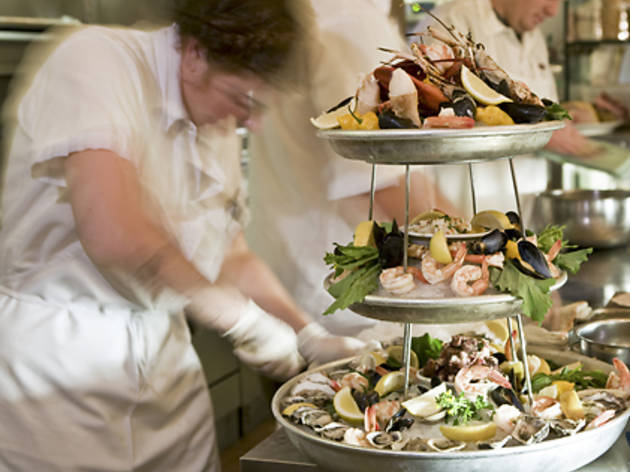 7/15
Photograph: Erica Gannett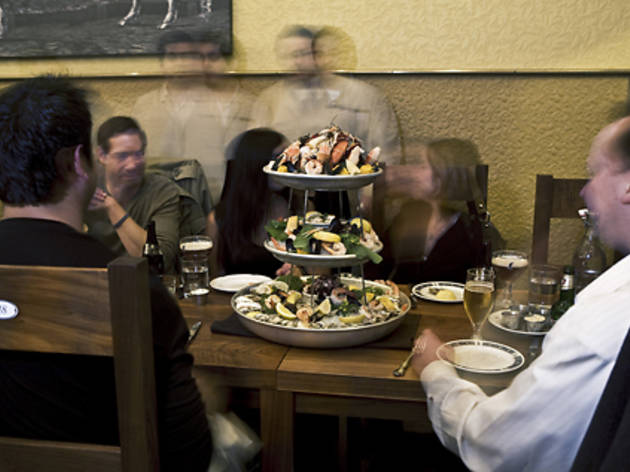 8/15
Photograph: Erica Gannett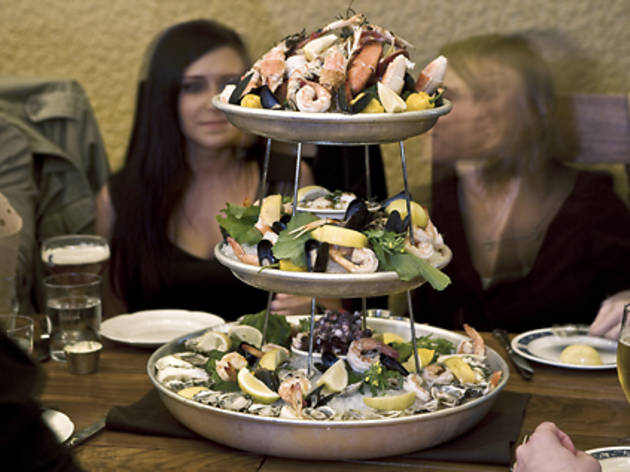 9/15
Photograph: Erica Gannett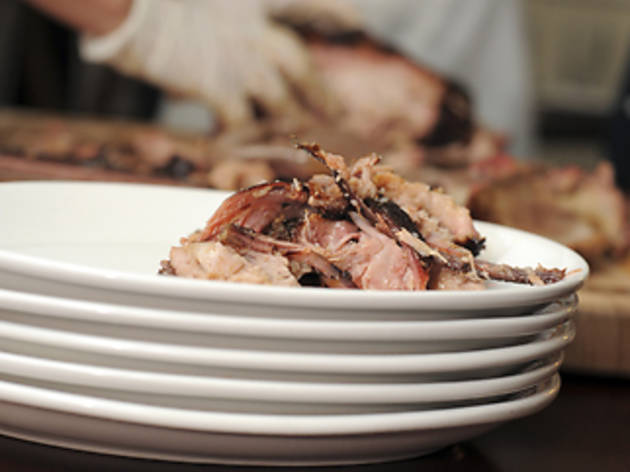 10/15
Photograph: Marina Makropoulos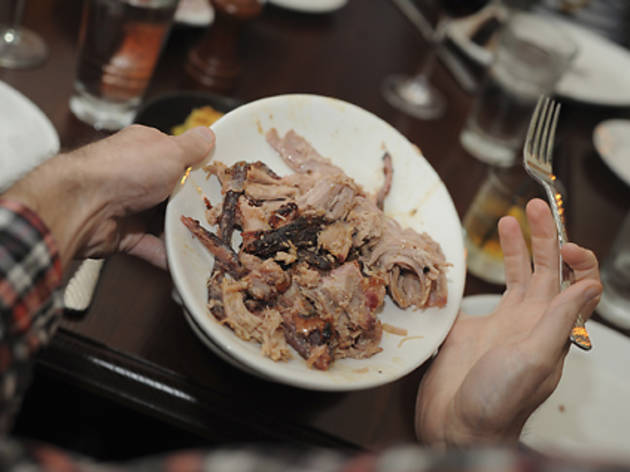 11/15
Photograph: Marina Makropoulos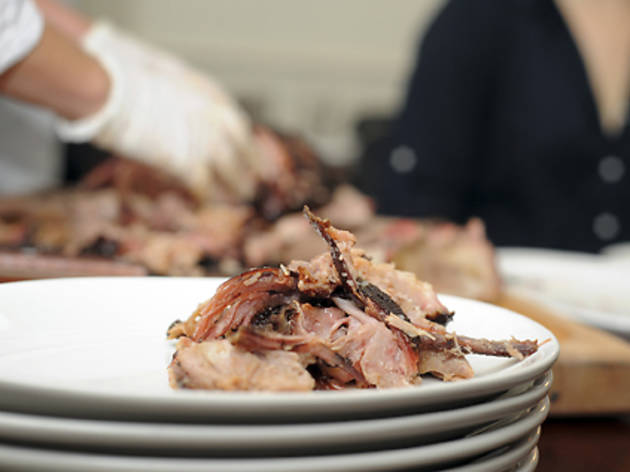 12/15
Photograph: Marina Makropoulos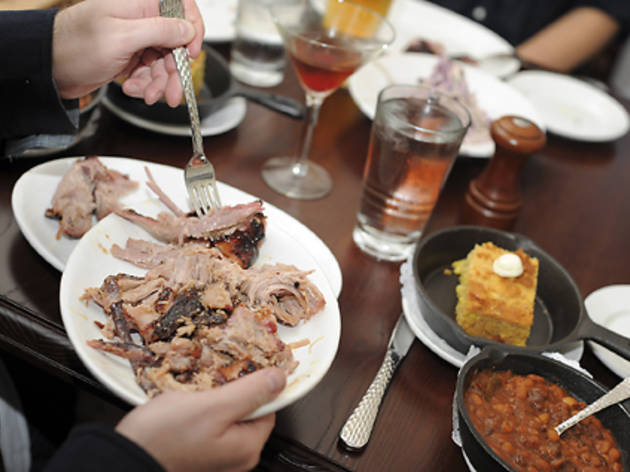 13/15
Photograph: Marina Makropoulos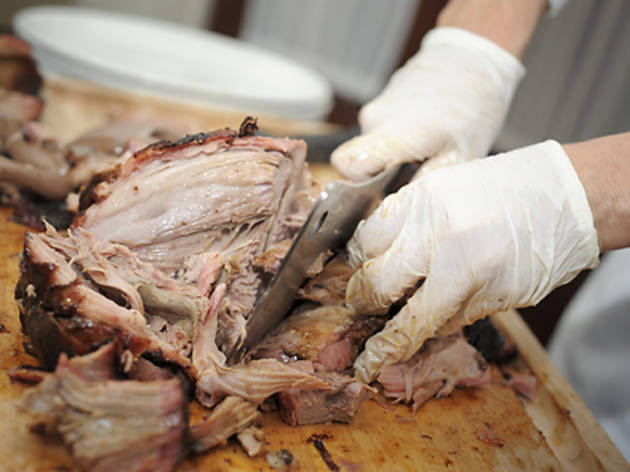 14/15
Photograph: Marina Makropoulos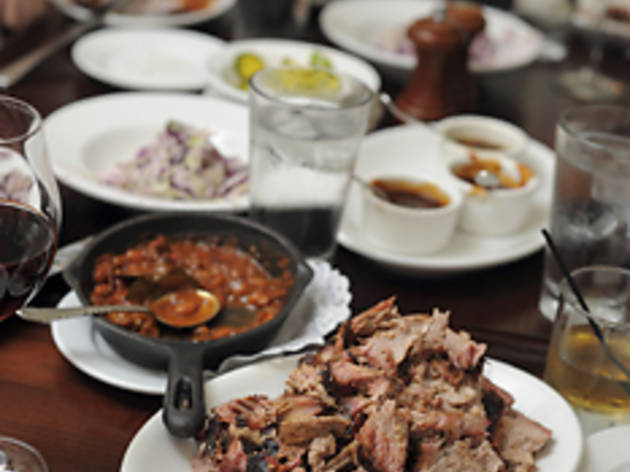 15/15
Photograph: Marina Makropoulos
There were hunks of protein bigger than babies, tiered platters of seafood that towered above us. We clawed at meat and dipped the shreds into sauces. We cracked open tiny sea creatures with our fingers. This was no contest; we were all in it together as we exposed ourselves to a style of eating that has come into fashion at some of the city's best restaurants: big, hulking communal entrées that must be ordered ahead of time. These are large volumes of a prized product, arriving at the table with fanfare and, usually, sides. Eating this way is not for the uninitiated, so please, diner: read further.
Our journey started months ago at the Publican. Eating big at this place is nothing new, of course. (Those who have ordered the Publican bacon for brunch, maybe as a side to the scrapple, already know this.) But the seafood tower, well, towers over the rest of the entrées. "Oh, the seafood tower party," the hostess said as we checked in. "I'm excited about this." We made a mental note right then and there: At future restaurants, we'd dress up a little more. Communal entrées bring attention.
Indeed, as a team of servers carried out the three-tiered tower and set it on the table (the top tier so high we could barely see what it contained), jealous eyes followed them to our booth. And let us tell you: Those people should have been jealous. The first tier was filled with oysters and clams, cold and briny, the only improvement on which were swigs of chilly grüner veltliner. Above that, rows of pink shrimp, cooked and cooled on ice, rich like sweet butter. On top: two lobsters, chopped in half, a little overcooked. We fortified ourselves with the impeccable ceviches (tender octopus in an aggressive olive oil). The tower is hawked as an appetizer, but four of us shared it (and two bottles of wine). We ate every last piece of seafood the tower offered. And we needed nothing else.
We knew on our second foray there was no hope of finishing the meal. The hostess at Chicago Q told us over the phone that she had seen the whole pork shoulder taken down by four really big and hungry men, but that usually it fed up to 12. We arrived a team of six. We ordered cocktails. And we tried not to eat the potato chips and pickles on the table while we waited for the shoulder and sides (corn bread, greens, coleslaw) to arrive. When it did, it seemed the whole kitchen staff arrived with it. Chef-partner Lee Ann Whippen wheeled the thing in on a butcher's block; executive chef Gabriel Inchauste was right behind her. She let us look at the hunk of meat for a minute, but then she started carving. "This is the what we call the competition cut," she said, pointing to one edge of the shoulder. Essentially the tenderloin of the shoulder, it was sliced evenly for us—one slice per person. Then she got out the bear claws: sharp plastic rakes she used to turn a portion of the shoulder into pulled pork. What was left of the shoulder she chopped. When she was done, the room was taken up with more feet of food than people.
We started with the tenderloin. It was smoky, and sweet, and Whippen hadn't lied—compared to the rest of the shoulder it was impossibly tender.
Sauces were sampled indiscriminately, inroads were made into mounds of pulled and chopped pork. There was an unspoken understanding—as we passed casseroles of beans, reprieves of greens—that we had to work together to take this food down. But soon we gave in, and the server wrapped up the leftovers in six packages.
There was a final leg of the trifecta, and it would be the most challenging. The venue: Girl and the Goat. The promise: a whole goat leg. The hindrance: the only reservation available, 11:30pm on a Friday night. We brought with us the suggested number of companions (total party: four), and succumbed to the server's suggestion that we throw in a few sides. When the goat arrived, flanked by flatbread and six sauces, we knew we had been played. This wasn't a meal for four. This was a meal for eight. But we did our best, sticking our forks into the leg and pulling off hunks of glistening, gamey meat. The chimichurri came in handy, cutting through the layers of crisp skin and fatty meat, and adding a little moisture in the chunks that were dry. An hour later, the table was full of wreckage—spatters of sauce everywhere, a hunk of meat that looked as if it had been attacked by raccoons. We couldn't finish it, of course. But now we knew better. And we'd be back.
Pork shoulder at Chicago Q
(1160 N Dearborn St, 312-642-1160)
Price: $300
Feeds: 12 people with normal appetites
Sides: corn bread, beans, coleslaw
Advance notice: Unnecessary (But if we were you, we'd give them a heads up anyway.)
Whole goat leg at Girl & the Goat
(809 W Randolph St, 312-492-6262)
Price: $125
Feeds: 8, at least
Advance notice: 24 hours
Grand seafood collection at the Publican
(837 W Fulton Market, 312-733-9555)
Price: $120
Feeds: 8 as an appetizer; 4 for a light supper
Advance notice: 24 hours