Ask the critics | Cocktail up-sells and big spoons
TOC critics answer your foodiest questions.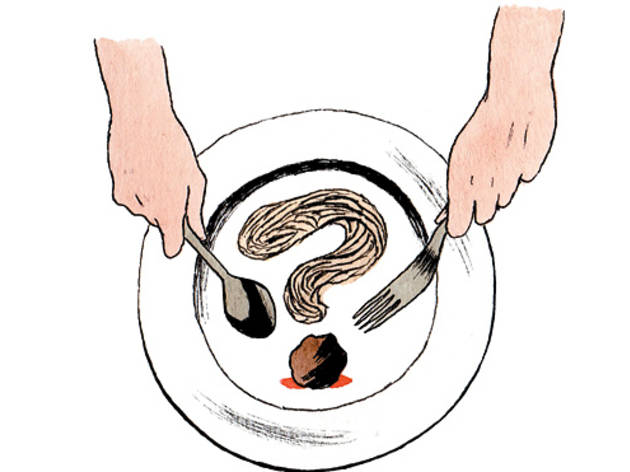 Where is the best place in Chicago to buy amazing cheeses?—Darcy, Wicker Park
Pastoral (locations citywide), Marion Street Cheese Market (100 S Marion St, Oak Park, 708-725-7200) and the Great American Cheese Collection (4727 S Talman Ave, 773-779-5055), a warehouse that's open to the public only three hours a month (the first Saturday of the month, from 11am–2pm).
Recently, my husband and I went out for a special anniversary dinner at an upscale restaurant. When we arrived, the hostess said our table was "still being prepared" even though only about a third of the tables were full, and we were invited to have a drink at the bar. The second our cocktails were set down in front of us—and the hostess was watching—she came over and told us our table was ready. We would have ordered cocktails anyway, but we felt duped. Is this some sort of standard up-sell industry practice?—Mindy, Humboldt Park
"That's really sketchy," says Michael Simon, the head bartender at Acadia and former beverage director of graham elliot, who had never heard of a place instituting this practice. But he offered an alternate possibility: "Who knows, maybe a line cook did drugs all night and is a no-show…so they have to stunt the dining room, and they have to pace the room super, super slow, so even sitting somebody for 15 minutes at the bar could for some reason buy them the time." Note that this is merely a possible explanation, not an excuse.
Why are spoons so large at restaurants?—Andrea, Lincoln Square
Was the spoon served with pasta? If so, it's for twirling. If not, you probably just have a small mouth.
Ask us a question! If we answer it, we'll send you a cookbook. E-mail eatoutdrinkup@timeoutchicago.com.