Bagels from Reno and Little Goat Bread
Made in limited quantities with unheard-of ingredients, these things are next level.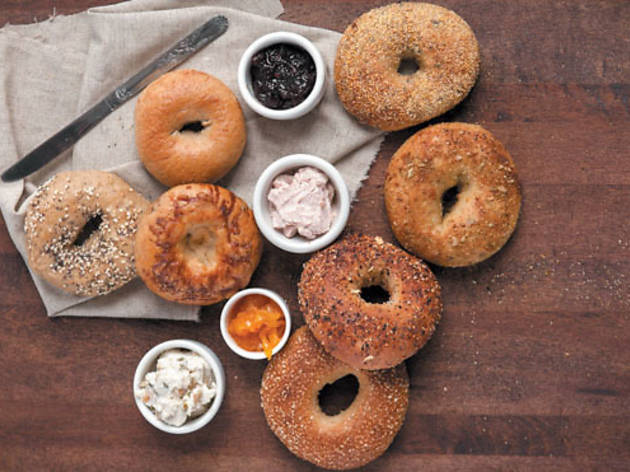 When the restaurant group behind Telegraph signed the lease on the space next door, what it was buying (besides prime Logan Square real estate) was a wood-fired oven. The question was how to get maximum benefit out of it. "I suggested wood-fired bagels," recalls Katie Wyer, the pastry chef of Reno (2607 N Milwaukee Ave, 773-697-4234). "And everybody's eyes kind of lit up." She began researching recipes (including those for Montreal-style bagels, which are wood-fired), then adapting them, until she settled on her base ingredients (such as saffron-infused water for "nuanced flavor") and an array of toppings, such as pumpkin seeds and olives. "To do an artisan bagel isn't cheap," says Wyer (Reno's are $2.25 each), nor is it quick. "We can only fire 16 [bagels] at a time," hence the restaurant maxes out at 200 bagels on weekdays and 325 on weekends.
Stephanie Izard's Little Goat Bread (820 W Randolph St, 312-888-3455) faces similar limitations: The bakery can make only 125 bagels a day. Izard worked with Greg Wade, the house breadmaker, to develop the recipe, which is modeled on a New York–style bagel (baked in a steam-injection oven) but takes Izard-ian license with flavors like "Grumpy Goat," a fennel-seed-and-golden-raisin bagel sprinkled with Wisconsin goat cheese. At both spots, the bagels are accompanied by inspired spreads: Izard turned her green-bean side from Girl & the Goat into a green-bean-cashew-shallot-fish-sauce cream cheese, and Wyer creates seasonal "schmears" (e.g., sweet potato) and jams (such as sweet pickled apricot). Reno's nouveau bagel style has, Wyer admits, brought her face-to-face with tetchy traditionalists. "People who were brought up with bagels…have a certain aesthetic they're looking for," she says. "To see a cocoa nib on an everything bagel, they think it's blasphemous." Yet these eccentric specimens have more fans than detractors. "I had someone tweet at me the other day, 'I hope there'll be pig-face cream cheese,' " Izard says. "And I was like, well, we have scraps from the pig face…."