Beignets and ricotta at Maison | Brunch breakdown
Chef Perry Hendrix puts out a sophisticated take on a plate of doughnuts.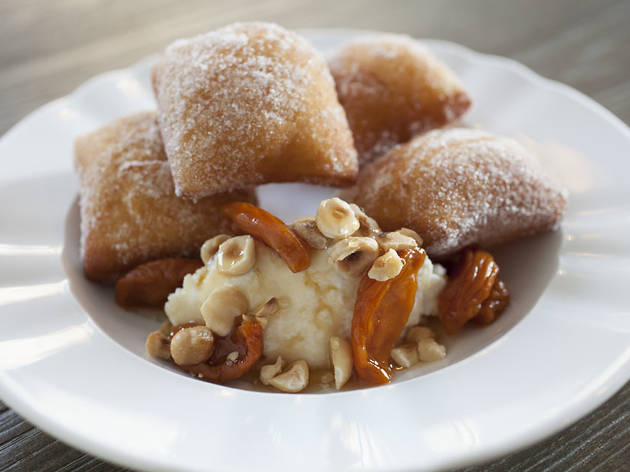 1/4
Photograph: Martha Williams
When a brunch menu begins with a section devoted to chilled seafood, you know you're in a place that's not going to Oreo-encrust its pancakes. You could spend your entire brunch at Maison (330 E Randolph St, suite 300, 312-241-1540) noshing on those seafood towers, soft-boiled eggs and cups of coffee refilled from sparking silver carafes. But in our opinion, brunch here isn't complete without an order of the beignets, a collaborative dish by chef Perry Hendrix and pastry chef Erin Mooney that takes doughnuts where they rarely go: upscale. The beignets"I'm not a huge sweet fan," Hendrix says. "That's why I like the combination of fresh cheese and sweets." Wait, did Hendrix say he wasn't a huge sugar fan? Because dude is a self-proclaimed "sucker" for doughnuts. "I feel blessed that my train stop is a block from Do-Rite Donuts," he admits. Mooney sticks to a classic New Orleans style for her beignets, tossing them in granulated sugar. Photo: Martha Williams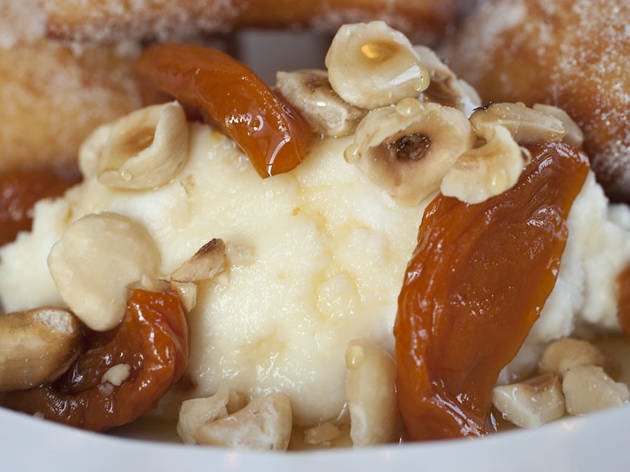 2/4
Photograph: Martha Williams
The cheeseHendrix was inspired to pair Maison's housemade whole-milk ricotta with beignets by a similar dish he had at New York's Prune, where he worked briefly in 2000. It's "a brunchy cheese plate," he says. In fact, when the dish first went on the menu, Hendrix gave the ricotta top billing, not the beignets. (He quickly realized that—surprise!—people are more drawn to doughnuts.)  Photo: Martha Williams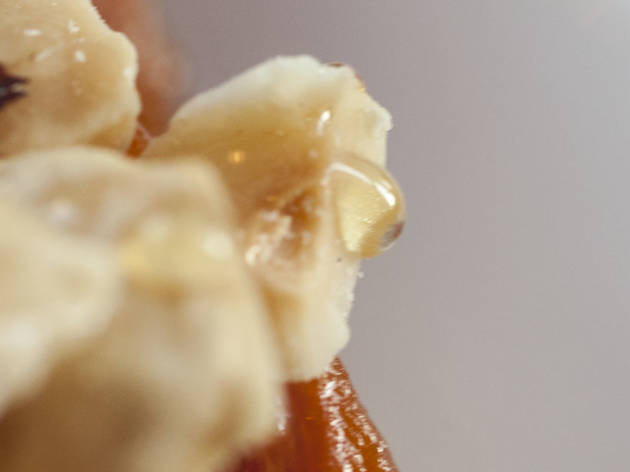 3/4
Photograph: Martha Williams
The honeyThe drizzle of local honey on the plate has been infused with lavender that Maison sources from Rare Tea Cellar.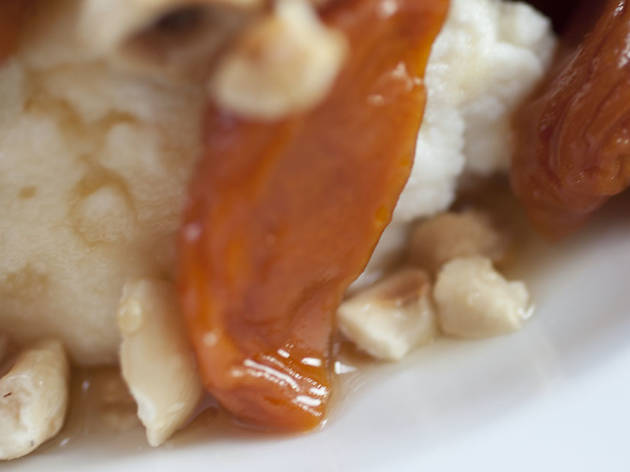 4/4
Photograph: Martha Williams
The toppingsThe fresh cheese is topped with seasonal fruits (wine-poached dried fruits for the winter) and toasted hazelnuts.