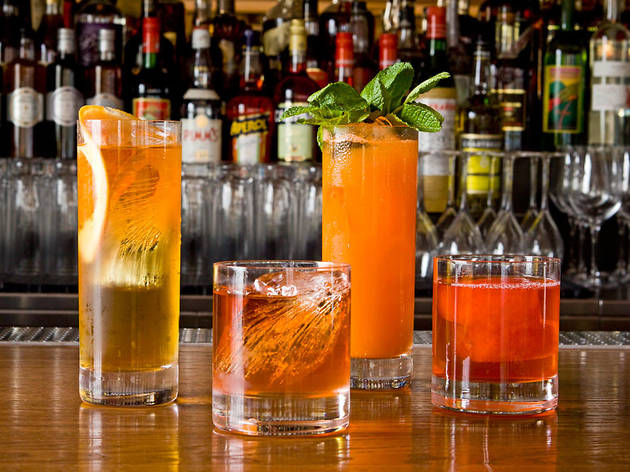 1/5
Photograph: Roger Kamholz
"Homestead has a huge outdoor eating area, and so most of the cocktails are meant to go with the food and be drunk in that setting," Schiller says of his seven-drink debut cocktail list. "So, cooler, more refreshing cocktails. We obviously use farm-fresh ingredients from our roof and from our farm whenever we can. But mainly they're meant to take a backseat to chef Chris Curren's food and play a complementary role."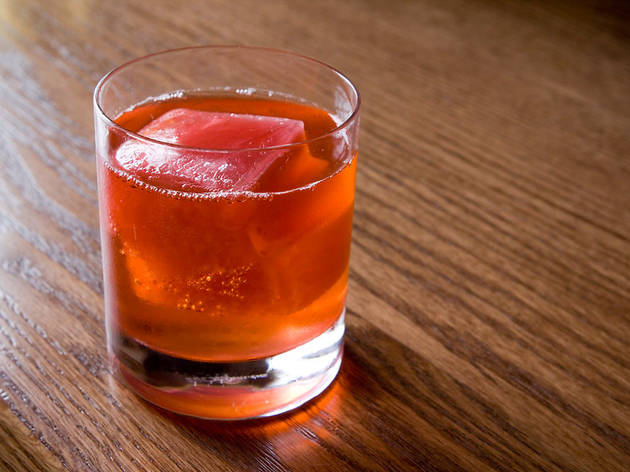 2/5
Photograph: Roger Kamholz
Ink Sleeve ($10) at HomesteadSchiller says this mix of Pierde Almas Puratita Mezcal, lime, bitters and housemade raspberry ice has quickly become the hit of the new cocktail menu. "We had to start serving it with a spoon, because everybody wants to eat the ice afterward," he adds. The ice-making entails a three-hour sous vide of raspberries, salt, sugar, citrus oil and water, which yields a concentrated syrup that's then frozen in a blast chiller. As the ice melts, the sweetness and flavors of raspberry intensify.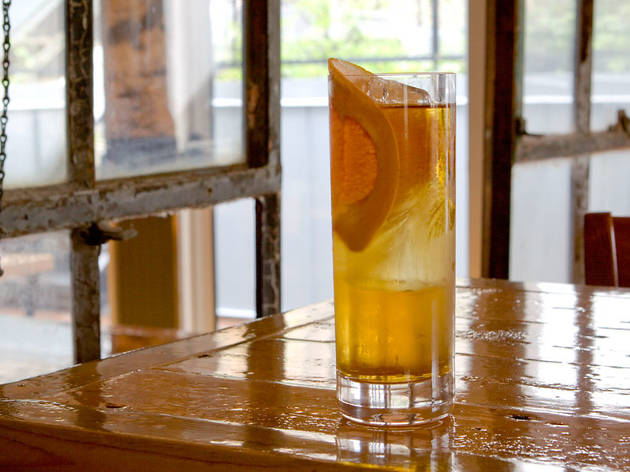 3/5
Photograph: Roger Kamholz
Ghost Sign ($10) at HomesteadThis is what Schiller calls a "porch pounder." The tequila cocktail features a combination of Pimm's, Peychaud's bitters and housemade kumquat syrup for a citrus-bitter backbone and is garnished with an impossibly thin wheel of grapefruit that Schiller slices with a dutifully honed Japanese chef's knife. "You can slice an electron off an atom with this," he says of his prized blade.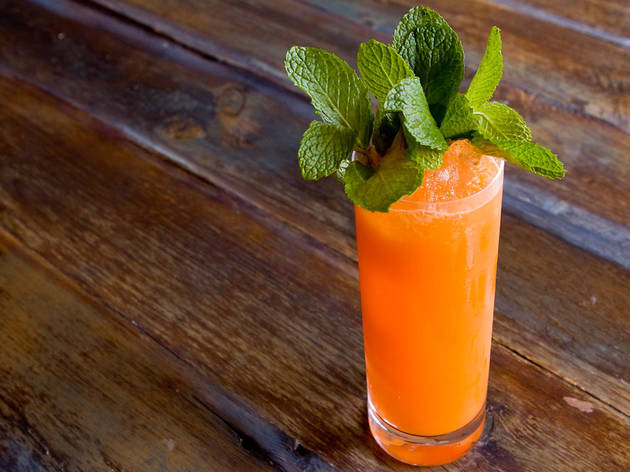 4/5
Photograph: Roger Kamholz
Village ($10) at HomesteadNamed after Homestead's 'hood, Ukrainian Village, this cocktail highlights locally sourced carrots-the juice from which is seasoned with sea salt and Jamaican jerk spices. Schiller combines the spiced carrot juice with lemon, Aperol and Fords Gin, and garnishes the drink with mint from Homestead's rooftop garden.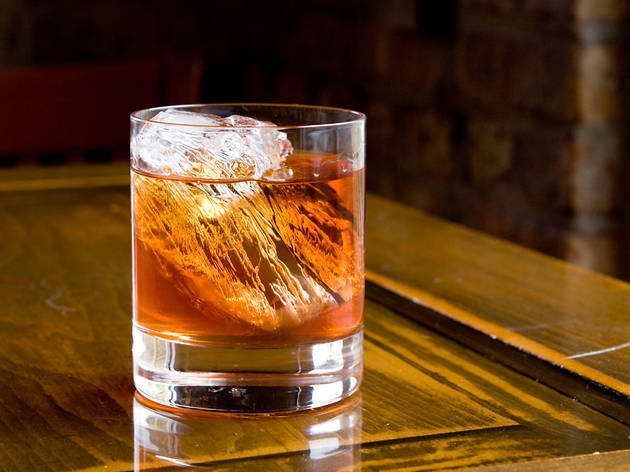 5/5
Photograph: Roger Kamholz
Weston ($10) at Homestead"This is the only cocktail I brought over from Boka with me," Schiller says. "And it started as a joke." At one point, Schiller was heading up the cocktail programs for Boka, GT Fish & Oysterand Girl & the Goat, as well as the wine program at the latter. "My life was over, I was so busy. On a good week, I would get one day off." His free-day ritual: coffee at Star Lounge, grocery shopping (where he'd invariably pick up a fancy chocolate bar), takeout Thai food, and, at the end the night, a pipe or cigar plus whiskey. "On a whim, I made a cocktail about my day off." The Weston combines bourbon; Dark Matter coffee syrup spiced with vanilla, cinnamon and cassia; and a finish of fragrant pipe-tobacco essence extracted over months from leaves sourced from Up Down Cigar.
Ben Schiller's cocktails at Homestead rooftop restaurant
What do raspberry ice, tobacco essence and an expertly sliced grapefruit peel have in common? They're what you'll be drinking at this summer-only spot.
In late April, the Fifty/50 Restaurant Group announced a surprising get: Co-owners Greg Mohr and Scott Weiner had lured Benjamin Schiller from his post as Boka Restaurant Group's "resident mixologist" to run the cocktail program at the rooftop farm-to-table spot Homestead (which reopened for the season last week) and the soon-to-open Berkshire Room. At Homestead (1924 W Chicago Ave, second floor, open Tue–Sun 5pm–2am), Schiller joins the new chef, Chris Curren, and pastry chef Chris Teixeira. We caught up with Schiller to discuss a few of the outdoor-ready debut drinks at Homestead.
Best selling Time Out Offers