Brisket | Cheap eats
Whether you're Jewish or a Texan, only one Chicago spot does it right.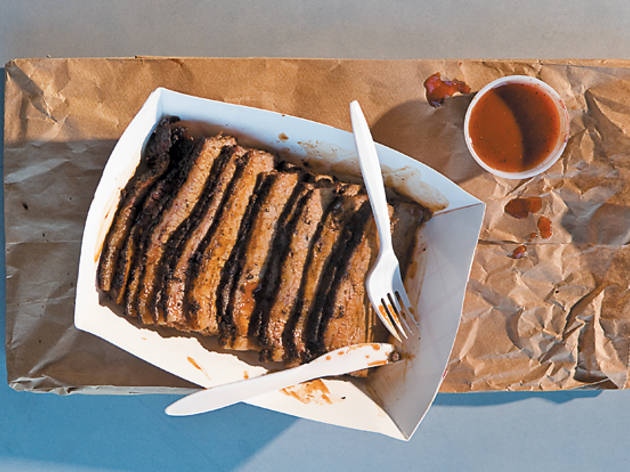 Everybody eats brisket. But two demographics really eat it—so much so they can taste it in their memories. The first group is Texans. The second is my own: the Jews.
We don't really see eye to eye on the matter. Jews take their brisket and trim the fat. Then we plunge the meat into a sweet-tart broth studded with garlic, onions, tomatoes, ginger and, um, prunes, and let it braise for about as long as Noah was on the Ark. No smoke. No spice rub. And it's often as lean as sliced turkey.
To a Texan who massages his brisket with spice rubs and smokes it for 14 hours before ladling it with sauce, it's sacrilege.
But there's a point on which Jews and Texans (and that rare Jewish Texan [hello, Kinky Friedman] ) agree: In Chicago, it doesn't matter what style of brisket you prefer—hardly anybody does it right. In fact, most folks don't even try, and when they do, it often turns out dry and gray.
What's a Jew to do? Hell, what's a Texan to do? There's really only one choice, and that's to pay a visit to the best Jew in 'cue: Barry Sorkin, chef-owner of Smoque (3800 N Pulaski Rd, 773-545-7427, smoquebbq.com; sandwiches $7–$9, platters $8–$11).
"The funny thing is, I grew up thinking I didn't like brisket," Sorkin says. It was the classic Jewish kind, made by his grandmother, then his mother. It wasn't until Sorkin started researching Texas barbecue that he fell in love with the stuff. "I was sold instantly; I didn't believe it could taste that good, that it could be juicy and smoky."
And yet he couldn't quiet his Jewiness. (With a Jew-fro like his, how could he?) The brisket at Smoque is perfectly smoked and heavily rubbed, with a sumptuous layer of soft fat on each slice. But the sauce is vinegary, like those North Carolina sauces. There's nothing Texan about it. And nothing Jewish about it, either.
But I think it's the best of both worlds—the smoke and fat of Texas brisket, and the tart bite of the Jewish sauce. Yes, maybe Sorkin left out the sweet part of sweet-and-sour, but nobody seems to miss it. Brisket has become what Sorkin is best known for. Particularly on one day every spring, when he says he sells nearly 100 whole briskets to families: Passover.