Brunch spots
Five new takes on brunch to hit this weekend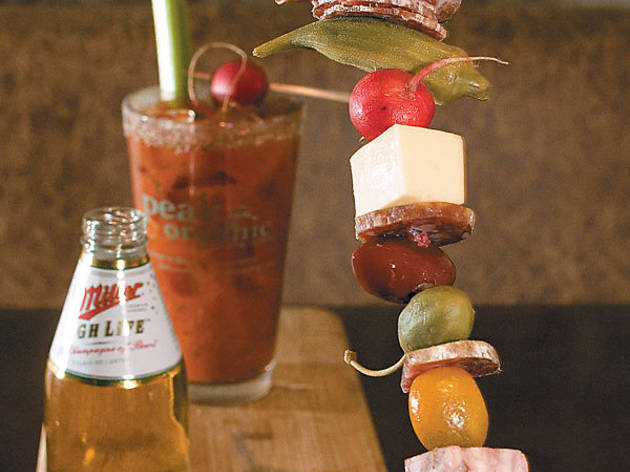 1
Purgatory Pizza(3415 N Clark St, 773-975-6677)
At this pizzeria's new hip-hop Sunday brunch, it's hard to know what the real attraction is: the $13 all-you-can-eat pizza or the performances by local acts like the MC (and, um, tobacco fiend?) Phillip Morris.
2
Chalkboard(4343 N Lincoln Ave, 773-477-7144)
Lincoln Square's classiest daytime spot is bringing back its popular brunch—along with its biscuits and gravy, house-cured salmon and johnnycakes—with one major revision: Kids eat free.
3
Sushisamba Rio(504 N Wells St, 312-595-2300)
The Brazilian brunch here just got a major shot in the arm (or, rather, down its throat). A mere $16 now buys one entrée (Asian pear pancakes; Kobe sliders) and three—three!—mimosas, Bloody Marys or caipirinhas.
4
Kitsch'n River North(600 W Chicago Ave, 312-644-1500)
The new promotion here—unlimited $2 Bloody Marys and mimosas—means you can fill up on enough liquids to skip eating. (Except you will have to buy one entrée to get those cheap drinks.)
5
Bristol(2152 N Damen Ave, 773-862-5555)
Yeah, the malted waffle and the fried-egg-pork-belly sandwich sound good. But as long as the Bloody Breakfast (Bloody Mary, Miller High Life, salumi, cheese and pickles) stays on this new brunch menu, we don't see why anybody would order anything else.