Burger chains in Chicago
Chicago's getting inundated with burger joints from all over the country. It's time to send out one of our own.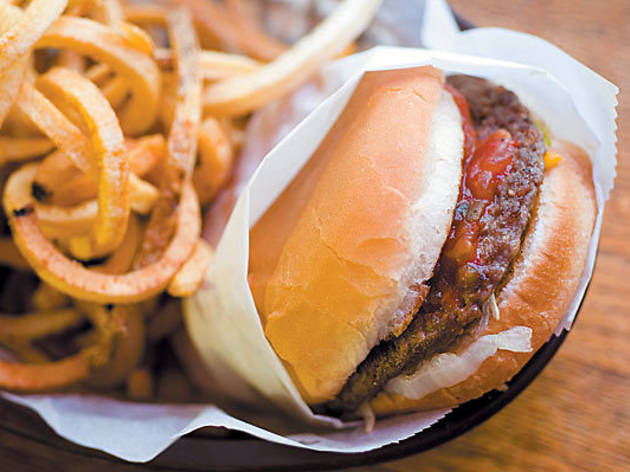 When Five Guys Burgers opened in Lincoln Park last week, it was just one more example of a disturbing series of Foreign Burger Infiltrations. The past few months have been rife with similar infractions: The Counter came from Culver City, Fatburger descended from L.A., and Sonic had the suburb of Aurora in hysterics when it finally arrived from Oklahoma. These expansions are not merely the mark of ambitious corporations; they're a suggestion that Chicago has a hole to fill. We have no quintessential burger of our own, so other cities' burgers are here to stake their claim.
But enough is enough. Sure, this is a town known for its hot dog and its deep-dish, but it's not as if we don't have great fast-food burger joints of our own. A little marketing, a little capital, and we, too, could be exporting one of the city's gems. Below, a few nominees that would do us proud.
Ready for prime time: Billy Goat When it comes to name recognition, there's no burger joint in the city that can compete. But there's a reason the burger slingers here have garnered more attention than the burgers themselves: The paper-thin patties are as indistinguishable in flavor as they are in girth. Stack a few together, however, and you've got something: layers of beef and melted cheese in a crusty kaiser roll—which, surprisingly, turns out to be a burger worth hearing "cheezborger" for. 430 N Lower Michigan Ave at Kinzie St (312-222-1525)
The green thinker: Epic Burger Epic doesn't earn its name for the size of its burgers but for its slow-food-meets-fast-food take: hormone-free beef, organic ketchup and the option of having a fruit smoothie instead of a shake. Prices may turn people off—add an organic egg, nitrate-free bacon and buttermilk blue cheese and you've got a burger that's inching close to ten dollars—but at the end of the day, these are burgers and shakes you can feel good about. And that's something people will pay for. 517 S State St between Congress Blvd and Harrison St (312-913-1373)
The notable name: That's-A-Burger This is a great name in the hyphenated three-word tradition of In-N-Out, but what's really incomparable here is the sheer decadence of the burgers. Stacked so high with toppings that you simply cannot hold it with one hand, these burgers were built to be the only meal you'll need all day. (Particularly if you order a fried egg on top, which, if you want the true TAB experience, you will.) The only deterrent to this place going global is the 20-minute wait between ordering and having a burger in hand. Oh, and the decor—bulletproof glass a national treasure does not make. 2134 E 71st St between Merrill and Paxton Aves (773-493-2080)
The simpleton: Muskie's Hamburgers The place is a little grungy, yes. And aside from the red-and-white striped awning, there's not a whole lot to the decor. But there are aspects of this stalwart that give it expansion potential nonetheless. Like the lack of pre-made anything, for example (nary an onion is grilled unless you order it first). And especially the bun: Steamed until warm and soft, it offers a cloudlike counterpoint to the substantial burger and crispy lettuce between it. 2878 N Lincoln Ave at George St and Lakewood Ave (773-883-1633)
The old-schooler: Don's Grill This place had a better shot when it was called Don's Humburgers (that famous sign recently had to come down, and the notorious typo went with it). But that, thankfully, is not all Don's has to offer. The tiny diner consists of a counter only, and the lone short-order cook behind it is in full Edward Hopper wear (if there's a better replica of Nighthawks in this town, we haven't seen it). And the burgers? The mushroom-Swiss isn't bad, but, to be honest, the frozen patties were probably more charming when they were still misspelled. 1837 S Western Ave at 18th Pl (312-733-9351)
So saucy: Patty Burger
Patty Burger's shtick revolves around a pinup girl ("Patty," we presume) striking vaguely suggestive poses with burgers and spatulas. This alone is enough to capture a country's attention. Also attention grabbing: the thick Angus patties, the smears of "special sauce," the brioche buns, all of which equals a substantial burger. There are plenty of aspects of the place that reek of ambition to become a mediocre chain (the cookie-cutter design, for example); thankfully, the food's not one of them. 72 E Adams St between Wabash and Michigan Aves (312-987-0900)
Set to jet: Grant's Wonderburger Grill From the green-and-white checked floor to the teenagers standing behind the counter in white aprons, this place gives off the distinct aura of being in an Archie comic. And as if that weren't marketable enough, there's the burger, slathered with a relishy secret sauce and set on a bed of curly fries. Oh, and did we mention that in order to get one you have to actually say the word wonderburger? Who in their right mind wouldn't want to do that? 11045 S Kedzie Ave between 110th and 111th Sts (773-238-7200)