Heads up! We're working hard to be accurate – but these are unusual times, so please always check before heading out.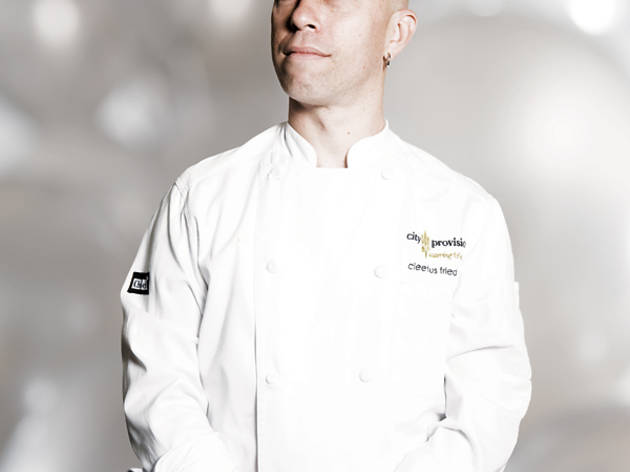 Cleetus Friedman of City Provisions
The locally sourced, organic and sustainable deli and grocery in Ravenswood is ahead of its time.
The map says it all. Proudly displayed in the store and punctured by countless pushpins, the map of the Midwest indicating where Friedman sources his meat, coffee, produce, beer and nearly everything else in his six-week-old deli and grocery, City Provisions (1818 W Wilson Ave, 773-293-2489), represents his commitment to his four favorite words: local, sustainable and certified organic. The 39-year-old owner of the City Provisions juggernaut, which includes a two-year-old catering business and popular farm dinners (if/when the adjacent video store goes out of business, stay tuned for a restaurant, or bakery…he hasn't decided yet), acknowledges his model is ahead of its time. "I was telling people here, 'Prepare for competition in the next six months or a year because we can't be the only ones doing this,'" Friedman says. "I don't want to be the only one doing it."
Is it difficult to be so selective with your sourcing?
It took a lot of vetting and research in the beginning. But then again, I already had relationships with a lot of these people anyway—doing catering, just being at the [farmers'] markets all the time. …What's hard is telling people no when they don't fit into our model. I'm not going to put it on the shelf just because it's great.
Why is it so important to you—and for the community—to buy local, sustainable and organic?
I never stand on a soapbox and say, This is the way it should be. This is the way I choose to run my business. …The food is better, because from a chef's perspective, you're dealing with the best stuff out there. When my meat was produced the day before, or my fish was caught yesterday, when my beets were picked yesterday, when my produce was harvested yesterday, it doesn't get better than that. I don't have to do a whole lot to it to make it sing. …When I do speaking engagements, I don't say, "If you're a chef and you're not working with local farmers, you're an idiot." Because it's not my place. This [gesturing around store] is my place.
Grant Achatz
|
Bike delivery
|
Ty and Troy Fujimura
|
Cleetus Friedman
|
In-house butchering
|
Taylor Street revival
|
David Meyers
|
Everything CSAs
|
Pop-ups are the new food trucks
|
Zina Murray
|
Next dessert trend: using the whole fruit or vegetable
|
Next wave ingredient: Beef
|
Chefs weigh in on what's next
|
Next wave in booze