Craft Beer Week don't-miss events
Which events to hit—and which beers to drink.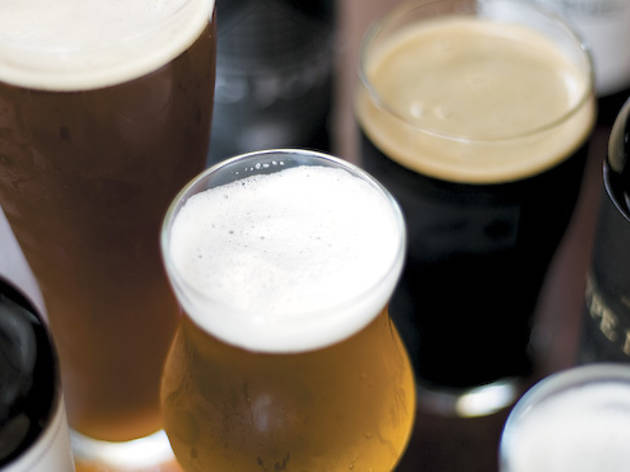 1. Chicago's Greatest Dives tour
The Chicago History Museum digs into the past of several dive bars during this trolley tour, while also teaching you the finer points of illicit throat-burners. Bars TBA at press time. Sat 21, 5–8pm. $30; tickets at 312-642-4600, chicagohistory.org.
2. Beer & Sausage at the Map Room (1949 N Hoyne Ave, 773-252-7636)
Thoughtful pairings of encased meats and brews include a pork and lamb sausage with mint, coconut milk and garam masala paired with Founders Double Trouble imperial IPA. Tue 24, 6–9pm.
3. Death and DBL Deuces at Small Bar Logan Square (2956 N Albany Ave, 773-509-9888)
Stone Brewing Co. of Escondido, California, and Three Floyds offer some rare 22-ounce bombers to the tunes of death metal and punk. May 26, 7pm–2am.
4. Origin of the 5 Rabbit at National Museum of Mexican Art (1852 W 19th St, 773-738-1503)
Get a taste of 5 Rabbit, which touts itself as the first Latin microbrewery in the U.S., while checking out the museum's galleries and munching on apps. May 26, 7–11pm; $35. Tickets at brownpapertickets.com/event/171420.
5. Beer Fistival at Revolution Brewing (2323 N Milwaukee Ave, 773-227-2739)
The week closes with a tasting of local beers from brewers such as Half Acre, Metropolitan, Revolution and more. May 27, 4–7pm, 8–11pm; $40.
Unless otherwise noted, events are free with $10 passport. More events and info at chibeerweek.com.