Heads up! We're working hard to be accurate – but these are unusual times, so please always check before heading out.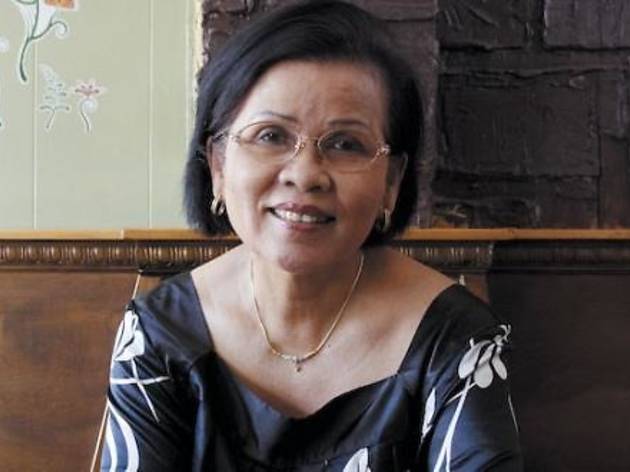 Dharma Garden | Cheap thrills
A revered Thai cook grabs her own shot at the spotlight.
Each weekend, in a handful of Thai restaurants across the city, the staff scurry to scoot the last customer out the door, sweep the place clean and lock the doors. They're not in a hurry to get home—they're headed to Dharma Garden.
There, in a small side pocket of a room obscured by movable wooden walls, a late-night karaoke party takes place Fridays and Saturdays, the revelers almost entirely Thai expats, mainly industry and all privy to this members-only throw-down. The host of the party is the chef and owner of Dharma Garden, Vilairait Junthong ("Pa Noi" or "Little Aunt" to everyone in the room), who breaks from her post at the stove to belt out the one and only standard she sings each night: Sirintra Niyakorn's "Roo wa kao lhok," a sort of feminist anthem that roughly translates to "You shit on me" (as in: You treat me wrong).
As impressive as her rendition is, it's not why chefs of celebrated local restaurants like Sticky Rice and Aroy Thai come to Junthong's restaurant-cum-karaoke joint. They come for her food. In the decade since she arrived in Chicago from her hometown of Prajinburi, she's been tapped to bulk up the authentic Thai offerings at a half-dozen restaurants around town, including Sticky, Spoon Thai and Amarit, all of which still use some of her recipes, particularly for specialties from Northeast Thailand (Isaan). These dishes—marinated beef jerky (nua dad deaw), pickled bamboo shoot salad (sup naw mai), sour pork sausage (sai krok Isaan)—found their way to Dharma Garden when original owner Surintorn Suanthong sold the then-vegetarian restaurant to Sudthida Srisawangpan and Duangta Layes in 2005. The duo wanted to continue the farang loyalty the "no land animals" platform created while also drawing in Thai diners with the real deal, so they employed Junthong to add both her Isaan signatures and her lineup of jok and khao tom, a Chinese-influenced class of congee-like rice soups that are to Thai what menudo is to Mexicans.
Almost two years ago, Junthong bought out the partners and took over Dharma. She kept Dharma's standard (read: Anglicized) menu, but expanded the Thai-language menu when she launched her karaoke sideshow, keeping her friends fed with stomach-padding soups and an endless parade of snacks known as khong gin len ("play eating"). Gaining entrance into the karaoke party requires a Fight Club–style introduction, but Junthong will open up to newcomers with a prearranged "private BYOB party" reservation. Plus, her daughter Panitee has been hard at work on a translation of the full Thai-language menu, which she promises to debut within a week or two. In the meantime, Junthong's favorite song can be found online, so belt it out when it's finally your turn.