Drink This Now: Church Street Brewing's Itascafest Marzen
The seasonal lager is made through an unusual process called "decoction mashing"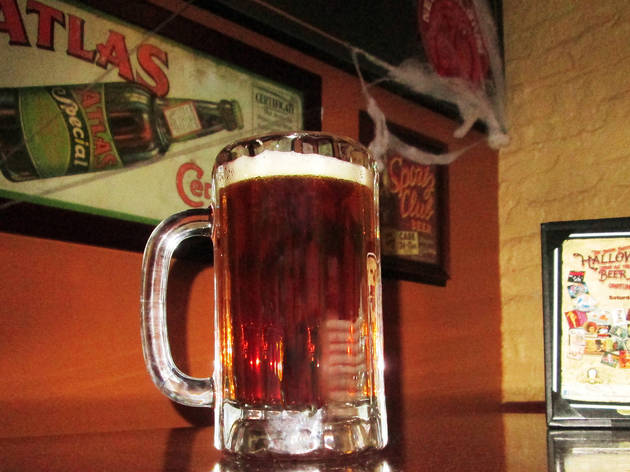 As a born-and-bred original west-suburbanite, I generally think of two things when I think of the Itasca area—proximity to the famed Medinah Country Club golf course and inclusion as one of BusinessWeek's Best Affordable Suburbs in 2009. But now there's a great new thing in Itasca—Church Street Brewing Company. It's been on my radar ever since Elliott Beier, beer director at Owen & Engine and certified cicerone, described their Heavenly Helles to me as, "the best Helles Lager in all the U.S. right now." Well, hot damn.

A process known as "decoction mashing" contributes directly to this high praise; it's a process that takes extra time, extra special equipment and extra effort, which is why so few places do it. But it makes a notable difference.

An insightful chat by the guys at the Hop Review with the Church Street crew goes into more detail, but basically it's a process which allows the brewers to better control the mash temperature and to extract sugars in a way that goes above and beyond the normal brewing process, which results in a clearer, crisper, more precise and consistent beer. It's a process that's also used in this darker seasonal lager as well, and to great effect.

Pouring a beautiful copper color, this Marzen is caramel-sweet but not sticky or cloying, a little smoky and maybe a touch burnt but that adds enough complexity to make it interesting without being overwhelming. Above all, that crisp, clear, fresh roasty-dark lager roars through unfettered, making this as light-bodied yet sweet, hearty and flavorful as you can ask for. The finish is a little bitterer than expected, but it doesn't take away from this fall-afternoon-in-a-glass concoction.

Find Itascafest at Beer Bistro and Church Street will also be pouring at this weekend's Chicago Beer Festival—ask for it by name. Ein Prosit!

If you're having trouble finding Marzen, the folks at Metropolitan know their way around a lager. Their Afterburner Oktoberfest is heftier, just a little richer in flavor and most definitely worth tracking down. And there's Baderbrau's Oktoberfest, which, hand to God, tastes like Cracker Jack. See if I'm wrong.