Ethnic holiday traditions
From Germany, Italy, Poland and France...and found right here in Chicago.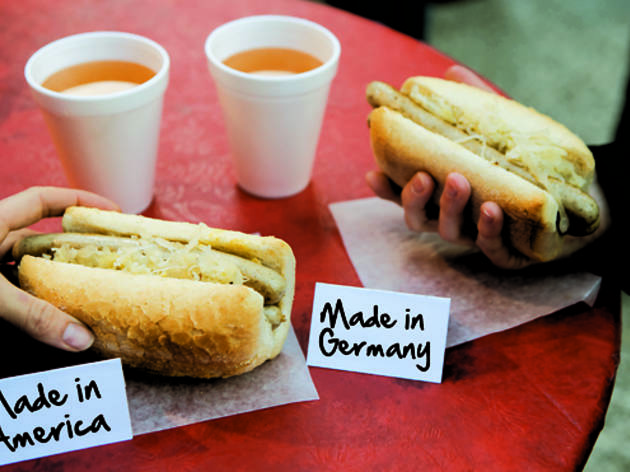 You truly don't know your aunt until you've seen her betrunken at a feuerzangenbowle. I hadn't until last Christmas, when my family kicked off a holiday pilgrimage to Germany by huddling around the giant "flaming fire tongs punch" (the feuerzangenbowle that gets you very betrunken) in Munich's Isartor square. The massive kettle is eight feet around and almost 12 feet high, and filled with a potent concoction of gluwein spiked with rum. Every now and then, one of the red-faced sloshers manning the bar built around the thing will pitch a pile of sugar into it and set it on fire, the crowd hooting and hollering as flames erupt into the night sky. It. Is. Awesome. And it's the first time I've seen Tante Liesel in her element, perma-grin and wine lips galore.
From Munich there were stops to Aunt Liesel's hometown of Walldorf, but I was more interested in Nuremberg's Christkindlesmarkt. Dating to 1628, this is the O.G. of these affairs, with throngs of people shuffling from stand to stand to snatch up hand-carved cuckoo clocks, sugar-crusted slices of dense stollen and short, skinny bratwursts ordered "drie em weckla" (three in a bun).
When Chicago's own Christkindlmarket kicked off this year, I expected to find cracks in the veneer that might have gone unnoticed before visiting the real deal. But instead I discovered it's a near note-for-note cover of the original, right down to the Nuremberg links made by Wheeling's Stiglmeier Sausage Co., the warm Sternthaler gluwein and the Spaten Optimator on draft. After shooting off an e-mail to Aunt Liesel to suggest Daley Plaza as this year's more affordable stand-in for Nuremberg, I decided to reach out to other expats to see if I couldn't track down a bit of their holidays back home.
Parisian Delphine rhapsodized about the tradition surrounding the galette de rois, or king cake, that appears on the first Sunday in January to mark Epiphany. The flaky frangipane puff pastry pie is cut while the youngest child hides under the table and calls out the order of who gets which slice. Whoever lands the piece concealing a small porcelain figurine is the "king" for the day, a tradition Sandra Holl continues with each galette de rois she bakes this month at Floriole. (She'll also be making classic log-shaped chocolate-chestnut buche de Noel cakes.)
Simone, a chef from Rio, explained that her country's typical Christmas meal puts our Thanksgiving tradition front and center, focusing on roast turkey as the main course but swapping out our stuffing for farofa, a dish made of toasted cassava flour, roasted onions and dried fruits. Brazil native Jorgina Pereira will do the same at her restaurant Sinha (which is in her home on the Near West Side), hosting holiday spreads at 2 and 4pm on December 18.
My friends Mijo and Sneza from Belgrade stressed the importance of cesnica bread as the symbolic start of a Serbian Christmas meal, and they bake more than a dozen different cookies for this and for Slava, the celebration held on the feast day of the family's patron saint. Sandy's Bakery will sell cesnica through December, as well as the nut roll­–like poppyseed strudla and walnut crescent cookies known as vanilice.
Likewise, the bakers at Little Italy's 103-year-old Ferrara & Co. will pull all-nighters to churn out massive orders of panettone and strufoli, honey-soaked doughnut holes heralded by Gabriele, a Sicilian photographer I know who was lured to New York for love. Gabriele makes his at home following his traditional "feast of the seven fishes" dinner on Christmas Eve, a multicourse seafood spread Chicagoans can experience at Osteria Via Stato on December 24.
The buffet at Polish restaurant Staropolska overflows year-round, but during the last two weeks of December it honors the holidays by including borscht with mushroom-filled pasta called uszka ("ears," similar to Italian orecchiette), carp in aspic and a few other specialties from the customary 12-dish Christmas dinner. My friend Raissa, from Poland's southern city of Katowice, says the number symbolizes the apostles and that the meal is meatless to honor the Catholic fast during Advent. Staropolska will also be pouring the dried-fruit drink kompot, but Raissa says to truly enjoy a Polish Christmas you'd do best to go straight for the wodka—to which I say "Prost!"
---
Christkindlmarket (Washington and Dearborn Sts, through Dec 24)
Floriole Bakery (1220 W Webster Ave, 773-883-1313)
Sinha (2018 W Adams St, 312-491-8200)
Sandy's Bakery (5857 W Lawrence Ave, 773-794-1129)
Ferrara & Co. (2210 W Taylor St, 312-666-2200)
Osteria Via Stato (620 N State St, 312-642-8450)
Staropolska (5249 W Belmont Ave, 773-736-5230)