Farmers'-market find: Salted Caramel pops
The maker of bacon-bourbon popcorn branches out into frozen sweet-and-savory treats.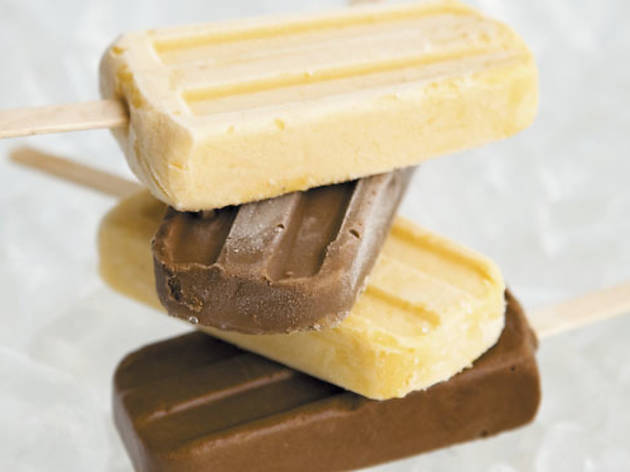 By Julia Kramer
Ginna Haravon put bacon and bourbon in caramel corn, and history was made. Or rather, her company—Salted Caramel—was, as her bacon-bourbon caramel corn became a phenomenon. Now she and her business partner, Bridget Doherty, sell bourbon caramels, stout marshmallows and more, all adhering to the motto "Where sweet meets savory." This summer, Haravon is giving classic popsicles an international twist at various farmers' markets, selling dairy-free almond–milk chocolate mole pudding pops, and pairing sweet mango with the flavors of Thai curry for Thai mango yogurt pops. She's also rolling out her product in cups, in flavors like watermelon-coriander ice and sweet-tart lemon-raspberry-goat-cheese. Salted Caramel will be selling the pops at retail outlets as well as at a number of markets, and will occasionally incorporate ingredients, such as herbs, from the market. So if a farmer happens to show up with some bacon…. Available for $3.50–$4 at various farmers' markets (on Sat 11, 7am–1pm, at Park Ridge Farmers' Market, Prairie and Garden Sts, Park Ridge, 847-318-5217); see twitter.com/saltcaramel for future market dates. Also available at Provenance Food & Wine (2528 N California Ave, 773-384-0699; 2312 W Leland Ave, 773-784-2314) and by e-mailing ginna@saltedcaramel.net.