Four bar menus that go beyond burgers.
(Nothing against burgers, of course.)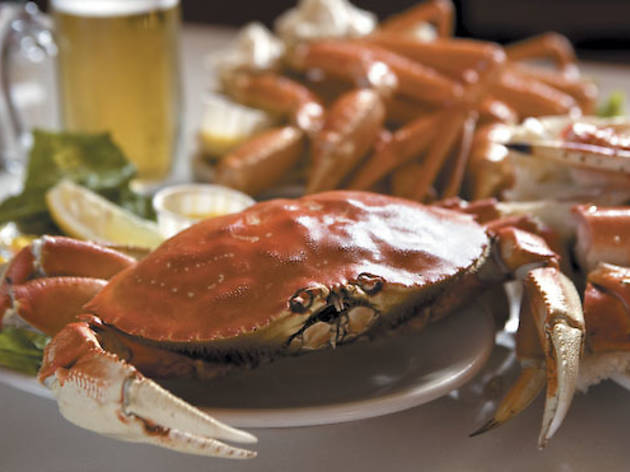 Duke of Perth You'll never know how relaxing Celtic music can be until you spend an afternoon at this warm, handsome Scottish ale house. Listen closely as you eat fish-and-chips (they're all you can eat on Wednesdays and Fridays), dig into the mashed-potato crust topping the steaming Shepherd's Pie, and drink from one of the best Scotch whiskey lists in the city—soon you'll be humming along. 2913 N Clark St (773-477-1741). El: Brown, Purple (rush hrs) to Diversey. Bus: 8, 22, 76. Mon 5pm–2am; Tue–Fri, Sun noon–2am; Sat noon–3am. Average beer: $6.
Half Shell "We close when we feel like closing" and "Nothin' but cash, no exceptions" are among the oh-so-perfect-for-the-setting sayings we overheard in just one night at this 43-year-old subterranean spot. Grab a table in the tiny Christmas light–strewn room, and start out with the "Mulligan stew" and an order of crispy calamari. For more fried goodness, have the "Thirty-Two Pointer" for an entrée—a crunchy pile of smelts, perch, frog legs, clam strips and fat shrimp. And if you're looking to crack some crab, splurge on the massive, meaty king legs. 676 W Diversey Pkwy (773-549-1773) El: Brown, Purple (rush hrs) to Diversey. Bus: 8, 22, 36, 76. Opens at 11:30am. Average main course: $22.
Maria's Packaged Goods and Community Bar Ed Marszewski—editor-publisher of Lumpen and general Chicago indie-art-world guy-around-town—and his brother, Mike, remodeled the Bridgeport bar that was owned and operated since 1986 by their mother, Maria. The chandeliers built out of bottles and the 300-plus microbrews are notable, but the real standout feature is the friendly scene and community feel. In that same spirit, the bar welcomes its patrons to bring over exceptional, pub-style noshes (mostly in the form of hearty meat pies) from the adjacent Pleasant House Bakery. 960 W 31st St (773-890-0588). Bus: 8, 62. Sun–Fri 4pm–2am; Sat 4pm–3am (store opens at 11am daily). Average beer: $4.
The Drawing Room Chef Nick Lacasse might be cooking for patrons with clubbing on their minds (many are likely heading to the adjacent Privét after they eat), but he's keeping them well fed with contemporary, seasonal dishes like king salmon poke and tempura avocado. Mixologist Charles Joly and his team adjust their impressive "culinary cocktail" menu accordingly, ensuring that everything on your table is as au courant as the Gold Coast regulars. 937 N Rush St (312-266-2697). El: Red to Chicago. Bus: 10, 36, 143, 144, 145, 146, 147, 151. Tue–Thu 6pm–2am; Fri 6pm–4am; Sat 6pm–5am. Average small plate: $12.