Four places to grab breakfast for dinner
Or at least a doughnut for dessert.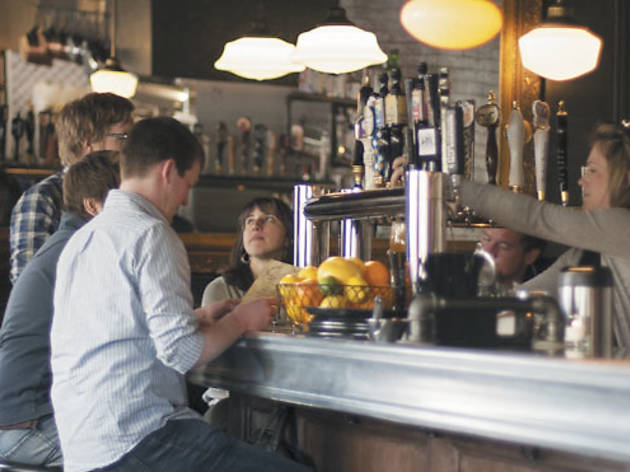 Au Cheval You practically trip over all the perfectly executed, endlessly cravable food at Brendan Sodikoff's "diner": the exemplary matzo ball soup, the devastatingly delicious chopped chicken liver, the gloriously messy double-decker burgers. But there's not a whole lot of lighter fare with which to start a meal here. Likewise, there aren't many dishes that won't make you feel as if you've just eaten a pound of butter. So head to Au Cheval when it will serve you best: for a burger and a beer at the bar, for a plate of chilaquiles (served only after midnight), for a perfect omelette…or all three. 800 W Randolph St (312-929-4580). Brunch (Sun), lunch (Sat), dinner. Average main course: $16.
HotChocolate Mindy Segal rehabbed her Bucktown restaurant this past spring, making it sunnier and adding a huge garage door that opens to let in warm weather. Segal—first and foremost a pastry chef—also rehabbed her approach to desserts: Now, the pastry menu consists of a seasonal cake, pudding, pie, etc., as well as a five-course dessert tasting centered around a seasonal ingredient (Segal calls this a "study"). On the savory side, little has changed. The pretzel, the burger, the mac and cheese—it's all still there. And if you can't make it to HotChocolate's decadent weekend brunch, breathe easy—the doughnuts are available at dinner, too. 1747 N Damen Ave (773-489-1747). Brunch (Sat, Sun), lunch (Wed–Fri), dinner (closed Mon). Average main course: $20.
Pierrot Gourmet Thick wood tables for communal dining stretch down the middle of this room, surrounded by smaller tables for a more intimate experience. In the morning, they're packed with families and tourists fueling up on pricey cappuccinos and buttery croissants. In the evening, however, you're likely to have the place to yourself. Which is curious, because we love the simple, French dinner fare here—and we love the idea of a cafe au lait and croissant for dinner even more. 108 E Superior St (312-573-6749). Breakfast, lunch, dinner (Mon–Sat). Average main course: $16.
Tempo Cafe Greek diners don't typically reach cult status, but somewhere along the line, this unassuming Gold Coast staple picked up a few celebrity endorsements and became a destination for locals and tourists alike. Is it worth dealing with the waits? Well, we don't know another place that serves egg skillets like this spot: The portion is enormous, the eggs are soft and fluffy, and Tempo is smart enough to know that the only bread that can stand up to eggs are thick slices of Texas toast. So if you're into that—or equally massive plates of pancakes and French toast—go for it. Just bring something to read in line. 6 E Chestnut St (312-943-4373). Open 24 hours. Average main course: $7.