Four tasting rooms
Visit local distilleries and breweries.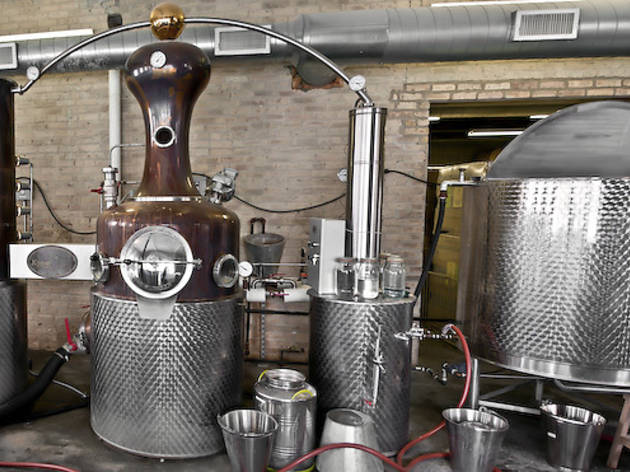 North Shore Distillery This teeny-tiny distillery operation (three full-time employees, one part-time) proves you can do a lot with a little by turning out small batches of unique, handmade spirits, including gin, vodka and an artisan collection that includes a mole poblano–infused spirit. Visit the tasting room Fridays 4–8pm and Saturdays 1–6pm to sample a variety of cocktails, or take a distillery tour, offered Saturdays at 2pm and 4pm. For $10, you get to taste every spirit that North Shore has to offer, learn about how it makes its products and meet the distillery crew, which, of course, takes next to no time at all. 28913 N Herky Dr, Lake Bluff (847-574-2499).
Half Acre Brewery Unlimited pours aren't the only reason this North Center brewery's tours are hard to get into: There's also the laid-back vibe, the high likelihood of hearing Springsteen and Hall & Oates, and the 90-minute interactive walk-through that includes sniffing a jar of hops (they smell like pot) and touching malted barley. Tours are given on a first-come, first-served basis, Saturdays at 1pm for up to 60 people, for $10, which includes a Half Acre glass and sample. 4257 N Lincoln Ave (773-248-4038). El: Brown to Montrose. Bus: 11, 49, 78.
Three Floyds This brash and energetic brewery doesn't have a tasting room, but it does have the Brewpub. This is the only place you can go to sample (and then some) Three Floyds' barrel-aged brews that don't get sent out to distributors. The shelves are littered with action figures (from Star Wars to Ozzy Osbourne), the walls are covered with manga posters, and the "mood music" is of the heavy-metal variety. In the words of an employee regarding the Brewpub, "I don't know if eclectic is a strong enough word for it." 9750 Indiana Pkwy, Munster, IN (219-922-4425). Average beer: $5.
Koval Distillery When it opened in 2008, Koval became the first distillery within city limits since Prohibition. It now offers tours to the public every Wednesday and Saturday for $10, as well as private tours for large parties and special events. Learn how Koval's spirits get made, sample whiskeys, vodkas, liqueurs (including honey, coffee and ginger varieties), and specialty spirits such as apple and pear brandy. 5121 N Ravenswood Ave (312-878-7988). El: Red to Argyle. Bus: 50, 92.