Four Thai restaurants with (not-so) secret menus
Where to find authentic Thai food in Chicago.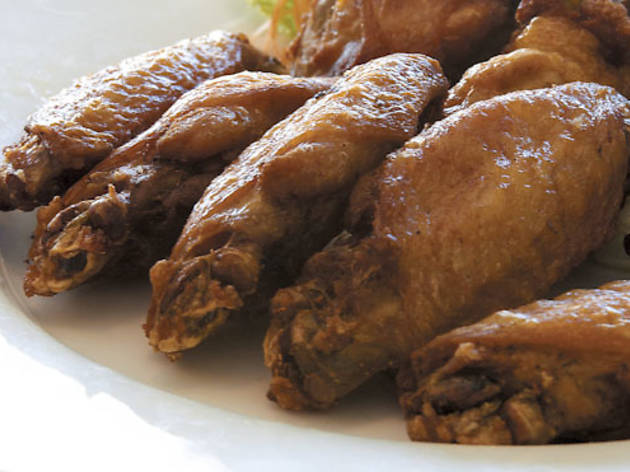 Dharma Garden Thai chef-about-town Vilairat Junthong has cooked at many of our favorite spots (including Sticky Rice, Spoon Thai and Amarit), but here on her home turf, she's become known for an adjacent karaoke room and a vast Thai-language menu. The former can be booked for private parties, while the latter has been translated to English, enabling non-Thai-speakers to order Isaan-style specialties like marinated beef jerky, sour pork sausage, pickled bamboo-shoot salad and crispy pork belly with Chinese broccoli. Junthong's daughter Panitee is likely your server, and she'll sweetly steer you in the right direction if the options overwhelm. 3109 W Irving Park Rd (773-588-9140). Lunch, dinner (closed Mon). Average main course: $8.
Spoon Thai If you stick to the menu basics served in this simple but pleasant dining room, you'll miss out on the best stuff. Get adventurous with kung chae naam plaa, raw shrimp marinated with lime juice, fish sauce, garlic and chili—a searing Thai take on ceviche. The Isaan-style pork-and-rice sausage is almost as addictive as the naem khao thawt (found on the translated Thai menu), a crunchy, salty, tangy salad of fried rice, tiny ham bits and flecks of cilantro. Curry fans should try the kaeng som kung sot, a thin, slightly sour, shrimp-dotted tamarind curry, or call a day ahead to request special housemade fish balls doused with amazingly good green curry. 4608 N Western Ave (773-769-1173). Lunch, dinner. Average main course: $7.
Rosded If you happen to blink while on your way for a dose of Germanic oompah in Lincoln Square, you might just miss one of the better Thai restaurants in town. The range of "safe" bets and more exotic, authentic eats is vast, but all is tasty. You can probably manage the regular menu yourself, so we'll offer tips on the Thai-language tome (there aren't English translations available anymore, but spend a couple of minutes with the server and you'll get what you want). Don't miss the tangy "waterfall" beef salad tossed with roasted rice powder, the earthy "boat" noodles with pork, the spicy-sour Isaan-style soup and the crispy catfish steaks smothered in pasty red-curry sauce. 2308 W Leland Ave (773-334-9055). Lunch, dinner (closed Mon). Average main course: $7.
TAC Quick Thai The basic menu appeases the masses who flood the simple, minimalist room of this top-notch Thai joint. But the true standouts can be found on the translated Thai-language menu, with never-fail flavor explosions such as tart and smoky pork-and-rice sausage; ground chicken with crispy basil and preserved eggs; and warm sweet-and-sour beef jerky. Don't disregard the specials board; promising rotations have included basil duck stir-fried with garlic and mushrooms, and lettuce-wrap-ready deep-fried mackerel with apples, cucumbers, fish sauce and chilies. 3930 N Sheridan Rd (773-327-5253). Lunch, dinner (closed Tue). Average main course: $9.