Gelato
Churning out the silky stuff isn't easy-but one legendary restaurant has the method down pat.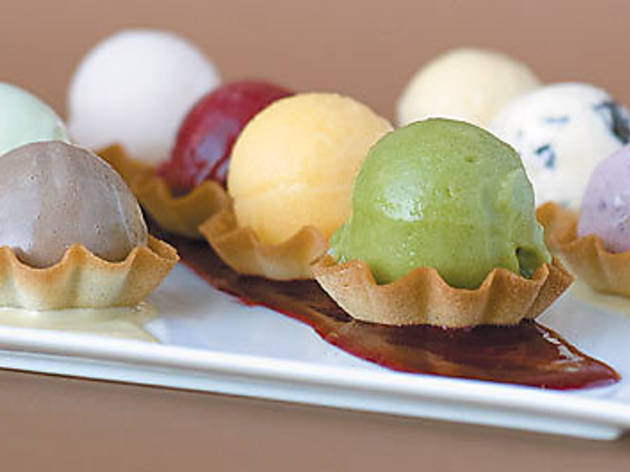 It's often too icy, but it also can be too runny. Then there's the risk of it being gummy or even overly sweet. And some of it (okay, a lot of it) disappoints due to its fakey, unnatural flavors. Gelato is a tough, tough sweet to master, and when we set out to find the best, it all came down to consistency—in more ways than one.
Lupe Tiscareno has nailed gelato through uniform repetition of great recipes. In the eight years the pastry assistant has worked in the kitchen at Spiaggia (980 N Michigan Ave, 312-280-2750), she's participated in the gelato production nearly every day. She and three other kitchen staffers spend more than three hours each morning spinning 25 flavors of gelati and sorbetti, painstakingly cleaning the machine between each batch to avoid flavor overlap. Chocolate, vanilla, pistachio, espresso—these flavors are the constants. But the change of seasons brings maple-candied-walnut and pumpkin in fall, blood orange and quince in winter, and blueberry and cherry in summer.
Over the years, Tiscareno's methods have varied little (hence, consistency in flavor), but there has been the kind of tinkering that comes only from experience: adjusting the sugar level in citrus gelato to counter the acidity's tendency to make the gelato ice up; combating the softness caused by the wallop of pectin in mixed berries; keeping an eye on the water content of the various fruits; and, most recently, adding a bit of the sweetener glucose at the suggestion of new kitchen member Francesca Bowman, a pastry pro with a couple years' experience in Italy's best gelaterias. Couple this eye for detail with premium ingredients—Nichols Farm pie pumpkins, Illy espresso beans, Tahitian vanilla beans, Valrhona chocolate—and you get unparalleled flavor and velvety-smooth texture. You don't even have to break the bank on a fancy Spiaggia meal to get a scoop—you can pick three flavors for $12 when you sit at the bar.