Gold Coast Dogs' char dog
X marks the spot at Gold Coast Dogs.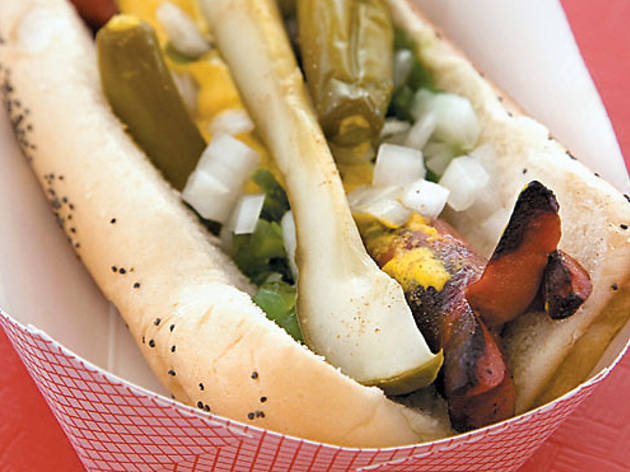 Split ends are usually considered a bad thing—that is, unless you're in the hot-dog business. When you're selling something this all-American—a delicacy whose Chicago-style assemblage is both revered and hotly debated—you've got to do things differently to set yourself apart. And this is why, when you order a char (open-flame–cooked) dog from Gold Coast Dogs, you're handed an all-beef frank that looks a little peculiar.
For its signature move, an X is cut on each end of the dog before it's placed on the grill. As it heats up, the quartered sections curl outward like a blooming flower with four crisp petals (which makes for a very memorable first bite). Think of it as a spoiler on your sports car: It doesn't really do a lot (in this case, the ends cook faster as they curl, adding some crispy bits), but it sure looks cool.
"We learned [that technique] from Barry himself," says Karim Poonja, whose father, Mahmood, owns the North Loop Gold Coast Dogs (159 N Wabash Ave, 312-917-1677), one of ten Chicagoland locations (which include outposts at Midway and O'Hare, Union Station and Ogilvie Transportation Center, plus three on the North Side). This "Barry" he speaks of is Gold Coast Dogs' founder, Barry Potekin—a man whose story is almost as legendary as his dogs. Potekin was a commodities trader who lost his entire fortune (along with his parents' life savings) in 1981 when the precious-metals markets collapsed. As the story goes, with only 80-some cents left in his pocket and a lot of gumption, he had the idea for a premium fast-food restaurant. By 1985, with the help of money borrowed from friends, the first Gold Coast Dogs opened at State and Hubbard Streets.
Potekin soon gained notoriety for his guerilla marketing tactics. Perhaps his most famous stunt—many of which are documented in the framed newspaper articles hanging inside Poonja's storefront—was his effort to win over the taste buds of Chicago cabbies, whom he knew were often relied upon for restaurant recommendations. Potekin used to hail cabs daily right outside his business. After taking a ride to talk up his restaurant, he'd hand over a $5 tip for the driver to stop in and experience it firsthand.
In 1998, Poonja's dad (already in the fast-food business) met Potekin and decided to open his own GCD franchise on Wabash Avenue. Today, this location is considered the brand's de facto flagship (the maiden store on State Street was shuttered in 2001, and Potekin sold the brand in 2002 to a company that oversees all of the franchises). It's a no-frills storefront with a view of El tracks and a wall of testimonials from Chicago icons such as the late Ann Landers and Harry Caray. There's also the original, old-timey logo painted on the wall: a dapper wiener dressed in a top hat and cane accompanied by his equally tubular lady-friend, who sports a flapper bob and pearls.
Nine-to-fivers pack the place for lunch; weekends bring out-of-towners who enter, camera in hand, to snap a pic of their Chicago-style dog or pose next to a line cook.
One customer, Tony (who'd rather not give his last name), says he makes a point of visiting Gold Coast Dogs whenever he drives in from Plainfield. "Everyone says it's a Chicago-style dog, but it's different. A lot of places don't grill it," he says, explaining that most places steam their wienies before adding the accoutrements. "I typically get mine grilled."
Poonja says his greatest reward comes from Chicago-style newbies. "Once they taste it, they say, 'Oh, this is what a Chicago-style hot dog is supposed to taste like!' We try to convince people to try the char and we always say, 'Once they go char, they never go back.' "