Halloween 2012 | Restaurant and bar parties
Nothing to be afraid of at these boozefests.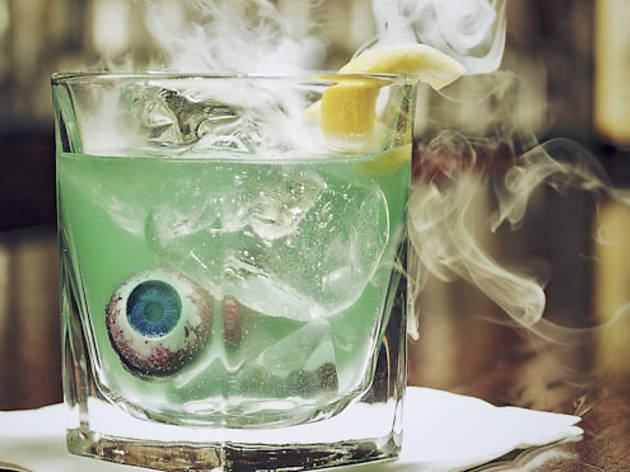 Halloween Riot at Gino's East Sports Bar A $30 cover sounds scary, but chill out: Here it buys you an open bar, killer appetizers and a costume contest with prizes for the top three winners. 521 S Dearborn St (312-939-3366). Fri 26 at 10pm.
Chicago Avenue Halloween Bar Crawl Roots, High Dive and Cleos band together for this crawl, where $3 Jameson shots and $4 pints will be on special at all three bars, which you're supposed to hit in this order: Cleos at 9pm, Roots at 10:30pm and High Dive at midnight. 1924 W Chicago Ave (773-645-4949). Sat 27 at 8pm.
"Creatures of the Night" at EPIC Dress to (elicit fear) and impress: It could win you the prize for scariest costume, and that's bottle service for ten—not too shabby. 112 W Hubbard St (312-222-4940). Sat 27 at 8pm.
Costume parties at Kit Kat Lounge & Supper Club You can't do Kit Kat without drinking a martini, and on Oct 31, when the bar throws its Dead Presidents costume bash, the Halloween 'tinis are half-price. That's not the case for the fairy-tale-themed Once Upon a Time party on Sat 27, but for that one, you get to wear fairy wings. 3700 N Halsted St (773-525-1111). Sat 27 at 5:30pm; Wed 31 at 5:30pm.
Mirror Mirror—Snow White and the Huntsman at minibar You may find your prince on the dance floor at one of these Boystown bashes. If not, just drink yourself to sleep with $10 Poison Apple martinis. 3341 N Halsted St (773-871-6227). Sat 27 at 9pm; Wed 31 at 8pm.
Hillbillies & Hellcats Halloween Party at Porkchop This "white trash drinking bash" (Porkchop's term, not ours) comes complete with $3 PBR tallboys, moonshine shots and fried lamb-brain sandwiches. Best costume wins bottle service for seven. 941 W Randolph St (312-733-9333). Sat 27 at 9pm.
Halloween Harvest Ball at Ravenswood Event Center Proceeds from this Green City Market fund-raiser (which features a costume party and online auction) will benefit Illinois food assistance program LINK. 4011 N Ravenswood Ave (773-880-1266). Sun 28 at 4pm; $75.
Dead Can Dance Spooktacular at Maria's Mexican horror movies from the '50s. Deep funk, rock and soul cuts. Pumpkin ales for $5. So far, we see nothing scary about this party at all. 960 W 31st St (773-890-0588). Tue 30 at 8pm.
Halloween Spookeasy at Frontier Head to this West Town saloon for live music, an open bar (8–10pm) and a costume contest. To get in the door, you need a password (hint: It's at speakeasychi.com). 1072 N Milwaukee Ave (773-772-4322). Wed 31 at 8pm.
Dragon Ball at Mahoney's Pub and Grille Mahoney's hosts electro-funk trio Ghosthouse, and big money has been set aside for costume-contest winners. 551 N Ogden Ave (312-733-2121). Wed 31 at 9pm.
Halloween at PUBLIC Chicago Pay $40 at the door of the Library Bar for two specialty cocktails and live music from Paul Oakenfold. 1301 N State Pkwy (312-787-3700). Wed 31 at 10pm.
Maxim Halloween Party at Untitled Are you naughty or nice? (If you're attending a Maxim party, you're probably the former.) Dress up like an angel or devil for this heaven-and-hell–themed party, where you'll try Jim Beam's new bourbon, Devil's Cut. 111 W Kinzie St (312-880-1511). Wed 31 at 9pm; $20.