Heather Shouse's farewell essay
TOC's founding food editor looks back on eight very filling years.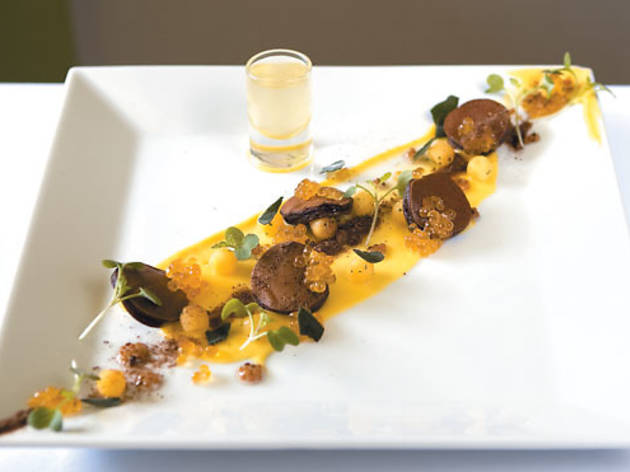 I'll never forget the night I walked past a little restaurant across from a rim shop on Ashland Avenue a block from my old apartment, only to find the then-unknown Schwa on its second night of business. Something about it felt big—as in, This place is gonna be big. And while it was still a full-on mindfuck of what a restaurant should be, the food was focused and brilliant and the energy was unparalleled. Best pairing of the night: Wu-Tang's "Bring Da Ruckus" with Michael Carlson's quail-egg raviolo in brown butter, a dish that would be copied copiously around town, yet never matched.
These eight years of eating and drinking for TOC have been my privilege and honor. My best memories include huddling under makeshift tents in a freak April 2011 hailstorm with hundreds of people to eat tamales, mac and cheese, and whatever else was left at my Food Trucks book launch in Goose Island Brewpub's parking lot. Making the rounds of Thai joints with O.G. chowhound Erik M. to explore the menus he translated, then, years later, feeling that same Alice in Wonderland excitement for TAC Quick spinoff ATK. Driving to Westmont for authentic pork dumplings and Taiwanese-style spicy beef noodle soup from Katy's Dumpling House. Wolfing down my first pork-belly taco at Big Star after a night of $3 Four Roses. Taking the Red Line from the Aragon to Chinatown after a Slayer show with roadie friends in tow, arriving at Lao Sze Chuan minutes after midnight to have the restaurant to ourselves. Realizing halfway through my meal at Next: El Bulli how lucky I am to have eaten at both El Bulli and Next's homage to it. The first changed my life at the time, shifting my focus from a restaurant worker wanting to be Lester Bangs to a journalism student wanting to be Ruth Reichl, and the second reaffirmed that my Chicago meals became infinitely more enjoyable once I was no longer assigning stars to them.
Eating, for the first time, the Avec signatures that would eventually drive Koren Grieveson mad from repetition: taleggio foccacia, chorizo-stuffed bacon-wrapped dates. Discovering that an expertly crafted cocktail could be found for $8 at an unpretentious, low-key Logan Square bar called the Whistler, without the bullshit rigmarole of other highfalutin cocktail bars. The scent of wood fueling the oven at Nightwood, and the way the servers there prove all hipsters aren't assholes. Standing over a spread of barbecue sprawled across a car trunk, gnawing the meat from Uncle John's rib tips.
Omakase at Mirai, back in the day when B.K. Park and Jun Ichikawa were killing it. First farm dinner at Lula. First swig of Goose Island's Sofie. Apple fritter at Old Fashioned Donuts. Everything about Fat Rice. Last, but not least, the day Time Out bigwigs brought in 312 kegs and Smoque barbecue to cater lunch at the office. I should have spent that meal telling everyone on staff how lucky I was to be working with them, but I was too busy wolfing down brisket and blabbering about barbecue and beer.