Introducing the verdita, one of the best cocktails for summer
The mix of pineapple, jalapeno, cilantro and mint is all over Chicago's best cocktail lists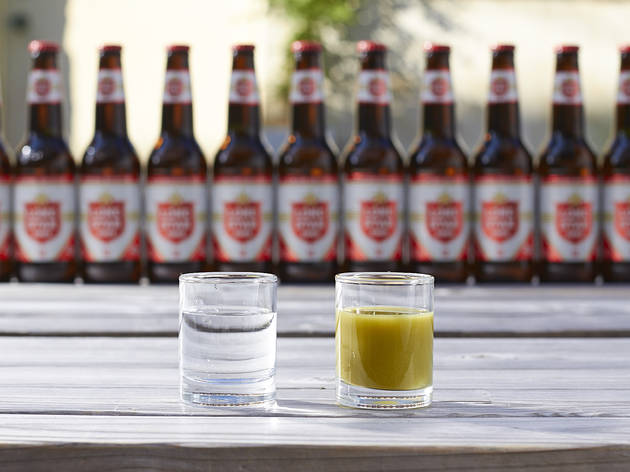 1/4
Photograph: Jason Little
Verdita at the Whistler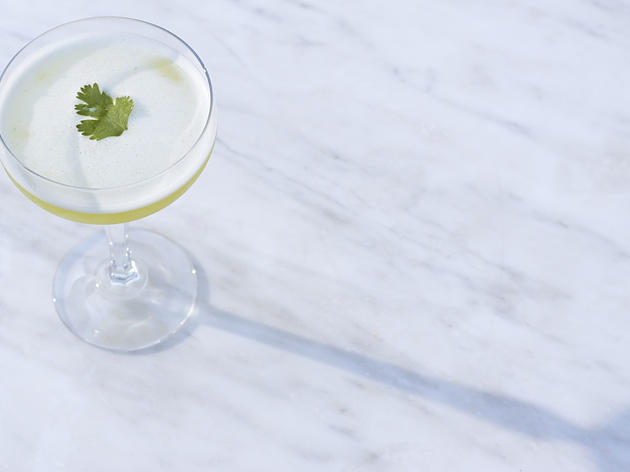 2/4
Photograph: Jason Little
Beg Your Pardon at Drumbar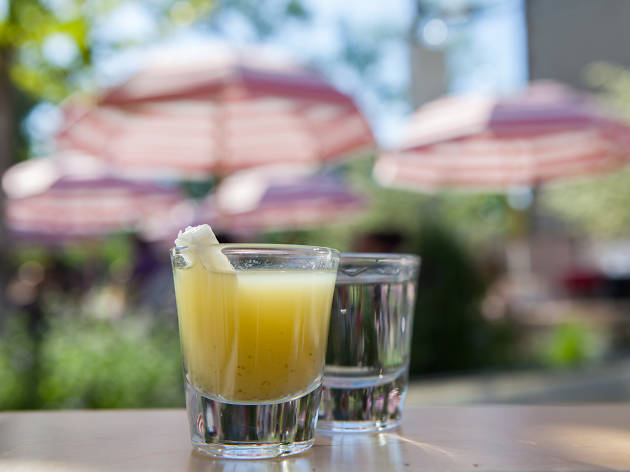 3/4
Photograph: Martha Williams
Verdita at Parson's Chicken & Fish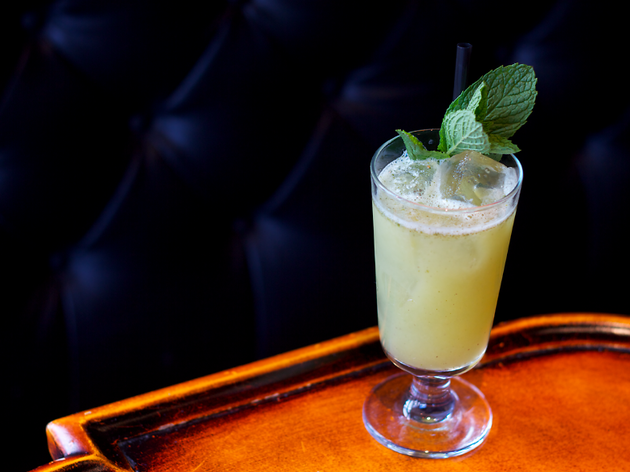 4/4
Photograph: Courtesy of Scofflaw
Temple Destroyer at Scofflaw
A popular drink this summer looks more like wheatgrass shot than a partner for tequila. If you've been to the Whistler in the past two years, you may have seen the verdita, a sweet-spicy, bright green shot of cilantro, mint, pineapple, lime, jalapeño and habanero peppers, which is served alongside a shot of tequila or used in the Shrinebuilder, the bar's best-known cocktail. Last year, Parson's Chicken & Fish added a verdita to its menu, and this year, Scofflaw and Drumbar followed suit, using variations on the verdita in summer cocktails.
"I've never heard any origin story, but it's a standard way to cheers and shoot tequila in southern Mexico," says the Whistler's Billy Helmkamp. "I've also heard that it would often be shot with a third glass, of sangrita, so if you line those up, they look like the colors of the Mexican flag."
The verdita is related to sangrita, a shot that was traditionally made with fruits and chilies, but now it's mostly tomato and orange juices plus hot sauce, which are blended together and drunk as a palate cleanser for a tequila shot. You can find one with a tequila shot at Bangers & Lace. The verdita and sangrita can chase a tequila shot or both can be sipped back and forth.
Helmkamp first heard about the drink when he read a 2007 post at Embury Cocktails, which posted a verdita recipe that called for mint, cilantro, pineapple and jalapenos.
"I tried to find as much info about them as I could, but I came across a lot of conflicting recipes," he says. "Ours is a bit different than other ones I've come across, because we add a bit of lime to even out the sweetness of the pineapple, and habaneros to amp up the heat a bit more."
Starting around 2009, the Whistler would regularly whip up batches of verditas for bands who played at the venue, but it wasn't added to the menu until February 2012. Now, it's available with a shot of Tequila Cabeza or as part of the Shrinebuilder, a play on a chartreuse swizzle, with green chartreuse, falernum, lime and verdita. Since the verdita is labor-intensive—the ingredients are blended, then double-strained—it's not always on the menu at the Whistler, but it's available more frequently in the summer.
At Parson's, Charlie Schott's verdita is served alongside a shot of tequila. "One of our partners had seen it in Mexico," Schott says. "I had seen it around [on menus], and he was pretty excited about it, so we put one together." The Parson's verdita is made with pineapple juice, jalapeno, mint and cilantro, and served with Cabrito Blanco, which Schott says pairs well with the verdita since it's "nice and clean."
If you don't want to drink the verdita and tequila as separate shots, Schott says you can also combine the two into one glass. And there may be a verdita cocktail soon—at the Chicago Reader's cocktail challenge this spring, Schott's entry consisted of verdita, tequila and green chartreuse, and he's contemplating putting it on the menu this summer.
The verdita recipe seems to mostly travel by word of mouth, and Drumbar head bartender Alex Renshaw says that he was introduced to verditas from other Chicago bartenders.
"The Beg Your Pardon sprung from the idea of jalapeno-infused green chartreuse," he says. "The vegetal spice goes really well with the herbal liqueur and I wanted to use flavors that highlighted this attribute so I naturally gravitated towards a verdita concept."
Besides the jalapeno-infused chartreuse, the cocktail includes cachaca, Luxardo Maraschino, pineapple, lemon and cilantro.
Another cocktail is Scofflaw's Temple Destroyer (the name is a nod to the Whistler's Shrinebuilder), which is made with a kiwidita, a combination of kiwi, cilantro, mint and jalapeno. Bartender Doug Phillips made a kiwi, mint and gin smash earlier this year for a cocktail competition, and he says it gave him the idea for creating a verdita that swaps the pineapple juice for kiwi.
"Kiwi is a little sweeter than pineapple, but less acidic, so we add some lime in for acid," he says. Rounding out the rest of the drink is Letherbee gin, which Phillips says has a "bold, juniper-forward" flavor that can stand up to the kiwidita, and Kina L'Avion D'or, a bitter fortified wine.
While the Parson's verdita has been on the menu since it opened and the Whistler's is available regularly, the cocktails are on the summer menus, so try them while you can. Verdita crawl, anyone?