J. Wellington's / M Burger
Burgers are going nowhere.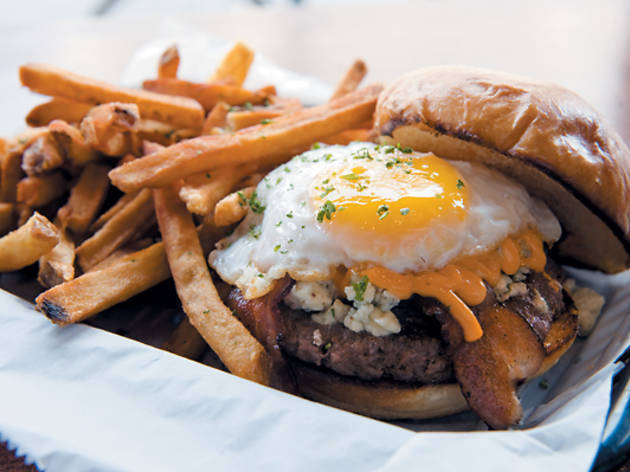 1/2
Photograph: Andrew Nawrocki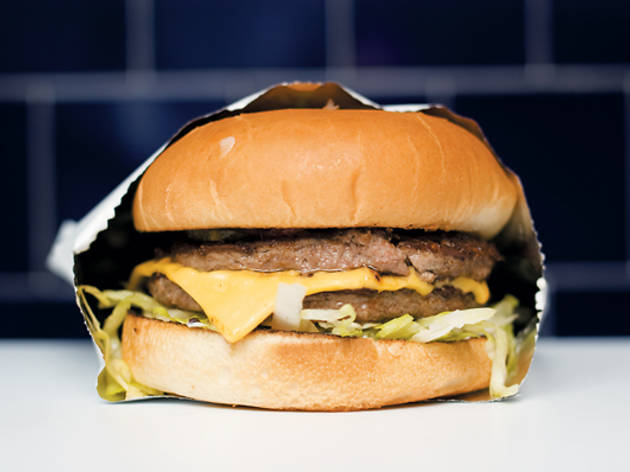 2/2
Photograph: Martha Williams
M Burger has been open about a month now, and it already runs as smooth as its butterscotch milkshake, a thick, cool, liquid candy. And yet on any given day you'll see none other than Jean Joho hanging out behind the counter (look for his regal gray hair, combed back in a wealthy, Frenchy way). Is he there to oversee the operation? Ostensibly. But mostly he seems to be enjoying the fries.
This is what the burger craze has come to: a level of acceptance so deep that one of the nation's most prestigious curators of Alsatian food has given in. Maybe there's still a stigma associated with McDonald's, but all other burgers—even if they taste like fast food—are okay. That's good news for M Burger, in which the M may as well stand for McDonald's, or at least McDonald'sish, because the place has the same greasy aroma, detectable from down the street; the same demographic of counter people; and the same magic bullet that shoots directly into our pleasure receptors whenever we take a bite of its food. Maybe it's all that sugary ketchup, or the sugary buns, or the soft mouthfeel of the beef that makes for effortless inhaling. Whatever it is, eating these burgers is pure happiness. Note, though, that this is true of the regular cheeseburger only; the "special sauce" and robust bacon on the eponymous M Burger detract from its finer fast-food points. So go simple or go home. Or get the chicken sandwich, which is smeared with avocado and pairs well with the fries.
The burgers at J. Wellington's are of the same trend, only a different branch. Here, the fast-food shtick has been traded for the gluttony one. This is a land where burgers are muscular and very unladylike (though you'll see plenty of women eating them); a place where if you don't leave vowing to never eat again, you haven't done it right. From the start it's kind of exhausting. The menu descriptions alone take awhile to wade through. How does bacon-fried-egg-blue-cheese-sriracha-mayo stack up against mushrooms-Swiss-chipotle-ketchup? Obviously there's only one way to find out, but the mere idea of diving in is enough to make you run somewhere simpler. Somewhere like M Burger.
However: Anybody who cares how a burger is cooked (these default to medium but maintain their juiciness) should stay. The "Trippin Swede" (the one with mushrooms and Swiss) is a fine burger, though overwhelmed by the chipotle ketchup (which also overwhelms the meatloaf sandwich). But never mind. The sandwiches are mere accompaniment to the impeccable sweet-potato fries—crisp-and-pillowy, crinkle-cut things that elevate everything around them. The same can't be said for the regular fries, so avoid them. Likewise the chocolate shake—it tastes very much like a Wendy's Frosty, which is a bad thing. The fast-food burger replication is acceptable; the fast-food milkshake replication is not.
M Burger 161 E Huron St (312-254-8500). El: Red to Chicago. Bus: 3, 66, 151, 157. Sun–Thu 11am–7pm; Fri, Sat 11am–8pm. Average main course: $4. J. Wellington's 2045 W North Ave (773-687-9142). El: Blue to Damen. Bus: 50, 56, 72. Lunch, dinner. Average main course: $7.