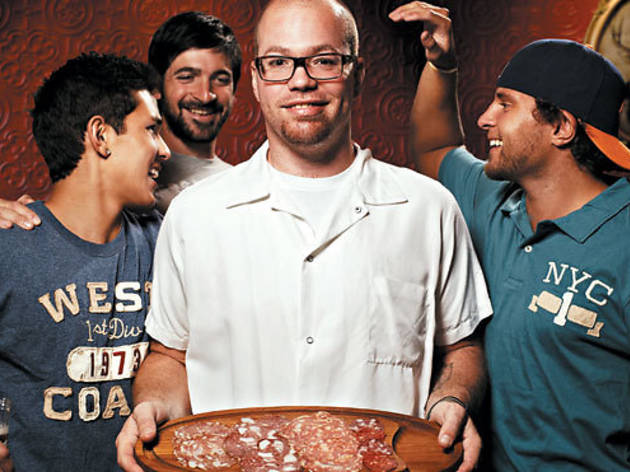 Jared Van Camp is sick of holding back
So at Nellcôte, he's not.
Earlier this summer, Jared Van Camp procured an old bourbon barrel. He filled that barrel with cherries, peaches and berries from Michigan's Klug Farm, then poured in an obscene amount of sugar-fortified rum. Over time, the fruit will take on the rum's qualities, and the rum the fruit's, and it will all start to decompose into one pulpy, boozy mass, called bachelor's jam. And when that happens—around December—the intense elixir will be ready to be served warm in a teacup or spooned over cake. It's then that chef Jared Van Camp will remove the barrel from the basement, hoist it to his restaurant's main floor…and roll it straight out of there. This stuff isn't for [node:176375 link=Old Town Social;]. It's for Van Camp's new restaurant, Nellcôte, slated to open in November.
The customers at Old Town Social? They'll be just fine without it. Since Old Town opened in 2009, Van Camp has indulged in many projects such as the bachelor's jam. He's made hot dogs from scratch, roasted deli meats and—most notably—built Chicago's most ambitious charcuterie program, which produces some of the best (and only) locally made soppressata, finocchiona and chorizo. All of this has been largely overlooked by Old Town's clientele, a mash-up of ex-frat guys, day traders and other neighborhood types who come to drink first, eat second. "Anything that gets too esoteric—or even if the description gets a little foodie—it doesn't sell well," Van Camp says.
Van Camp, who trained under chefs Paul Kahan and Rick Tramonto, shows no sign of resentment toward his clientele. ("It doesn't matter to me who's coming in," he says. "They're coming in! I think anybody who would say it bothers them is just limiting themselves.") And that, more than any of his cooking projects, distinguishes this chef from his contemporaries. Cooking shows, James Beard awards and, ahem, magazine profiles—Van Camp would be happy to receive any of it. But he aspires to none of it. His only aspiration is to cook the way he wants to.
Which is why, at Nellcôte, the pandering stops.
Dually influenced by Villa Nellcôte (the mansion in the French Riviera where the Rolling Stones recorded Exile on Main Street) and the Italian concept of sprezzatura (a nonchalant kind of cool), Van Camp and his partners intend to let nothing get in the way of executing their vision. For Van Camp, a former art-school student who still casually name drops philosophers in conversation, that means creating a space that inspires beautiful, cultural debauchery. It also means more ambitious projects. Nellcôte will be the only restaurant in the Midwest to mill its own flour. From a cocktail station in the kitchen, chefs who also work the grill and garde manger will execute specialty drinks. Finally, Van Camp plans to take an unapologetically chefy approach to his food. Fine dining, he says, is not dead—it has merely evolved. He envisions the experience at Nellcôte to be "refined dining" (a term Graham Elliot also used when he opened his eponymous restaurant): intricate food with none of the stuffy trappings of old-school luxury.
So: There will be no sandwiches on Nellcôte's menu. There won't be any chicken wings. There will be pastas and pizzas made with that flour; meats and fish roasted in a wood-burning oven; and smaller plates like an octopus panzanella.
The menu, combined with the conspicuous address (the old Marché space, among powerhouses like Girl & the Goat), is why Van Camp sees Nellcôte as something of a coming-out party. It will, if everything goes well, show he does more than just great bar food. But whether Nellcôte is fated to draw the same Old Town crowd of philistines remains to be seen. "As long as there's a crowd," Van Camp says, "I don't care." Dude is coming out no matter who's there to see him do it.
"Do I care about my reputation? Yeah. But I think your reputation is predicated upon what you do. And I think we do some really cool stuff and we do it with integrity.…Do I worry about people going, 'Ugh, you work at Old Town Social?' because they haven't had the food and they don't know what we do? No." For those people, Van Camp says, there's an octopus panzanella waiting to shut them up.
Nellcôte • 833 W Randolph St (no phone yet) • Slated to open in November