Joy Yee Plus Shabu Shabu
It once appeared cursed; now it appears blessed.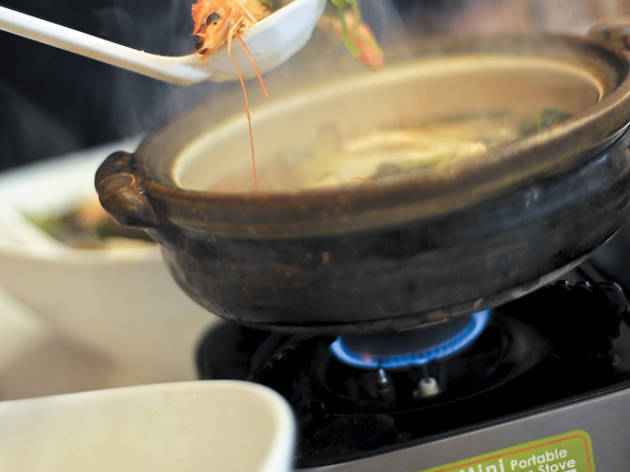 The name sounds like a dolphin show at SeaWorld, but what was Joy Yee going to do? It opened last fall as simply "Joy Yee Plus," then unexpectedly sat closed for a few months before reopening as a hot-pot joint with the exact same decor. The name isn't just absurdly literal—it offers clues as to what to order at this Chinatown Square spot. Because while two other Japanese staples, fro-yo and sushi, are on offer here, the real deals (for your palate and your wallet) are the hot pots. Most joints sell the broths and the drop-ins à la carte, but here the bubbling crocks of stock come with a pre-selected platter of veggies and raw seafood, with the option to add more to the mix. For $16.50, the seafood hot pot is a stunner: rich shellfish broth with light tartness and good kick from togarashi, plus greens, gourd, shrimp-filled mushrooms, tofu triangles, raw snapper and salmon, clams, scallops, blue crab and a light ponzu for dipping. Meat eaters should tack on an order of the Wagyu, white-streaked ribbons of bright pink, tender beef that shouldn't be abandoned to shrivel up in the broth; a quick dunk will do. A heaping snarl of udon noodles crowned with a raw quail egg is intended to get dumped in last to wrap up the meal, a bonus considering you'll want every last drop of the impressive broths, whether seafood or the bacony beef stock that serves as the base for both the beef and chicken platters. Our server—an überfriendly, college-aged Joy Yee vet—let it slip that local sushi chef Macku Chan is a good friend of the owner and consulted on the broths as well as concocted the lamb-stuffed gyoza, a good start while waiting for the main event. I can only assume the chef protested when the name Joy Yee Plus Macku was suggested.