Kevin Ashtari
The head of Asado Coffee isn't brewing coffee-he's killing it.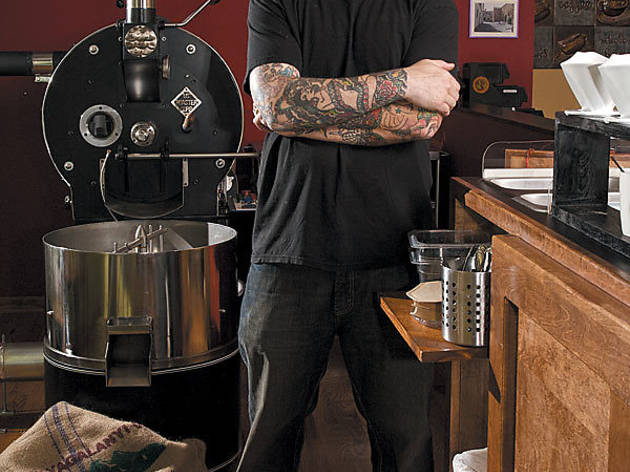 It's Sunday morning, and Kevin Ashtari is preparing to roast coffee beans when his early-shift barista, Tyler Lacor, waltzes into Asado Coffee Co. with his skateboard. The two exchange nods, and before Lacor washes his hands, he ditches his board next to a burlap sack of raw beans.
For a minute or two, Ashtari watches his employee start to brew a cup. Then he interrupts him.
"You didn't tie your hair back," he says.
Lacor pushes his mop of shoulder-length hair out of his face. "Oh, man," he says. "Push-ups?"
As the director, roaster and co-owner (with his wife, Corrine Tostado-Ashtari) of Asado Coffee Co., Ashtari has three rules, all of them enforced by dropping and giving him 20. Rules one and two have to do with food safety—wash your hands and pull your hair back. The third, however, is more a credo than a statute: "to kill every single cup of coffee."
The story of how Ashtari became obsessed with coffee starts with his time in the Navy, where he served from 2001–2006. On leave one weekend from Whidbey Naval Air Station, he visited Seattle, where he stopped by Victrola Coffee Roasters, for an afternoon pick-me-up. It was the first time he'd seen a coffee roaster and the first time he'd sampled coffee so fresh. After one sip, his eyes rolled back in his head. "I knew I couldn't ever drink the wimpy stuff again," he says.
Back at the naval base, he scoured the Web for information about DIY roasting and stumbled upon a website that sold a kit to convert a gas grill into a coffee roaster. He ordered one.
Soon he found out that coffee roasting is harder than it looks. The roast profile, which is responsible for coffee's taste, is created by temperature and time. Low heat and a short stint in the roaster produces a mellow coffee. A dark roast (high heat and more time) creates a bold, intense coffee. It's the job of a roasting artist to balance the time and temperature without undercooking or torching the beans. Doing this with a small-batch roaster requires practice; doing it with a BBQ grill requires obsession.
But Ashtari wasn't deterred. While still in the Navy and living on Whidbey Island, he purchased 2,500 pounds of raw coffee and started roasting in his backyard. After 30-40 bouts of trial and error—and a stench that pissed off more than a few neighbors—he dialed it in and began giving away the fruits of his labor. One of his recipients, his sister, wanted to support his hobby, so she sent him a Japanese beehive dripper, a single-cup, ceramic brewer. (The beehive's brewing concept is similar to the ubiquitous countertop drip pot, but the difference is the water in a drip pot takes one path through the grounds, leaving half of them unused.) After receiving his sister's gift, Ashtari launched into another obsession—making the perfect cup of coffee. By his estimation, it took him more than 1,000 tries to nail it.
And yet it wasn't until Ashtari was out of the Navy that he considered making coffee his career. In January, he and his wife purchased a 12-kilo drum roaster and signed a lease for the Irving Park storefront, about a block off Southport.
Slowly, the coffee is catching on. Asado has a couple of wholesale accounts, one of which is William Ford, CEO of Ford Motor Company. And his drip coffee—hand-brewed using those beehive drippers, with beans roasted that morning—is getting a serious reputation around town. Not to mention a reputation for being serious.
Asado Coffee, 1432 W Irving Park Rd (773-661-6530).