Lao Hunan opens in Chinatown
Chicago gets its first Hunan restaurant—and the first dedicated to Chairman Mao.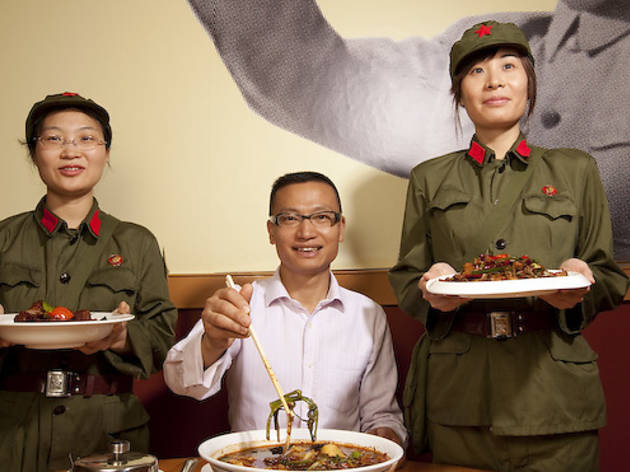 Walking Chinatown's two-block main drag takes Tony Hu a solid half-hour. A shopkeeper steps from his doorway to brag that this week's frogs are even better than last. A local introduces her daughter, in hopes that Hu might have a server position for her. A beat cop thanks Hu for his birthday dinner at [node:176415 link=Lao You Ju;], arguably the most celebratory spot in Hu's arsenal of five restaurants.
Lao Hunan, dedicated to the cuisine of China's south-central province, is the newest of these, and it's distinguished by an unusual mascot: Chairman Mao. The dictator's face graces the awning and appears inside the restaurant with a popular Communist phrase from Mao's reign: serving people. The staff wears military garb, and pours tea and clears plates with the precision of soldiers. Hu seems oblivious to any blinking over his ode to the leader of the Chinese revolution. "We have a lot of famous people from Hunan, and Mao is one of them," he says. "Plus, this decor and uniforms bring back old memories, good ones like Americans [have of] George Washington."
After an initial pause to consider the restaurant's theme, those familiar with Hu likely will focus on the menu. Like Chinatown's popular Lao Sze Chuan, Lao Beijing and Lao Shanghai, Lao Hunan homes in on the cuisine of a specific region, this one known for its love of chili peppers, shallots and garlic, and for curing and smoking meats. This is intense food, spicy and oily and built around pork and chicken revered for good chew. "Home fed chicken" (roughly equating to free-range) is hung for two days to dry age before it's lightly smoked over a wok filled with dry rice and spices. Hunks of tight meat are pulled and stir-fried with leeks, bell peppers, Chinese celery and a fistful of dried red chilies. Chef Fada Zhang, a native of Hunan, uses the same technique for his "famous Hunan preserved pork," salting and hanging pork belly then smoking it over a fragrant haze of toasted dry rice, whole star anise and cinnamon bark. In contrast, cool, thin rectangles of "jade tofu" sit in a slick of chili oil with cilantro and scallions, while a pile of blistered peppers gain faint funk from fermented black beans.
Diners are given the menu of specialties from this undersung region, as well as one for Taste of Asia, the restaurant in this space before Lao Hunan. For now, the kitchen will still make the old Cantonese dishes that came before, as Hu narrows down which of these he'll hold over for a master menu that's "70 percent Hunan, 10 percent Cantonese, 10 percent Szechuan and 10 percent Americanized Chinese." Why? Hu points to the phrase under Mao's silhouette. "I have to serve the people."