Last call
After a young bartender dies in a hit-and-run accident, the bar's staff and patrons band together to help find her killer.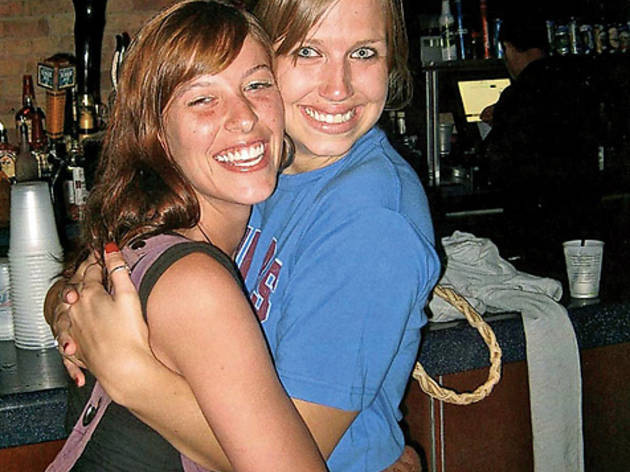 1/11
Photograph: Courtesy of Suzanne Borowicz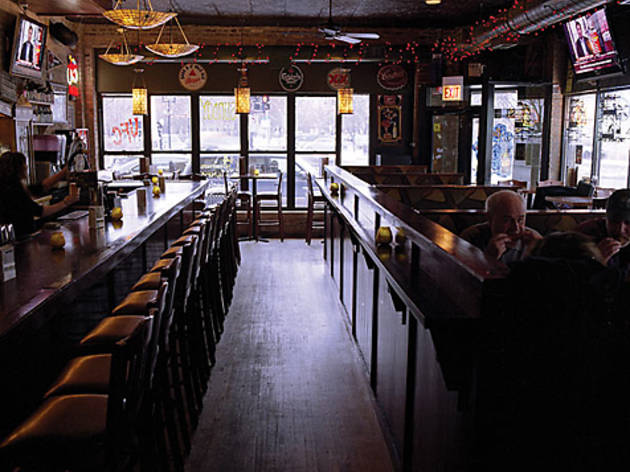 2/11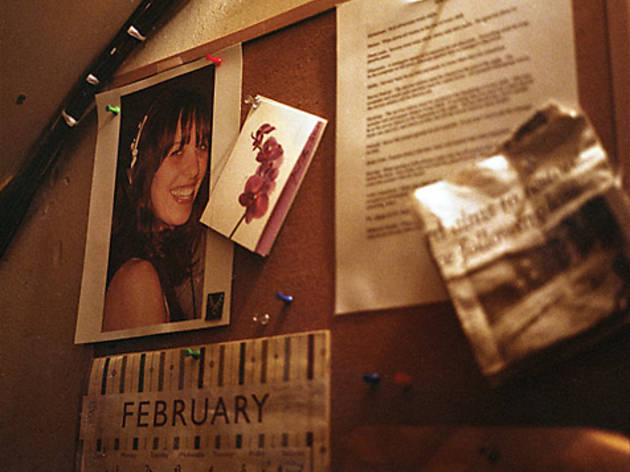 3/11
4/11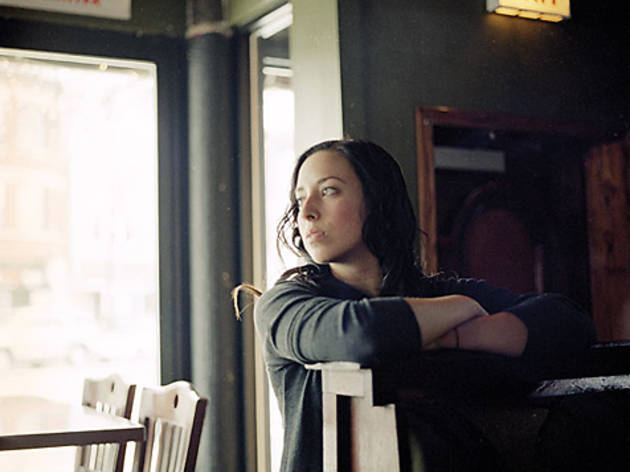 5/11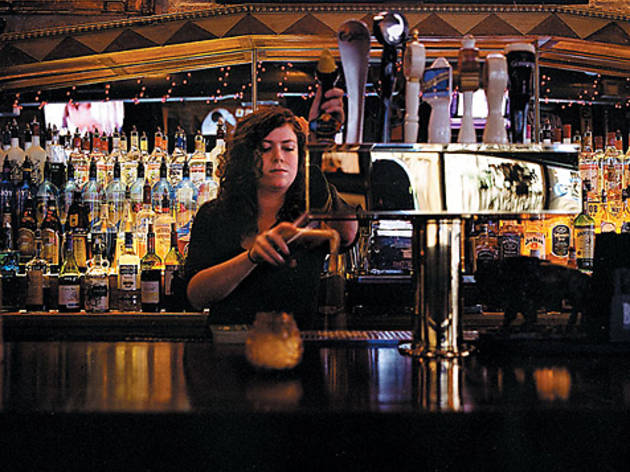 6/11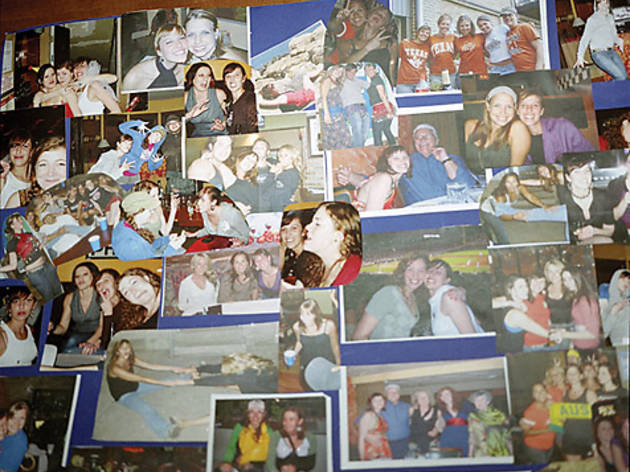 7/11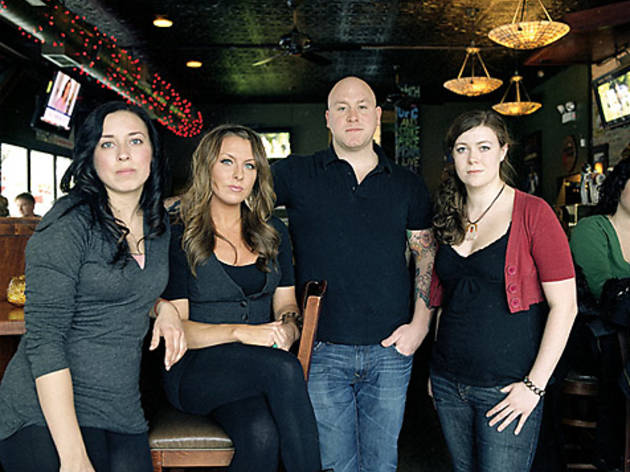 8/11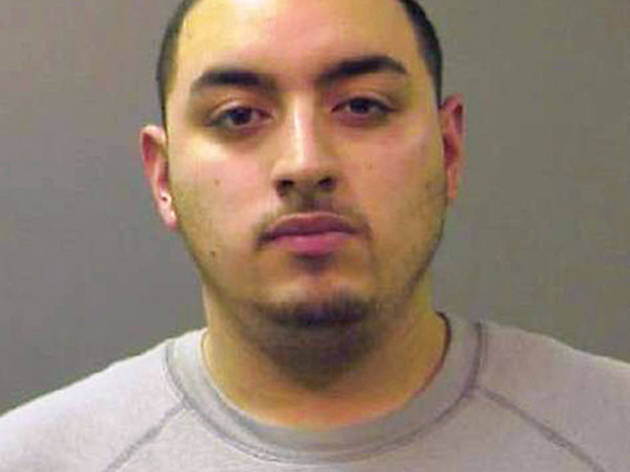 9/11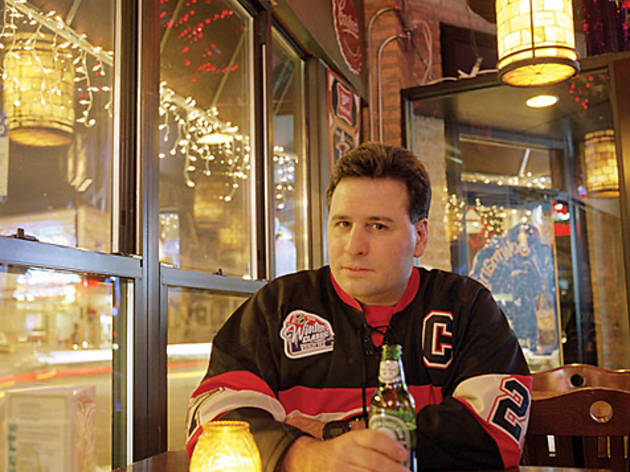 10/11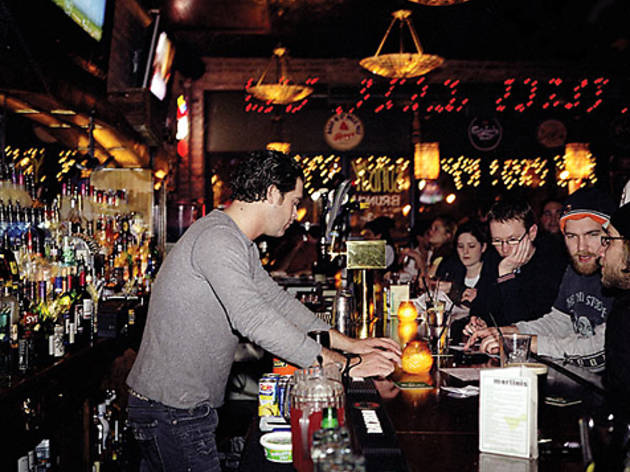 11/11
Rachel Gilliam and Kristina Knighten spent last Halloween night dancing and singing together as they worked at Bowmans Bar and Grill in North Center. They knew it was their last night behind the bar together, as owner Johnny Zela planned to have only one Saturday bartender from then on. So they celebrated in style. Gilliam was wearing a bridal gown and veil plastered with stamps and first-class mail stickers—a mail-order bride.
As it turned out, it was not only the last time Knighten tended bar with her close friend. It was the last night she would see her.
Early the next morning, Zela and girlfriend Ashley Brown, also a bartender at Bowmans, were awakened by a call from police detectives asking about Gilliam's next of kin. Around 3:45am—an hour after Knighten had left the bar, and while Zela was still cleaning up inside—Gilliam was struck by a hit-and-run driver as she tried to hail a cab on Lincoln Avenue two blocks south of Bowmans, which is at the corner of Lincoln and Montrose Avenues.
They were told Gilliam, 25, was in critical condition. Brown got ready to go to the hospital. Zela called Suzanne Borowicz, Gilliam's best friend and a former Bowmans waitress now living in Texas, asking her to contact Gilliam's mother and sister. Borowicz reached Gilliam's sister, Audrey, in Wisconsin.
Soon they heard that Gilliam did not survive. Brown started calling the other young women who worked at Bowmans. "It was the hardest thing I've ever had to do in my life" she says. "We were like sisters."
Knighten was devastated. "Imagine having someone you were just hanging out having a great time with, just plucked off the face of the earth like that," the bartender says.
---
Bowmans, a laid-back neighborhood bar, opened on Super Bowl Sunday 2007. It cultivated a close-knit and loyal cast of regulars—people like Nelson Young, a soft-spoken, cheerful computer consultant whose consistent appearances earned him a metal plaque affixed to the bar reading RESERVED FOR NELSON. Or Todd Tannis, 33, another fixture who wandered into Bowmans while searching for a regular hangout to watch sports. The other local bars he had tried out were too uptight or trendy. At Bowmans, he felt at home. Patrons consistently say they found Bowmans the perfect hangout after outgrowing frenetic Lincoln Park meat markets.
When the tavern opened, a crew of about six young women were hired as waitresses and bartenders; some had already worked together at other North Side joints. They quickly became close friends, inside and outside of the bar. Gilliam was not among the initial hires, but she knew most of them. She and Borowicz, now 27, were in a Jet Skiing accident together that summer by Navy Pier. Borowicz ended up in a cast, so Gilliam started filling in for her. Soon she was hired.
Zela, who then managed and later bought the bar, was impressed by Gilliam's competitive nature, strong work ethic and vivacious personality. She was outgoing, fun and goofy, winning customers over with ease. She challenged herself to make the most money every night. "She wanted to outsell everyone else, she was such a good employee," Zela says. Soon he trained her in bartending and she was a natural.
"People would come in just to bullshit with her to relieve the stress of the day," he says. "She always had a lot of energy; she was very upbeat. She made friends with everyone."
Gilliam had taken a break from DePaul University, where she was studying psychology, after her father died in the summer of 2006. She had the date of his death—6.6.06—tattooed on her left wrist. Last fall, she was finishing the degree at DePaul and planned to pursue an M.B.A. She loved to travel and would work as hard as she could to save up money, then take off on trips around the world. In the year before her death, she had gone to Dubai, Argentina, Uruguay and Tanzania with her family. They hiked to the top of Mt. Kilimanjaro—Brown says it was all she talked about for months leading up to the trip. Over Christmas, she planned to go to Korea, where her mother was teaching English as a second language. She and Knighten were planning a trip to Colombia or Brazil.
Regular customers lived vicariously through Gilliam's world travels. They shared her building excitement about an upcoming trip, then waited for her return to hear the details. Tannis did not know Gilliam well but remembers her rushing up to him with a big hug after she returned from Argentina.
Adventurousness also characterized Gilliam's daily life in Chicago. She scoured listings for new things to do around the city—events, lectures, museums, parties. She was taking belly-dancing lessons and showed off her routines almost daily. Her friends knew she was so clumsy, they pictured her chronically out of step with the other belly dancers. "She was always bruised. When I first met her, I thought she was being beaten, but then I realized she could hardly open a bottle without hitting herself in the face," says coworker and friend Chrissie Horton, 29.
During the 2008 Summer Olympics, Gilliam organized a Bowmans Olympics where the staffers closed the bar and played silly drinking games. She had a cat named Stewart who wore a bow tie. She didn't have a steady boyfriend but would always scope out men and try to get their numbers, joking "that's my future ex-husband." The young women at Bowmans would spend much of their nonwork hours together, hanging out after shifts at the Tiny Lounge nearby and going to movies or parties on their days off. "They're my go-to girls," Knighten says. They say their personalities are very different, but their senses of humor and zest for life fit together perfectly.
"How in the world did such weird, odd girls find each other?" asks Horton, fighting back tears.
---
The women spent much of that horrible Sunday together, comforting each other and crying. That evening they all went to Bowmans, huddling at a back table while Zela tended bar and painstakingly informed regular customers of Gilliam's death. Zela normally didn't work Sundays. That night, he realized she had her own crowd of regular fans who didn't even come in other nights. "Grown men were crying," he says.
Though overcome by grief, the staff snapped into action. Over the next few days, they created flyers with Rachel's picture seeking witnesses or information about the driver. They plastered about 800 flyers around the city and went door-to-door at nearby businesses looking for security-camera footage that might show the car. Bowmans' own camera had captured what appeared to be the vehicle—a silver sedan—heading south on largely deserted Lincoln Avenue just before Gilliam was hit. But the image was too grainy for identification. Borowicz, who was in Detroit with her family when she got the news, flew to Chicago and spent a week putting up flyers and mourning with her former coworkers. They created a Facebook page, Justice for Rachel.
Twenty-nine-year-old Dave Simko, a regular customer and friend of Gilliam's, started getting condolences from people he hadn't seen in years who knew he frequented the bar. Staff and customers from Bowmans packed Gilliam's wake and funeral at the nearby Herdegen & Brieske Funeral Home. It was so crowded Simko had to stand in the hallway.
On Tuesday, November 10, Zela organized a benefit to help her family pay funeral expenses. Her mother had to fly back from Korea on short notice, and the family was struggling financially. The place was packed, even the patio despite frigid November weather, and Tiny Lounge joined the fund-raiser to fit the overflow crowd. They collected almost $14,000, along with toys for a charity Gilliam supported.
"For a small bar like ours, on a Tuesday night, that really says something," Bowmans owner Zela says. "Even days afterward people would come by to give money." Young, the regular with his own plaque at the bar, remembers the benefit as bittersweet. "It was a celebration of her life," he says. "She was a force of nature."
The Bowmans community was furious that the driver had fled the scene without helping Gilliam. They knew nothing would bring their friend back, but they craved justice. Police officers stopped by frequently to give updates on the investigation. At first each new lead would give the staff hope, but they began to find these nuggets of information frustrating as days and then weeks dragged on without a suspect. In November, two casual friends of Gilliam's offered a $10,000 reward for information leading to an arrest. Shawn DeAmicis, who had met Gilliam through her sister, Audrey, and fellow Bowmans staffer Borowicz, put up $5,000 and recruited his friend Bill Jacobs, co-owner of Piece Pizzeria and Brewery, to do the same. They also hired a private investigator. Gilliam would often go to Piece with Borowicz, and Jacobs remembers her as "just a delightful girl who always loved to have fun."
Before Christmas, police got a tip based on an overheard conversation, possibly involving the passenger in the car. "Who knows if it was because of the reward or someone's conscience or something else," says DeAmicis, 41, who works in financial services.
The tip led police to a garage on the Northwest Side, where they found a silver Acura with front-end damage consistent with striking a person. On February 11, police publicly announced an arrest warrant for the car's owner, Carlos Castillo, a stocky 23-year-old with a lengthy arrest record including two prior citations for driving without a license and a 2008 felony stolen-goods charge. On November 2, the day after Gilliam's death, Castillo had quit his job at a North Side food mart and told his boss he was returning to Mexico to care for his sick mother. Police say Castillo could be in Mexico or hiding in the U.S., and they are seeking the public's help in finding him. As there has been no arrest, the reward offer still stands.
The warrant for Castillo generated some online buzz from people with anti-immigrant views, leading Audrey Gilliam to weigh in on the Huffington Post. "The last thing that my family wants is for Rachel's death to result in immigrant bashing," her sister wrote. "This tragedy was the result of one man's actions—sweeping and hateful generalizations will benefit no one."
---
Meanwhile, life has gone on at Bowmans. Staff and customers depend on each other to deal with the continuing pain. "It's so raw for all of us," bartender Brown says. "There's no closure. She's on your mind all the time."
Knighten, who worked with Gilliam that night, says they still expect their friend to walk in saying, "Hey, yo" with her belly-dancing finger cymbals and her wide smile. A collage of photos that Zela keeps behind the bar shows Gilliam arm in arm with the other staff and friends; with her family; pouting theatrically in a white tank top; throwing hand signs in a gray hoodie; belly dancing in a red sequined halter. Zela still hasn't hired a replacement, and he dreads having to before the summer rush—it will be a painful reminder that Gilliam is really gone.
Borowicz has stayed in close touch with her former coworkers since the tragedy. She has worked in bars and restaurants in other cities, but nothing ever compared to Bowmans. "It was not just coworkers but people you will be friends with the rest of your life," she says. "They're there for you no matter what, if you need a ride or someone to come over because you broke up with your boyfriend."
Waitress Sarah Bentson, 24, went to a party with Gilliam the night before Halloween. Gilliam donned the mail-order bride costume she would also wear behind the bar the night she died. Bentson still has pieces from it in her apartment where they got dressed together. The last time she got her toenails painted was with Gilliam—bright red. She can't bring herself to repaint them, even though "they're disgustingly grown out now."
---
Wednesday, February 10—the weekly trivia night—was Brown's last week before taking a new job. She was getting teary at the good-byes from coworkers and customers, "And I'm just going to work somewhere else," she says. "We're so close here."
Simko has been a regular at Bowmans almost since it opened, finding it a more mature hangout than the bars he used to frequent in Lincoln Park. In the weeks after Gilliam's death, he came in even more often to check how people were doing. "I don't want to say it's like a family, but it kind of is," he says of the staff and customers. "They're not just slinging booze. They care about you and you care about them."
Fellow long-timer Tannis says the benefit made him realize not only how well Gilliam was loved, but how familial the bar is. "It actually made you so proud to be part of this community of regulars," he says. "I saw all these people I knew and recognized, it brought us together and then the healing process started."
As people along the length of the packed bar talk about Gilliam on trivia night, they finish each other's sentences or call out to someone several seats away to fill in the gaps of an anecdote. Many regulars come in with lively groups and fill up the tables; others come in alone or in pairs and plop down at the bar like it's a living-room couch. Manny Ortiz, 40 and an electrician, is part of that crew. He partakes of trivia many nights, but this evening he stares absently at a TV screen, chatting intermittently with Brown and other customers.
Ortiz says it's not the same since Gilliam died. He reminisces about her during the trivia night—Gilliam would often give hints to the customers.
"She was so young, so full of life, such a cute girl," he says. Ortiz gets up to retrieve a memorial card from Gilliam's funeral from his car. "I'll be right back, Rachel," he says to Brown, who catches the slip but just says "okay" sweetly. The card shows Audrey and Rachel Gilliam on Mt. Kilimanjaro. Audrey is awkwardly holding up her lanky sister, who is wearing huge sunglasses and an even bigger smile. On the back is a quote from one of Gilliam's favorite songs, "Hey There Delilah" by the Plain White T's: "The world will never be the same, and you're to blame."