Heads up! We're working hard to be accurate – but these are unusual times, so please always check before heading out.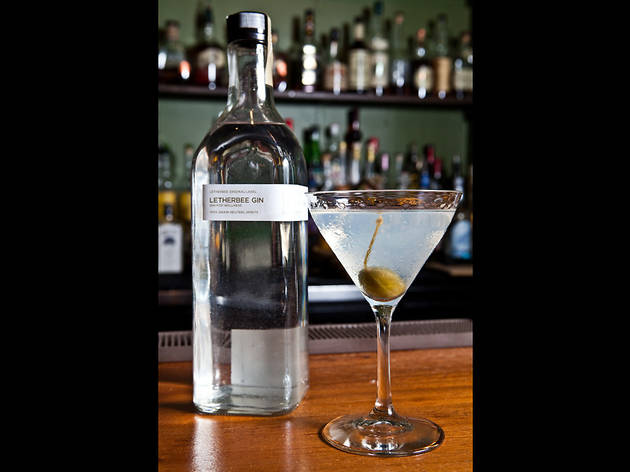 Letherbee Gin debuts
A new local spirit is made for cocktails.
"I basically made the gin that I wanted to have as a bartender," says Brenton Engel, who's been behind the bar at Lula Cafe for the past three years. Two years ago, he and Miriam Matasar, then Lula's general manager, began filing the "mountain of paperwork" that would allow them to legally distil spirits in Chicago; Letherbee Gin, the spirit the pair produces in Ravenswood, finally hit the market in late April. Engel, a self-taught moonshiner who once made a still out of plumbing parts, fell in love with gin when he started bartending. As opposed to whiskey (whose aging process is expensive for new distillers), gin was a sensible project because it can go from grain alcohol to bottled spirit in three weeks. (Engel's also working on an aged absinthe, and hopes to do a whiskey down the line.)
So what does a bartender's dream gin look like? First, it had to be cheap enough to use in cocktails. "We didn't want to make a trophy for people's shelves," he says. (The gin retails for $31 at In Fine Spirits.) In order to maintain a low price without sacrificing quality, Engel and Matasar selected utilitarian packaging, such as five-cent plastic caps instead of $1 cork-tops, a minimal label and liter-size bottles for restaurants and bars (pictured above with a Letherbee martini at the Salon at Premise). Second, it couldn't have a wacky flavor profile. "A lot of gin drinkers don't want martinis that taste like lavender," Engel says. So Letherbee has gin's familiar juniper notes, with additional character from spices like cardamom and fennel—making it, in Engel's words, "something classic that could be very versatile."
Taste Letherbee gin from 5–8pm on Thu 19 at Provenance Food & Wine (2312 W Leland Ave, 773-784-2314). Bottles will not be for sale but will be available for pre-order at a 15-percent discount.