Life after sushi
Learning to eat Japanese food, one hot dish at a time.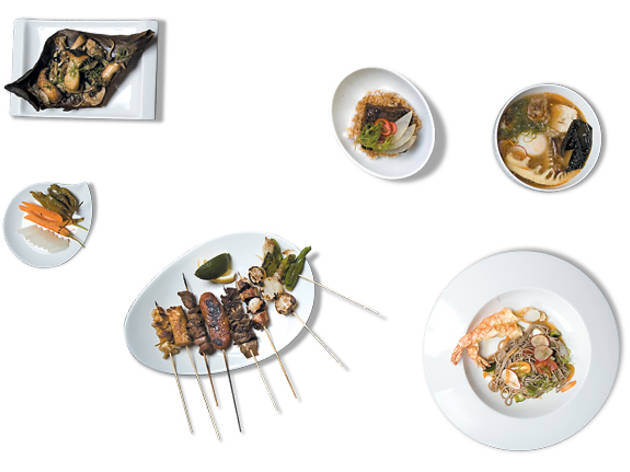 Ty Fujimura, co-owner of the newly opened Japanese spot Arami, says "some people have a general misconception about Japanese food—that it all is going to be white-tablecloth fine dining. And it is very much a blue-collar cuisine at the same time." Funny—we always thought the biggest misconception about Japanese food was that none of it was ever cooked. Sushi has long reigned as the dominant representation of Japan's cuisine here—until now. With Chizakaya, Arami and Ukai bringing cooked Japanese dishes more attention, we asked Fujimura and Chizakaya's Harold Jurado to break down the whats, whys and hows of what's hot in Japanese food.
Pickles
You've got to have something to offset the fattiness of all that kushi-yaki. Plus, as Jurado explains, "vinegary, salty foods go great with drinking."
Kushi yaki
Kushi yaki is any item that's grilled and put on a skewer. ("Yaki" translates to "grilled"—hence "yaki-tori" means "grilled chicken"). It's also the ultimate Japanese drinking snack, and among the most common offerings in Japanese izakayas, or taverns. "Anything can be fried and anything can be grilled," Jurado says—which is why you'll find yaki made with beef, chicken, fish and veggies.
Ramen
Ramen, that classic noodle/broth/protein combination, "for me is a very blue-collar type of dish," Fujimura says. "It's kind of this kitchen-sink soup." The extremes to which ramens can vary is an important part of understanding the dish, Jurado says. "People have to understand that there are different styles from different parts of the country...[from] fish ramen to cold ramen [to] ramen with butter and corn…. Saying, 'I went to Japan and this isn't like it was back there,' is like saying I've been to Germany and your hot dogs in Chicago aren't authentic."
Mushrooms
Japan is a land rife with mushroom varities, including enoki, shimeji and king oyster. Though often found in noodle dishes, etc, they require little enhancement—mostly they're simply roasted in a pan and tossed with lemon, butter and soy.
Udon and Soba noodles
Udon (wheat noodles) and soba (buckwheat noodles) are usually served in broths. "Most broths in Japanese cuisine are light broths. They're not overseasoned. You like for the broth to be the vehicle for a lot of the ingredients that are floating around in the bowl together," says Fujimura. Soba noodles are often served cold. "The cold preparation is to reduce any further change in the noodles' consistency from heat," explains Jurado.
Donburi
Donburi, nothing more than a simple a rice bowl, is "a completely blank canvas," Fujimura says. "When we would have donburis [growing up], it would be: Here's some rice, we're going to put some pork tonkatsu on it, or ,in [Arami's] case, braised short rib or panko -fried oysters…it is a very practical dish, but obviously it can be churched up." Harold Jurado, the owner of Chizakaya, doesn't as of yet serve donburi at his restaurant, and yet calls the dish "the essential of any [Japanese] meal…[seasoned with] a sprinkle of togarashi [Japanese spice] and a spray of citrus, and the dish is a fully satisfying meal."