Line myths and truths
The waits at Great Lake and Doughnut Vault are shorter than you think.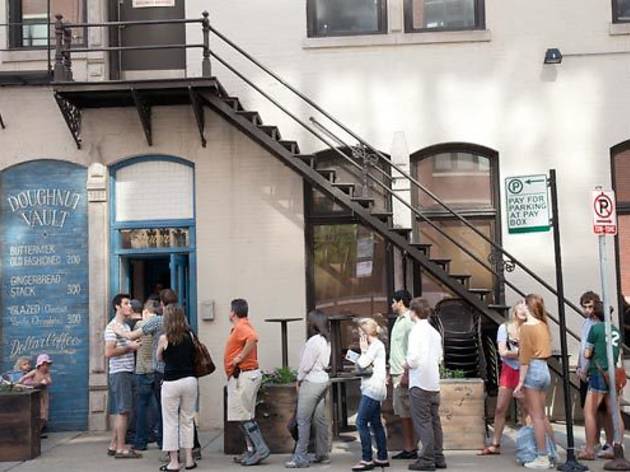 When it comes to waits at restaurants, there are truths and there are myths. This will be hard for you to swallow, but Great Lake's legendary waits? A myth.
Take what happened Friday, March 23. At 7:16pm, Lydia Esparza, one of Great Lake's owners, posted a status update on the restaurant's Facebook page. "Super quiet," it read. Similar updates are not unusual for the 14-seat restaurant (though they more commonly appear on Wednesdays and Thursdays). But the next update, posted just 40 minutes later, was unthinkable: "Closing early."
"There is no longer a two-hour wait," Esparza tells me on the phone. "We get people that think there is, but there really isn't." When there is a wait at all, she explains, the longest it gets is about 75 minutes, and that's on the weekend, when you'll find similar waits at most restaurants around town.
The perception of a wait has had the inverse effect of creating less of a wait at Doughnut Vault as well. One year after the miniscule shop opened with lines twisting around the block, the furor has died down considerably. "We started opening during the week [a half-hour earlier] at 8am, which seems to keep the line under ten people," Brendan Sodikoff, the shop's owner, says. "After 10am during the week you can usually walk right in." Saturday morning, though, "is still a beast." (In this case, it may not just be the fear of a line that is making waits shorter, but also competition—Doughnut Vault copycats Do-Rite Donuts and the soon-to-open Glazed and Infused are attempting to eat into its business.)
Those are the myths. But there are also truths. No-reservations restaurant Purple Pig, which is now more than two years old, still has the same waits it did when it opened (upward of three hours on the weekends). And trying to get a seat on a weekend night at Avec, the restaurant that pioneered the cramped-wine-bar-with-exemplary-food model, is still an exercise in putting your name down, giving the host your cell number and finding a nearby spot where you can kill a couple of hours. Purple Pig owner Jimmy Bannos says the crowds are actually part of the draw. "The energy in the room is something special…the people make the energy," he says. Still, anybody who's really hungry and willing to settle for less energy might be better off heading to Great Lake instead.