Mado's shortbread: Recipe
Here's the recipe for this restaurant's signature cookie, but butter haters should stay away.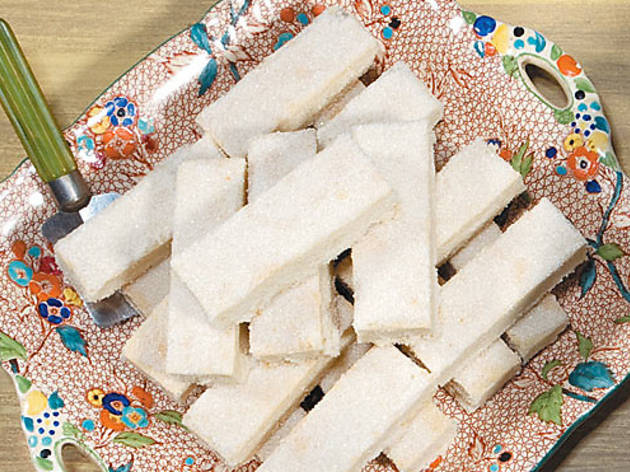 Fans swear by pastry chef Allison Leavitt's rich, crumbly shortbread, but butterphobes should avert their eyes.
---
Makes 50 cookies.
---
510 g (about 39 tbsp, or 4¾ sticks) unsalted butter, softened to the consistency of whipped cream
1 tsp sea salt
140 g (about ¾ cup) granulated sugar, plus about ½ cup more for tops of cookies
510 g (about 4½ cups) all-purpose flour
150 g (about 1 cup, plus 1 tbsp) cornstarch
---
1. Preheat oven to 350 degrees. Generously butter a 15-by-10-inch sheet pan.
2. Combine the butter, salt and sugar in an electric mixer bowl fitted with a paddle attachment. Beat until the butter is very creamy, has lightened in color and increased in volume (four to six minutes). Stop the mixer.
3. Sift together the flour and cornstarch and add to the butter mixture. Mix just until a dough forms, about 30 seconds. (If any dry ingredients are still visible, mix by hand until just incorporated.)
4. Press the dough evenly into the sheet pan with your fingertips (it should fill the pan but not rise above the rim). Bake until medium golden brown, about 25 minutes. Cool the cookies on a cooling rack until just warm to the touch. Sprinkle the top with a generous and even layer of granulated sugar. Cool to room temperature, then refrigerate for one hour.
5. When cookies are thoroughly chilled, cut into small rectangles. Let cookies return to room temperature before serving.
TIPS
• Be extra careful when mixing the dough. An overworked dough will have a tough texture.
$$$
AT MADO Four for $7
AT HOME Four for 64 cents