New takes on burgers
From beer halls to breakfast joints, these are the burgers you need to eat in Chicago right now.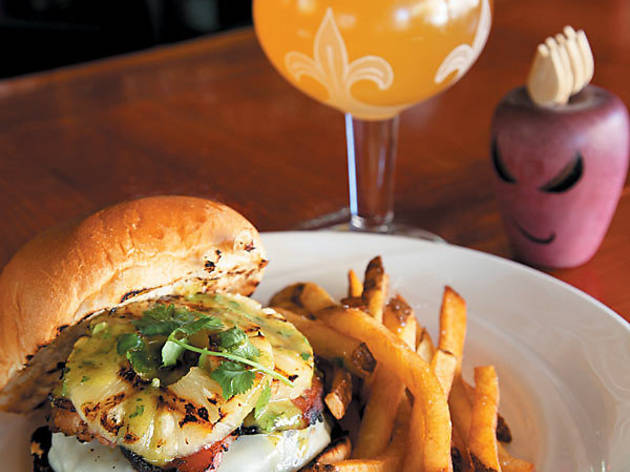 1
Mahalo burger at The Bad Apple (4300 N Lincoln Ave, 773-360-8406)
This new gastropub from Craig Fass and Mandy Franklin is serving duck confit and beer-can chicken. But because they're getting a special blend of ground beef from NYC butcher Pat LaFrieda, you'll probably never order anything but a burger. Especially if it's topped with grilled pineapple and ham.
2
Jamburger at Jam (937 N Damen Ave, 773-489-0302)
Chef Jeffrey Mauro cooked at Charlie Trotter's, but you might not guess it from this egg-and-butterkase-cheese-topped burger, whose double-patty setup seems to take more cues from McDonald's than from cutting-edge gastronomy. That doesn't make it fast and easy: This breakfast and lunch–only place can get quite, well, jammed.
3
Beef and bacon burger at Birchwood Kitchen (2211 W North Ave, 773-276-2100)
Now that burgers have been added to the menu here (on weekdays from 5–9pm), we're basically considering the shaded back patio our personal backyard—if that backyard were miraculously turning out classic beef burgers topped with bacon, Brunkow cheddar and roasted-garlic aioli.
4
Mantou burger (and beer martini) at Between Café & Lounge (1324 N Milwaukee Ave, 773-292-0585)
These spicy mini burgers sandwiched between soft Chinese steamed bao buns are back on Between's menu after a brief hiatus. But it's an all-new experience pairing it with a "beer martini" (vodka, triple sec, lime juice, beer) .
5
Bulgogi burger at Eve (840 N Wabash Ave, 312-266-3383)
Kimchi has been taking L.A. and NYC by storm, and Chicago might be lagging behind were it not for chef Troy Graves, who grills 10 ounces of Mize Farm ground beef, basting it with a bulgogi -style soy-sauce-ginger-garlic glaze, then tops it with spicy, fermented cabbage kimchi and a fried egg.