Next dessert trend: using the whole fruit or vegetable
Pastry chefs are using the leaves, pits, seeds and peels in desserts.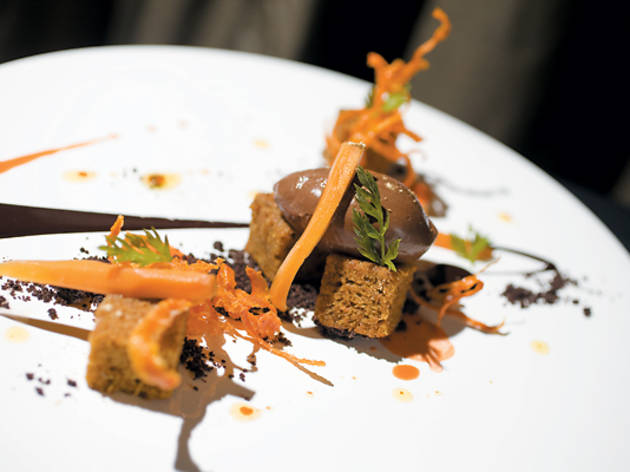 Jumping on the conservation trend, pastry chefs are using the entire piece of fruit or vegetable—the flesh, sure, but also the skins, seeds, pits and leaves—in seasonal desserts. At Blackbird(619 W Randolph St, 312-715-0708), for instance, pastry chef Patrick Fahy has experimented with apricot-pit puree and custard infused with either peach leaves or cherry pits (both impart a bitter almond flavor). He's also making a fruit jelly with pectin extracted from apple seeds.
"It's a different approach," explains Kim Schwenke, pastry chef at 312 Chicago(136 N LaSalle St, 312-696-2420). "Instead of saying, 'I want to make a cake,' it's about the ingredient first. I have a pumpkin, now what ten things can I make with it?"
Schwenke already has plans for pumpkin. She's incorporating toasted seeds into granola and pairing pumpkin-marsala butter with chocolate cake. As for the peel, it's candied and dipped in chocolate. "It's the whole Little House on the Prairie thing," Schwenke suggests. "You wouldn't just throw it out."
At BOKA(1729 N Halsted St, 312-337-6070), pastry chef Kady Yon creates a true ode to carrots. In one dessert (pictured, above), cake, gelée and jus—all made from carrot—mingle with chocolate crémeux and shortbread crumbs for a presentation that resembles carrots sprouting out of the ground. Crisp carrot peels and pieces of carrot top finish the plate. It's not theatrics, Yon insists, but about being responsible. "Waste is inevitable," she says, "but we have to do our part."
Grant Achatz
|
Bike delivery
|
Ty and Troy Fujimura
|
Cleetus Friedman
|
In-house butchering
|
Taylor Street revival
|
David Meyers
|
Everything CSAs
|
Pop-ups are the new food trucks
|
Zina Murray
|
Next dessert trend: using the whole fruit or vegetable
|
Next wave ingredient: Beef
|
Chefs weigh in on what's next
|
Next wave in booze