Nostalgic desserts
At Custom House, the flavors of childhood are even better than you remember them.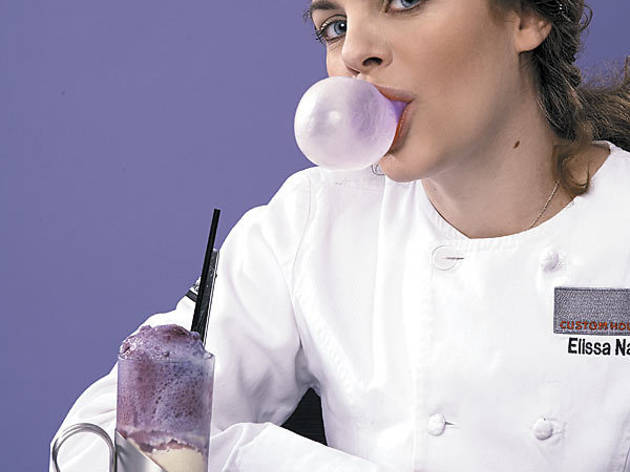 Like the paradoxical bartender who doesn't drink, Custom House (500 S Dearborn St, 312-523-0200) pastry chef Elissa Narow doesn't eat a lot of desserts. After a long day of tasting (and retasting) her sugary concoctions, she'd rather tear into a bag of potato chips than a pint of ice cream. So it makes sense that when it came time to develop Custom House's dessert menu, she reached for memories of her childhood—a time when sugar was a treat, not a job.
Her nostalgic desserts range from s'mores (rather, a s'mores parfait, which layers bittersweet mousse with thin sprinkles of graham-cracker crumbs and dollops of marshmallow) to baked Alaska; each one is an amalgam of childhood treats. Take her Purple Cow, for instance: The dessert—a float of Concord-grape sorbet, vanilla ice cream and soda, flanked by a crispy peanut-butter cookie—is inspired by grape chewing gum ("every time I eat [a Concord grape] it reminds me of Bubble Yum," Narow says), peanut-butter-and-jelly sandwiches and Nutter Butter cookies. Only here, there are no artificial flavors, which underscores the key difference between a childish dessert and a nostalgic one: The former has you eating like a kid; the latter, like an adult.