Now serving: guest chefs
The trendiest item on menus right now? Dishes made by other chefs.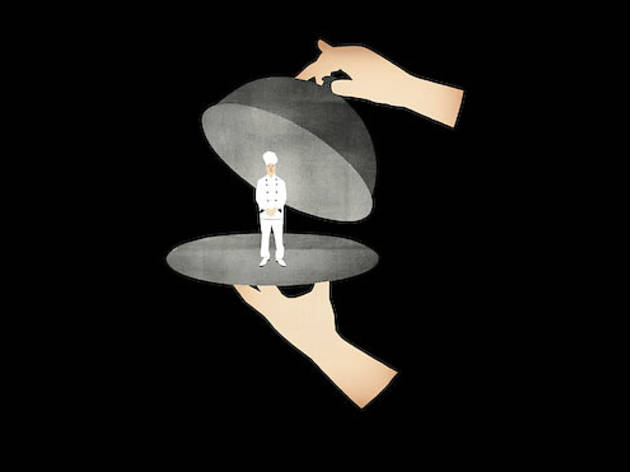 First it was the names of the farms from which ingredients were sourced. Briefly it was [node:15087531 link=historical dates;] when dishes originated. And lately, the trend on restaurant menus is to print a chef's name—the name of a chef from another restaurant. Credit this to Franks 'N' Dawgs, which has been running a competition called "Iron Dawg" since it opened two years ago. The gist: The creations of two well-known local chefs are pitted against each other, and whichever hot dog sells better stays on the menu to face a new challenger the following month. Soon, local hot-dog chain America's Dog got in on the concept, inviting chefs like Bill Kim to create monthly specials (Kim's dog for June: an all-beef dog topped with chorizo, Chihuahua cheese and charred tomatillo sauce) and opening City Porch, a pop-up with menus from guest chefs.
Not to have their creativity limited to hot dogs, guest chefs have a spot on the menu at Mercadito (where the proceeds from a rotating monthly chef taco benefit Share Our Strength), Roots Handmade Pizza (which recently debuted a guest pizza from Stephanie Izard featuring goat sausage ragù and yuzu-maple drizzle) and Falafill (whose "Guest Chefs for Charity" series this month features Henri's Dirk Flanigan and his beluga-lentil-and-green-garlic falafel with giardiniera, duck and mustard vinaigrette). Falafill consultant Johnny Auer, who came up with the collaboration series, says the chef-driven sandwiches did more than just raise money for charity—they sparked a change in the quick-serve spot's menu, which now features a "seasonal" falafel (currently white beans and Swiss chard) created by Maher Chebaro, Falafill's owner and (permanent) chef.
Franks 'N' Dawgs 1863 N Clybourn Ave, 312-281-5187
America's Dog locations citywide
Mercadito 108 W Kinzie St, 312-329-9555
Roots Handmade Pizza 1924 W Chicago Ave, 773-645-4949
Falafill 3202 N Broadway, 773-525-0052 and 72 E Adams St, 312-360-9400