NYE dinners
It's a new year—time to get your priorities straight.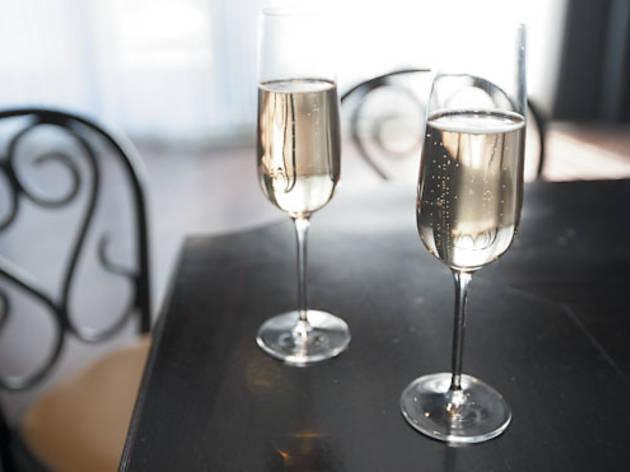 Your priority
Theatrics
Where to eat
Acadia (1639 S Wabash Ave, 312-360-9500)
The menu
Oysters, foie gras, lobster, lamb—chef Ryan McCaskey isn't messing around.
What's so special?
The restaurant has arranged for the Chicago Shakespeare Theater to provide costumed performers.
$$$
6pm seating $150; 9pm seating $175
Your priority
A rare reservation
Where to eat
avec (615 W Randolph, 312-377-2002)
The menu
Whipped brandade, roasted pork shoulder, ricotta cake. Oysters are optional (but are they, really?).
What's so special?
It's the only night of the year avec accepts reservations!
$$$
$60 (with beverage pairings $90), served all night
Your priority
Beer
Where to eat
Big Star (1531 N Damen Ave, 773-235-4039)
The menu
Tacos, obviously.
What's so special?
Tonight, all the beer taps belong to Three Floyds.
$$$
À la carte, served all night
Your priority
Bill Kim!
Where to eat
bellyQ (1400 W Randolph St, 312-563-1010)
The menu
Dumplings, noodles, "Asian pizza" and a sake station
What's so special?
It's all three Bill Kim restaurants—Belly Shack, bellyQ, Urbanbelly—in one!
$$$
$125; doors open at 8pm
Your priority
Family
Where to eat
Browntrout (4111 N Lincoln Ave, 773-472-4111)
The menu
Walleye consommé, foie gras torchon, prime rib
What's so special?
From 2–5:30pm, Browntrout offers an early NYE dinner for families—and it features fried chicken!
$$$
$90 (with wine pairings $140) served from 2–10pm; family meal: $50, kids 16 and under pay their age
Your priority
Getting full
Where to eat
Frontier (1072 N Milwaukee Ave, 773-772-4322)
The menu
Oysters, salads, and whole smoked pig, goat, lamb and boar
What's so special?
The five-hour package (8pm–1am) is all-you-can-drink and, more important, all-you-can-eat.
$$$
$110
Your priority
Bubbly
Where to eat
RM (116 N Green St, 312-243-1199)
The menu
Mignardises (a.k.a. dainty desserts)
What's so special?
RM offers a four-course dinner at 5pm for $85 (with wine $145) and a five-course meal at 8pm for $125 (with wine $185). But who comes here to eat? The all-you-can-drink soiree is 10pm–1am.
$$$
$95
Your priority
Comfort
Where to eat
Slurping Turtle (116 W Hubbard St, 312-464-0466)
The menu
Japanese comfort food: grilled meats, noodles, sushi and duck fat–fried chicken
What's so special?
To take the comfort theme even further, the restaurant is throwing a pajama brunch the next day.
$$$
$45, $60 and $80 menus of increasing size, served all night
Your priority
Snacks
Where to eat
The bar at Trenchermen (2039 W North Ave, 773-661-1540)
The menu
Cocktails and bar snacks (including the burger)
What's so special?
Three things: (1) Matt Ulery's Jazz Trio performs. (2) This is the better half of the restaurant anyway. (3) When else do you get to reserve a seat at a bar?
$$$
$20 reservations (price includes glass of sparkling wine and snacks) start at 8pm.
Your priority
Avoiding crowds
Where to eat
The Violet Hour (1520 N Damen Ave, 773-252-1500)
The menu
Beer, wine, sparkling cocktails and—this should really be the direction you go in—punch
What's so special?
From 6–8:30pm it's open seating. But from 9pm onward it's reservations-only, making your yearly NYE fight for a seat an impossibility.
$$$
$120, all-you-can-drink