Offshore online sports betting
How to bet on sports teams on the web (legally).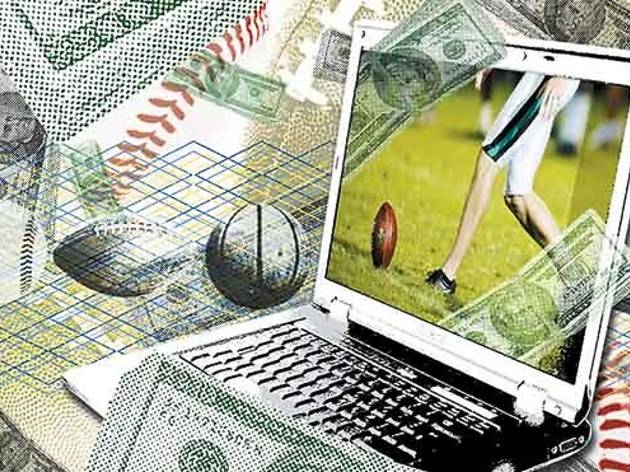 Without sports betting, there would be no sports.
That may be an exaggeration, but without sports betting, I would not be on the edge of my barstool one evening in September, watching this sloppy game between the Cowboys and the Panthers as though it's Super Bowl XLIV.
I hate the Cowboys and everything they stand for: Texas, oil billionaires in 10 gallon hats, Debbie Does Dallas. But I've got $25 on them, and they're down by a point in the fourth quarter, so right now, they're McClelland's Team. There's no room for sentiment in gambling.
The Unlawful Internet Gambling Enforcement Act of 2006, signed into law by President George W. Bush (another reason I hate Dallas), banned online sports betting. For years, I searched for a website that would take my wagers on baseball, football and NCAA basketball. Then a patron at my neighborhood tavern, a guy I call Even Bigger Sexy, directed me to YouWager.eu, an offshore betting site in Costa Rica.
Even Bigger is up $1,000 this season, so I asked for some tips on football betting. "College is easier," he said. "The home crowd means so much. Sunday, they're all professionals. Anybody can win on any day. In college, I bet the spread, but in pro, I bet the money line, because these professional teams could give two fucks about the point spread. They're out to win." I deposit $100 in my account and peruse Sunday's betting lines. I like the Cowboys because they're only -140 favorites (that means a $140 bet will return $100), not losing a regular-season game to the Panthers since 1997. I also zero in on the Jets vs. the Patriots. The over—the total number of points in the game—is 47. A little math reveals that the two teams combined for an average of 55 points a game. So I bet the over.
To make the evening interesting, I wager on the Giants in Game 6 of the National League Championship Series. They're returning home after a big win in St. Louis, and the Cardinals' pitcher, Chris Carpenter, underwent arm surgery during the summer. Even Bigger Sexy points out I can improve my odds by betting on the Giants to win by two runs.
"You want to try to make as much money as possible," he said. "Don't just take the safest bet."
When Even Bigger Sexy walks into the tavern for Sunday's football, he's on a winning streak. The day before, he'd taken Northwestern and seven points against Nebraska. NU lost by one but beat the spread. "I knew with about eight minutes left that I was gonna hit my spread," he says. "I was the only happy fan in the stadium." Although he doesn't have money on the Cowboys, Even Bigger cheers for my money.
When Cowboys cornerback Morris Claiborne intercepts a pass, he slaps me the biggest high-five of my life. "That's what I mean," he says. "It's all about action, even for $25. Teams you could never give two shits about; [suddenly]games become a lot more fun."
With 3:25 left, placekicker Dan Bailey chips a 28-yard field goal, putting the Cowboys up 16-14, but I can't relax until an incomplete pass ends the Panthers' final drive. I can't relax during the Jets-Patriots game, either. Betting the over is fun. You root for both offenses. But you don't get your points until the end of the game. With 1:37 to go, and the game tied at 23, the Jets' Nick Folk kicks the field goal that covers the over. I stick around for overtime only because Even Bigger talked me into betting $5 on the Jets, at +430. (They lose.) The Giants beat the Cardinals 6-1, covering my aggressive wager.
It's been a smashing day of gambling. I wagered $77.50 and won $149.14—a 92 percent profit. Flushed, I bet my beloved Detroit Tigers will take Game 1 of the World Series, even though Even Bigger warned me "don't bet on your home team. You either give 'em too much credit or not enough." The Tigers lose, 8-3. There's no room for sentiment in gambling.