Operation Extreme Margarita
A weeks-long, hangover-inducing offensive delivers standouts in four categories.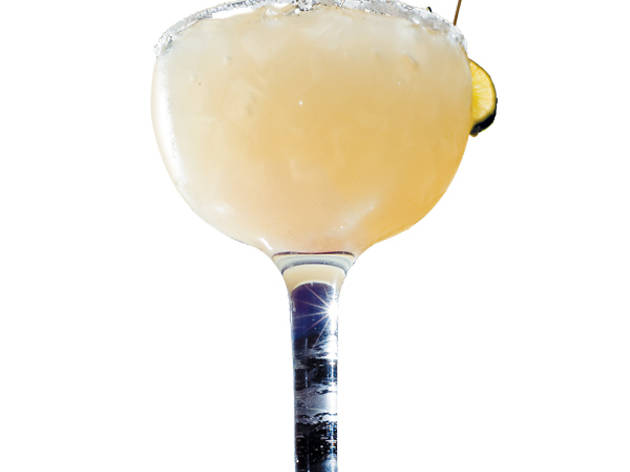 BIGGEST MARGARITA THAT COULD DOUBLE AS A BIRDBATH
45½-ounce margarita, $21 at Tarascas
The first question is, Why? The second is, Where is the closest hospital to deposit my pickled body after I drink this nine-tequila-shot behemoth? Actually, for your liver's sake, enlist at least two friends to help you take down this monster—you'll think you can finish it yourself, but that's just the tequila talking. 2585 N Clark St (773-549-2595).
MOST INAUTHENTIC FROZEN MONSTROSITY YOU SECRETLY LOVE
Swirl, $8.25 at Uncle Julio's Hacienda
Throw all desires for authenticity out the window—you're at a chain Mexican restaurant that serves frog legs, por el amor de Dios. Just give in and suck down that frosty mug (yes, mug) of frozen goodness: lime margarita swirled with sangria, like a tequila-soaked barber pole. Save the flamingo-wearing-a-jaunty-sombrero swizzle stick to commemorate this special day. 855 W North Ave (312-266-4222).
BEST MARGARITA FOR THE SMALLEST FINANCIAL INVESTMENT
$3 margaritas Wednesdays at Twisted Lizard
There are other $3 margarita specials out there, but few that use Milagro silver tequila and Cointreau as this subterranean Lincoln Park restaurant does. True, you won't get much booze—it's served in an Irish coffee–like glass with a mountain of ice—but at $3, you can afford to order a few. 1964 N Sheffield Ave (773-929-1414).
WEIRDEST SO-WRONG-IT'S-RIGHT FLAVOR
Pineapple jalapeño margarita, $9.75 at de cero
Jalapeño heat bites you on the tongue at first sip, then mellows seconds later as the flavor of sweet pineapple juice takes over. This isn't just a nutty pairing for shits and giggles; it really does work. Just hold off on ordering the picante-as-hell mango and habanero guacamole (even though that, too, is delicious): That's a whole lot of peppers for one mouth. 814 W Randolph St (312-455-8114).