Paratha is the new tortilla
And tacos will never be the same.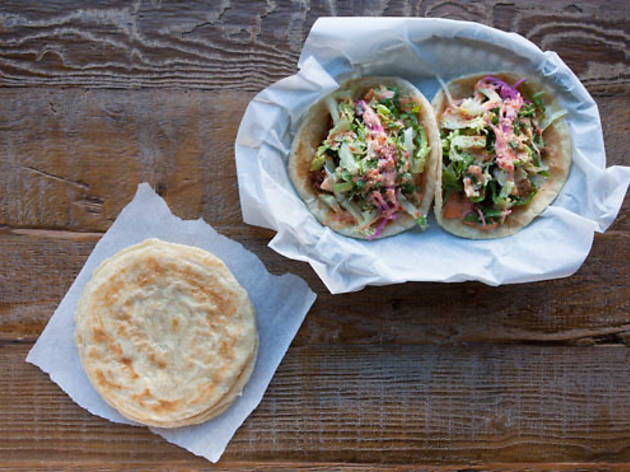 Tacos started losing their heritage years ago, when Californians began stuffing the things with bulgogi. Or did it happen long before that, when companies such as Old El Paso started selling their yellow, crispy shells? Either way, the rules about taco fillings have been thrown out, so it should come as no surprise that, now, it's the tortilla's turn. The choice of some Chicago chefs to replace the tortilla: the Indian flatbread paratha. At En Hakkore (1840 N Damen Ave, 773-772-9880), the Korean tacos (pictured) all use paratha as the base. And this is not just happening with tacos, but burritos, too: At Little Goat Diner (820 W Randolph St, 312-888-3455), the breakfast burrito—perhaps the last bastion of flour tortillas—is using paratha instead. The flatbread adds a puffier texture, and a little more fat, to the dishes than tortillas would, but that's not the only reason it's being used. Peter Park, the owner of En Hakkore, says he started searching for a tortilla alternative because if he didn't, his tacos would taste like all the other Korean tacos in the world. "There is no uniqueness" with tortillas, he says. For now, paratha provides that twist. But the way tacos are evolving, this, too, will soon become the norm.