Patel's Café opens on Devon
The second generation of Patels opens a snack shop.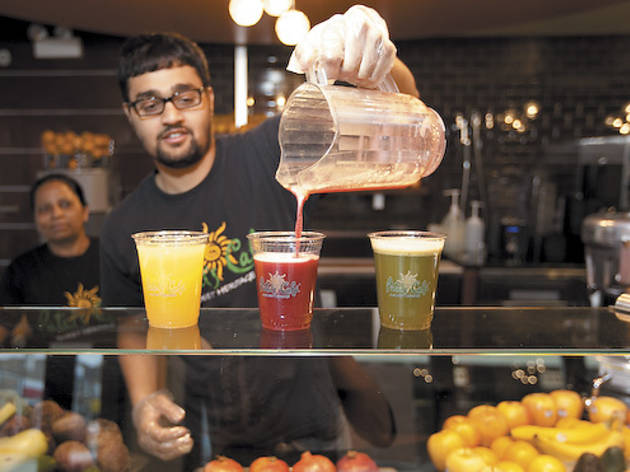 There was little doubt the Patel brothers would end up in the food biz. Rakesh and Swetal are the sons of Patel Brothers founder Mafat Patel, and their cousin Michael is the son of Mafat's brother and cofounder Tulsi Patel. What Mafat and Tulsi started as a tiny grocery at 2034 West Devon Avenue in 1974 (where the unaffiliated cabbie-favorite Ghareeb Nawaz stands today) has since grown into a national company of 46 retail stores, including an importing arm and a wholesale business. Today, Mafat relaxes in the wings, Tulsi watches over the flagship store at 2610 West Devon Avenue, and the second generation—Rakesh, Swetal and Michael—are in constant motion, hopping on planes to open new stores from Texas to Michigan, securing new wholesale accounts and dreaming up new ideas along the way.
One of those ideas is Patel's Café, a quick-serve corner shop that opened over the summer. The café mimics India's street-food scene with shots of carrot juice, cups of hot chai and bite-size pani poori, a fried wheat-flour pouf filled with a spiced potato-chickpea mixture and a spoonful of watery chutney. "In Bombay," Swetal explains, "you'd walk up to a street vendor and order six or seven of these and pop them into your mouth one by one as he makes them.… Now you can do the same here."
In the summer, the café's retractable doors accentuate the grab-and-go concept. But even in winter, when those doors are sealed tight, this isn't the kind of place that inspires lingering. Grocery shoppers hustle in with bags in tow and fire off orders in Hindi as the counter kids spin around to stuff juicers with fresh mangoes, oranges, the herb fenugreek and a bitter melon called karela. Blenders whir with yogurt for lassi that are salted or flavored with Rooh Afza, a brand of herbal rose syrup, while young coconuts are hacked then stabbed with straws for a simple drink. Ice cream, made for Patel Brothers by an East Coast company and served as scoops or noodley falooda concoctions, comes in a dozen varieties, including pistachio-saffron, rose, coconut, lychee and chiku, a brown-fleshed fruit with an almost chestnut-like flavor. Summer-only ice slushes known as gola can be doused with syrups or fruit juices, but the standout option is the kala katta, sour lime spiced with salt and black pepper. "Me, I get the dabeli, a spiced potato sandwich with coriander and tamarind chutneys," Swetal says. "I eat that while standing, have a juice or a chai and then move on with my day. That's the idea here…. It's for people like us who are on the move."