Penny Pastry | Market watch
Axel Erkenswick combines his passions for baking and farmers' markets.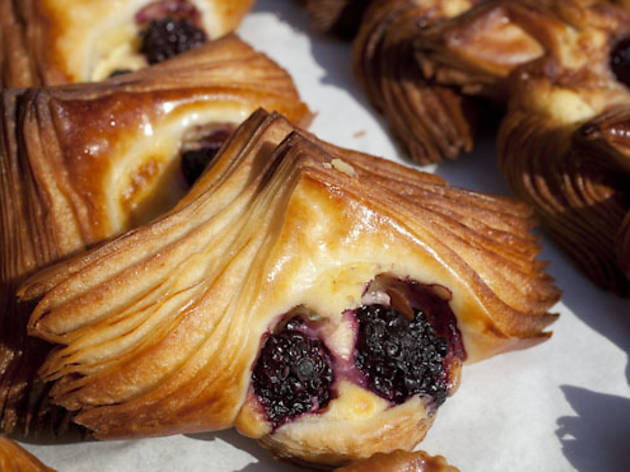 Axel Erkenswick has two passions: farmers' markets and pastry. (Okay, there's a third: his dog, a rescue named Penny.) He spent the last few years switching off between the two—rolling out croissants for the Bennison's farmers'-market stand, attending the French Pastry School, working the overnight baker's shift at the Peninsula, assisting baker Peter Becker in the opening of Balena and working for Iron Creek Farm and River Valley Ranch. This summer, Erkenswick found the ultimate synthesis: baking his pastries and selling them at a variety of markets under the aegis of a company he named Penny Pastry. His impressive repertoire includes a soft cookie he calls a Penny Doodle, delicately spiced with cinnamon, nutmeg, clove and star anise; butter, chocolate, almond and pain au raisin (vanilla pastry cream with golden raisins) croissants; and assorted goods such as chocolate financiers, fresh fruit Danish and whole-wheat buttermilk biscuits. "Many companies are taking it over the top," Erkenswick says. "I think I can do really well with very classic, simple products."
Find Penny Pastry at the 61st Street Farmers Market (61st St between Dorchester and Blackstone Aves, Saturdays 9am–2pm), the Wheeler Mansion Market (2020 S Calumet Ave, Wednesdays 4–8pm) and more.