Perfect picnics
Go to heaven with a carryout basket.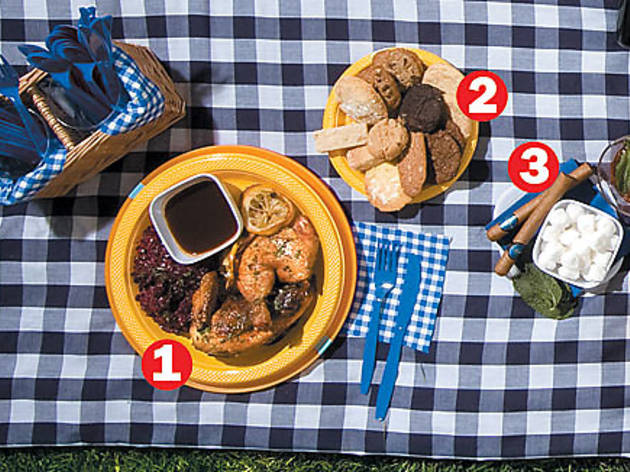 1/4
Stylist: Angela Finney
THE PARK Lincoln Park (North Ave between Clark St and Lake Shore Dr)THE PICNIC 1 Juicy chicken and a side of creamy beet salad ($12)—sounds like a delicious dinner at Old Town Brasserie, but it's actually available from its next-door to-go operation, the Brasserie's Market (1211 N Wells St, 312-943-0540). 2 Linger over a box of rustic "corny lime" cookies (and chocolate chip, and oatmeal raisin) from the Twisted Baker (formerly Twisted Sister, 1543 N Wells St, 312-932-1128). 57 cents each or $15.95/lb. 3 A picnic is the perfect occasion for a cigar (Ashton Magnum, $8.80) from Old Town's Up Down Cigars (1550 N Wells St, 800-587-3696). 4 Make a DIY mint julep by stirring a sugar cube into a few ounces of Buffalo Trace bourbon ($25) from House of Glunz (1206 N Wells St, 312-642-3000), then adding some lightly crushed mint and crushed ice.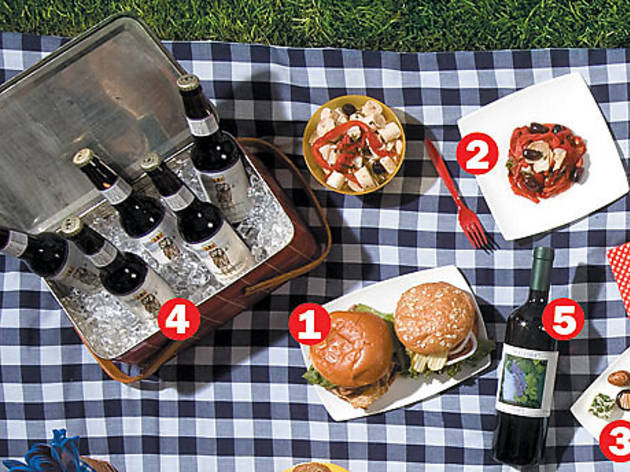 2/4
Stylist: Angela Finney
THE PARK Grant Park (from Jackson Dr to Roosevelt Rd and Michigan Ave to Lake Shore Dr)THE PICNIC 1 The thin, lacy patties at Epic Burger (517 S State St, 312-913-1373) aren't just suitable for mere workday lunches. Loaded with cheddar, grilled onions and a fried egg, they work for dinner—or, for that matter, breakfast—too. $5.99, with cheddar and egg $7.57. 2 French fries aren't known to travel well, but the sides at Cafecito (26 E Congress Pkwy, 312-922-2233)—softened hearts of palm, roasted red peppers marinated with artichoke leaves—make for more refreshing (and healthier) complements to the rich cheeseburgers. $2.35 each. 3 Of all the precious truffles at Canady le Chocolatier (824 S Wabash Ave, 312-212-1270), the limoncello (think a tiny lemon bar wrapped in a thin layer of white chocolate), crème brûlée and over-the-top ganache-a-trois versions are the ones you'll refuse to share. $1.20 each. The caramel notes of 4 Bell's Brown Ale (six-pack, $9.99) stand up to the hearty burger. But to pair with the truffles, a bottle of 5 Malvira Birbet ($19.99)—a sparkling Italian dessert wine with a blackberry aroma—is the way to go. Find both at Sam's Wine and Spirits South Loop (50 E Roosevelt Rd, 312-663-9463).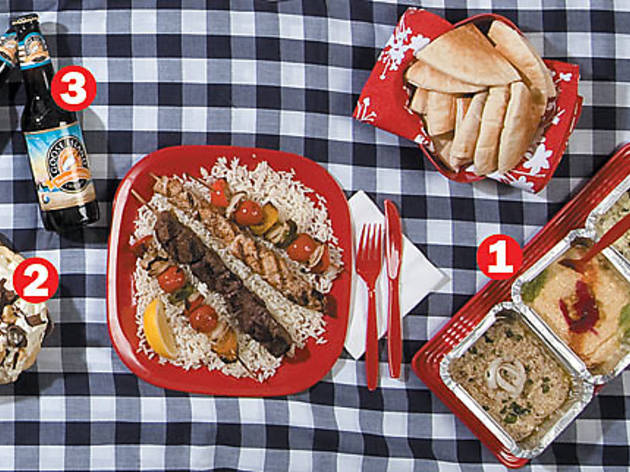 3/4
Stylist: Angela Finney
THE PARK Eckhart Park (Chicago Ave between Elizabeth and Noble Sts)THE PICNIC 1 Hummus and pita are picnic staples. Fresh hummus and pita, on the other hand, are more rare. Pick up a trio of dips ($11) at Chickpea (2018 W Chicago Ave, 773-384-9930), then up the stakes with chef Amni Suqi's tender lamb ($12) and chicken ($8) kebabs. 2 Make sure you get to Paula Haney's Hoosier Mama Pie Company (1618½ W Chicago Ave, 312-243-4846) by 10am—she's known to run out before you can say: "Chocolate cream, please." Six-inch pie, $8. 3 Grab a light, brisk beer like Goose Island Summertime at Rothschild Liquor Mart (1532 W Chicago Ave, 312-421-1562); the brew cuts through creamy dips but doesn't overwhelm the food's mild spices. Six-pack, $8.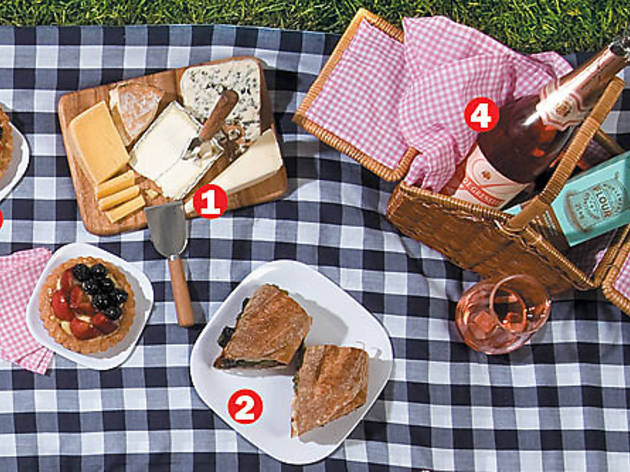 4/4
Stylist: Angela Finney
THE PARK Promontory Point (the lake between 54th and 55th Sts)THE PICNIC 1 You could take our recommendations for fabulous cheeses, like the grassy, mild Fleur de la Terre, an aged cow's milk cheese from Indiana's Traders Point Creamery ($27.50/lb), or the funky, spruce bark–wrapped Winnimere from Jasper Hill Farm ($28.50/lb), but you'll have more fun tasting the unusual fromage selection at Zaleski & Horvath (1126 E 47th St, 773-538-7372) and choosing your own favorites. 2 Z & H's salty prosciutto marries beautifully with creamy fresh mozzarella in "the Godfather" sandwich, and the "Jamon, Jamon" delivers its promise: serrano ham adorned with Manchego and quince paste between crunchy baguette halves. $7.25 each. 3 Gripe about the limited restaurant options in Hyde Park all you want, but good luck finding a fresh fruit tart ($5.99) as beautiful as those at Medici (1327 E 57th St, 773-667-7394) in any other neighborhood. 4 It's spring, and we don't care what temp it is: We're drinking sparkling rosé—like the Louis de Grenelle bubbling cab franc ($17.99) from Binny's Express (1531 E 53rd St, 773-324-5000)—until we (or it) falls flat.