Polish buffets
For the first edition of our newest recurring series naming the best foods in Chicago, we tackle heaping spreads of Eastern Euro fare to determine the best bets for all-you-can-eat.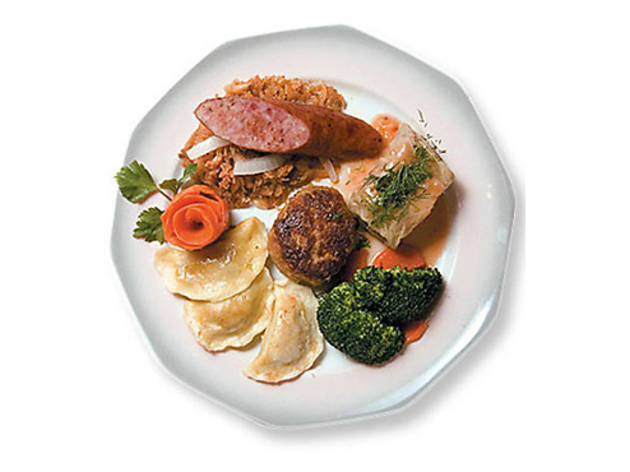 By

Michael Nagrant. Photograph by Donna Rickles.
|
In 1977 Illinois enacted a holiday to commemorate Casimir Pulaski, a Polish folk hero and Revolutionary War officer considered the father of the American cavalry. As a result, every first Monday in March, schoolchildren and city employees have another government-sponsored day off. We figured there's no better way to honor Pulaski than by throwing down at a generous Polish buffet. Here are the top nine, in ranking order from best to, well, still pretty good.
1. Old Warsaw
(4750 N Harlem Ave, Norridge, 708-867-4500)
If there were a Polish version of the movie Scarface, this swank mirrored ballroom—which features padded banquettes, a bandstand and a ceiling studded with glinting chandeliers and vinyl LP's—could be a set. This place is all about cheesy luxury, meaning diners score with prime rib, crispy-skinned roast duck, shiny white meringue cookies, chocolate-drizzled cream puffs and airy apple fritters.
Best bite chopped steak, a.k.a. the Polish hamburger—ground sirloin mixed with egg, bread crumbs, herbs, garlic and onion, and pan fried until a deep caramel-colored crust forms
2. Jolly Inn
(6501 W Irving Park Rd, 773-736-7606)
Featuring sleek flat-panel TVs, wainscoted walls, deep booths and paintings of men on horseback, Jolly Inn is the spot for the OTB and country club set. From standing pork loin roast on the carving table to Asian-ish crab meat and noodles in the buffet, everything sports a touch of elegance.
Best bite fried potato dumplings—creamy mashed potatoes rolled in bread crumbs and pan fried to a crisp
3. Sawas Old Warsaw
(9200 W Cermak Rd, Broadview, 708-343-9040)
Just as Red Apple and Lone Tree Manor are the meeting place for old Polish men, Sawas is the wives' klatch. Sawas rules the signage department with a Vegas-style neon number featuring a blinking martini glass, plus it's the busiest of the buffets so the food turnover is non-stop, with cooks bringing fresh goods about every five minutes. The apple blintzes dusted with powdered sugar are one of the best buffet desserts we've had.
Best bite beer-battered cod—these tavern-style flaky cod fillets beat the heck out of those Friday-night fish fries
4. Staropolska
(5249 W Belmont Ave, 773-736-5230)
The buffet and tables here house more fake flowers than a Michael's craft store. Throw in the gold trim, blond wood accents, green vinyl padded booths and laminate tables, and you might mistake this spot for a Golden Nugget pancake house. But the hexagonal-shaped pierogies, spicy sausages and airy potato dumplings should set you straight.
Best bite fried chicken—move over Colonel, this crispy bird is battleworthy
5. Red Apple
(Czerwone Jabluszko) (3121 N Milwaukee Ave, 773-588-5781)
Red Apple is like the John C. Riley of Polish buffets, a consistent stalwart often overshadowed by others. With porcelain roosters, a Polish white eagle wall-hanging and the country's coat of arms, this dining room has more tchotchkes than your Babcia's living room. From the thinly pounded schnitzel to braised pork shanks and hearty meatballs in dill-perfumed gravy, meat's the thing here.
Best bite strawberry pierogi—fluffy pillows packed with gooey sweet strawberry jam
6. Grota
(3112 N Central Ave, 773-622-4677)
This cobblestone building looks like a Hobbit cottage dropped in the middle of Chicago storefront strip malls. Inside, the theme continues with lacquered tree trunks doubling as structural columns. The deep-fried goodies here (a meaty golden pork chop; delicious fried chicken) keep the Polish-contractor crowd well-carbed for an afternoon of labor.
Best bite chicken Kiev—crispy football-shaped nuggets filled with buttery roux
7. Lone Tree Manor
(7730 N Milwaukee Ave, Niles, 847-967-0966)
Much swankier than your average-looking VFW hall–style buffet, this cavernous dining room sports more crystal than a Swarovski boutique. Leave the tux at home, though, as the gaggle of Dziadzias (grandpas) sopping up dill mashed potatoes come as they are in their finest flannel.
Best bite Zeberka barbecue—tangy and sweet sauced succulent pork ribs
8. New Warsaw
(6250 W 63rd St, 773-586-0410)
Part banquet hall, part buffet, New Warsaw is home to quite a few Polish wakes. Though it's not the specter of recent death that scares us, but the Chucky -like posse of Polish highlander dolls on top of the buffet line that stare you down as you pile pierogi and sauerkraut on your plate.
Best bite meat blintz—an egg roll–like concoction of minced beef wrapped in dough and deep fried
9. Bobaks
(5275 S Archer Ave, 773-735-5334)
As Chicago's premier sausage maker, Bobaks has a buffet full of links. Casingless sausages like "blood barley" (spiced brown kernels melded with pork blood) will satisfy your blood sausage hankering. If you like the short ribs and potato pancakes, procure some for home from the grocery.
Best bite kielbasa and onions—spicy, garlicky Polish sausage with a satisfying snap