Publican Quality Meats' pork belly sandwich
Paul Kahan's favorite sandwich from his new butcher/deli/grocery/sandwich shop.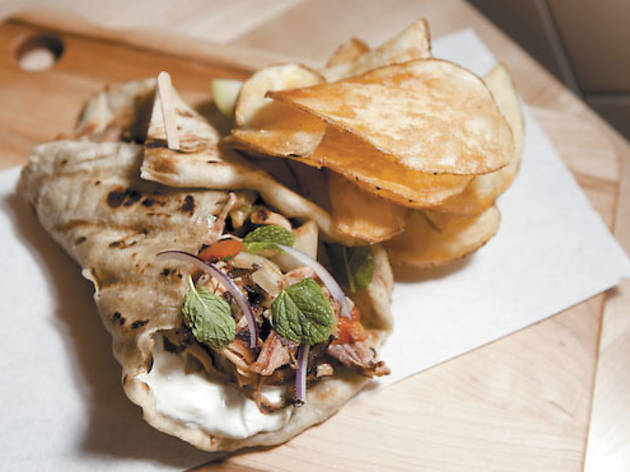 Last week, One Off Hospitality Group (Blackbird, Big Star) launched Publican Quality Meats (835 W Fulton Mkt, 312-445-8977), the sister restaurant/butcher/grocer to the Publican. At first, only the butcher shop was open, but this week, the sandwiches begin. Among those on the menu, this crispy pork belly sandwich is chef Paul Kahan's favorite. His pet name for it: "Better-than-a-gyro."
1. PQM's head baker Ehsan Ganji—formerly of Edgewater's Flourish Bakery, as well as Balthazar and Bouley Bakery in New York—creates the dough for the sandwich's sourdough flatbread in PQM's basement. The balls of dough are grilled to order with some olive oil and salt.
2. If you're trying to peg a nationality for this sandwich, forget it—it's finished with raita, a yogurt-cucumber sauce that hails from India.
3. The shredded pork belly is thrown in a hot pan to crisp up, then combined with escalivada, a Catalonian dish of charred eggplant, peppers, onion and garlic. The escalivada not only flavors the pork belly, but also binds it together.