Restaurants celebrating Rosh Hashanah 2012
Because, really, why should you prepare the apples and honey yourself?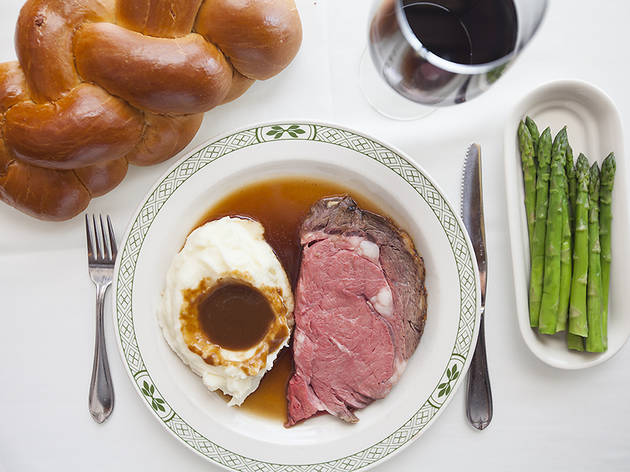 1/3
Photograph: Erica Gannett
Lawry's The Prime Rib Rosh Hashana menu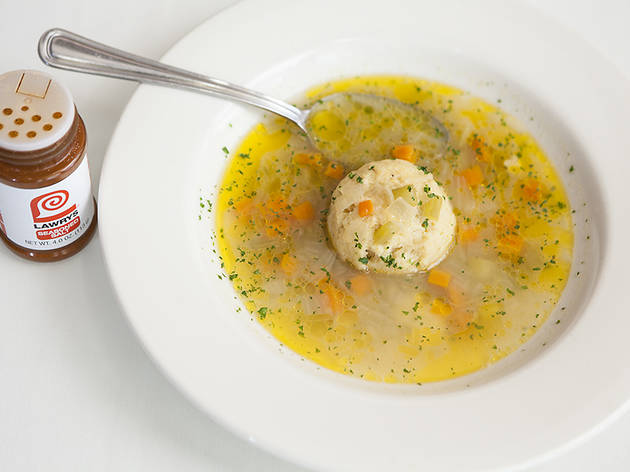 2/3
Photograph: Erica Gannett
Matzo ball soup at Lawry's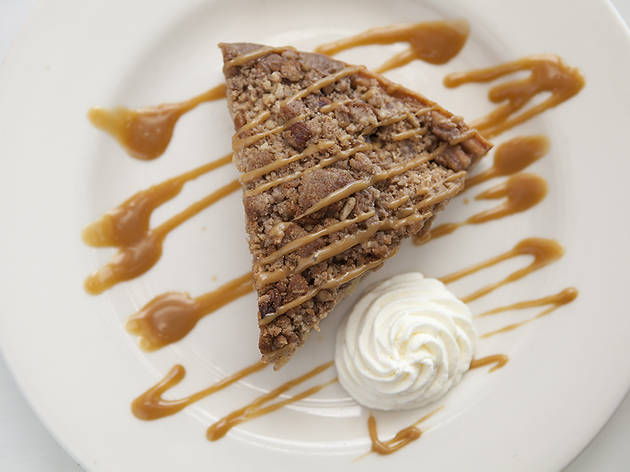 3/3
Lawry's apple crumb pie
Glenview House For the second year in a row, Glenview House offers its Rosh Hashanah prix fixe, full of dishes your Jewish grandmother would serve—only updated. It starts with chicken consommé and matzo balls, followed by a roasted apple and pomegranate salad. Then comes the main course: a brisket-and-two-beef roulade. Finally, for a sweet new year, a grilled carrot cake muffin with cream-cheese-and-honey frosting will be served for dessert. Sun 16–Tue 18. 1843 Glenview Rd, Glenview (847-724-0692). $30.
Joe's Stone Crab If you're going to eat gefilte fish (and you are going to eat it, aren't you?), you might as well eat the best. At Joe's, they're making the gefilte themselves. Braised brisket with red-wine bordelaise, Alaskan halibut en papillote, lemon-herb chicken breast and a traditional apple pie round out the meal. Sun 16, Mon 17. 60 E Grand Ave (312-379-5637). $45.95.
Lawry's The Prime Rib This long-standing and nostalgic landmark will serve an equally nostalgic Rosh Hashanah dinner. Jewish classics—challah, apples and honey, chopped liver, matzo ball soup—mingle with decidedly Lawrysish fare, such as the famous "spinning" salad, apple crumb pie and, naturally, prime rib. Sun 16, Mon 17. 100 E Ontario St (312-787-5000). $59.
Mity Nice Bar & Grill New year, new you, right? Right. So go on, spend part of the holiday in Bloomies. As to where to wear your new Rosh Hashanah duds, look no further than the mezzanine of Water Tower. There, Mity Nice will feed you a family-style holiday dinner featuring chopped liver and potato pancakes. Good luck getting out of that dress! Sun 16, Mon 17. 835 N Michigan Ave (312-335-4745). $34.95.
Mon Ami Gabi Who says a French bistro can't do Rosh Hashanah? The prix fixe here includes Jewish staples such as matzo ball soup, challah with apples and honey, and a few French-influenced main dishes like herb chicken paillard and seared Atlantic salmon. Sun 16, Mon 17. 2300 N Lincoln Park West (773-348-8886). $34.95.
Steve's Deli For those slightly more traditional observers of Rosh Hashanah, who prefer to spend the High Holiday home with the family, Steve's Deli offers its authentic, Jewish-deli cuisine for carryout and delivery. (You can dine-in at the deli, too.) Main dishes include brisket, roast turkey and three chicken selections; sides include challah stuffing, green beans and potatoes; and for dessert, there's apple-and-dried-cherry noodle kugel. Sun 16, Mon 17. 354 W Hubbard St (312-467-6868).